Kaihanga Rangitupu
This job is sometimes referred to as:
Scaffolding Rigger
Scaffolders put up and take down scaffolding for building, painting, repairing, seating and industrial purposes.
Pay
Pay for scaffolders varies depending on experience and qualifications.
New scaffolders with no qualifications or experience usually start on minimum wage or a little more.
Scaffolders with an elementary scaffolding qualification usually earn about $16 to $22 an hour.
Scaffolders with an advanced scaffolding qualification can earn $20 to $30 an hour.
Scaffolders who oversee a team can earn $25 to $35 an hour.
Source: Scaffolding, Access and Rigging Associastion of New Zealand (SARNZ).
What you will do
Scaffolders may do some or all of the following:
calculate scaffold loadings and decide what scaffolding platform to build
check worksites for hazards
unload scaffolding from trucks
fit steel tubes and support braces together to form the scaffolding framework
lay wooden boards (sole plates) on the ground to spread the weight of the scaffolding
fasten ladders and guard rails to scaffolding
take down the scaffolding and load it onto trucks
check and maintain scaffolding equipment
regularly inspect erected scaffolding for safety
talk with clients and discuss their needs and requirements.
Skills and knowledge
Scaffolders need to have:
knowledge of how to erect and disassemble scaffolding
knowledge of how to use and care for scaffolding equipment
knowledge of building regulations
knowledge of workplace and construction site safety regulations
the ability to identify potential hazards
the ability to interpret building plans and diagrams.
Working conditions
Scaffolders:
usually work 40-hour weeks, but may be required to work longer hours, and on weekends
often work outside on buildings, at concert and sports venues, boats, bridges and oil rigs
work at heights, sometimes in dangerous conditions
travel locally to sites, and they may travel out of town for some large jobs.
What's the job really like?
Graham Burke - Scaffolding Company Managing Director
Painting led to scaffolding
Graham Burke got into scaffolding when he was working for a painting contractor. "They had their own equipment and I did a basic suspended scaffolding ticket while I was working for them, and eventually opened my own scaffolding company."
That was 15 years ago. Graham now employs 20 staff. His days are mainly spent running the business, but he does get to oversee the projects his company works on.
Problem-solving skills key to being a good scaffolder
While being fit and strong are important qualities for a scaffolder, Graham says being able to solve problems is just as important for someone who wants to get ahead in the industry.
"To be a good scaffolder you've got to be able to overcome problems. A lot of the guys probably don't even know they're doing it, but there's quite complicated engineering and design involved in erecting scaffolding."
Pay
$15-$17
per hour
$17-$30
per hour
Source: Scaffolding and Rigging New Zealand (SARNZ).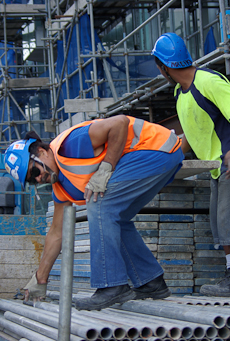 Updated 7 May 2014