Kaihoahoa Whakairoiro
This job is sometimes referred to as:
Commercial Artist
Graphic Artist
Illustrator
Graphic designers create artwork or designs for the promotion or development of goods, services and ideas. They may also design artwork and/or layout for fabrics, websites, magazines and other publications, or help to develop television advertisements.
Pay
Pay rates for graphic designers depend on their experience, skill and employer.
When starting out, graphic designers or Mac operators usually earn $35,000 to $40,000 a year.
Intermediate designers, with three to five years' experience usually earn between $45,000 and $55,000.
Senior designers with more than five years' experience may earn $55,000 to $75,000.
Source: Designers Institute of New Zealand.
What you will do
Graphic designers may do some or all of the following:
discuss and analyse requirements and purpose of the project with their client
discuss how to approach the project with colleagues
develop design ideas by researching and brainstorming with colleagues
prepare sketches, instructions and layout diagrams
suggest production methods, materials and costs
show design ideas to the client
receive client feedback and alter the design accordingly.
Skills and knowledge
Graphic designers need to have:
knowledge of art materials and techniques
the ability to use colour and design effectively
expertise in printing and production methods
knowledge of advertising and marketing, and how people think and react to visual images
awareness of current market trends
artistic ability, including good sketching, drawing and painting skills
the ability to use computed-aided design (CAD) software
the ability to understand clients' needs and turn them into suitable designs.
Working conditions
Graphic designers:
usually work regular business hours, but may be required to work evenings and weekends to meet deadlines
usually work in offices and studios, but may also work from home or travel locally to attend photo shoots
work in conditions that may be stressful due to deadlines.
What's the job really like?
Calum Robb - Director, Graphic Design Company

Like many other design graduates, Calum Robb struggled to find a job after his degree. So he and a friend Ryan set up a design business with a couple of laptops – Calum doing design and Ryan doing website coding. They kept their hospitality jobs, working on the business in their spare time. Working mostly from home, they have low overheads, so can charge a competitive rate.
Doing what he loves
"I am mainly working on website design. It's the creative flow from it I like. Sometimes I regret studying design because of the lack of jobs there but then, I still love what I do, and I wake up every day and I'm happy with what I'm doing."
Business side tedious but vital
Calum says Ryan's business skills have been vital. "He did our partnership agreement and business plan. I find that side tedious – but I have to take responsibility as well, I can't just give it all to my partner.
"I'm proud of the business. We set it up when we were 22. I never would have thought it would last this long, and we've achieved a lot for how young we are."
Pay
$35K-$55K
per year
$55K-$75K
per year
Source: Designers Institute of New Zealand.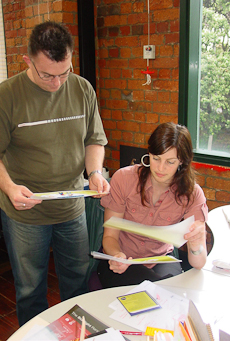 Updated 18 Feb 2014