Kaiāwhina Kaiako
This job is sometimes referred to as:
Teacher's Assistant
Special Education Assistant
Teacher aides support children's learning at school. They assist teachers in a classroom by working with students on a one-to-one basis, or in groups. Some teacher aides work in the school library or the ICT suite.
$15-$24
per hour
Source: New Zealand Educational Institute and Ministry of Education.
13,727

14,737

13,123
---
Useful school subjects
Health
This job page includes information about:
Special Education Assistant
Related jobs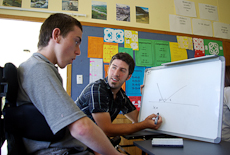 Print all sections with images
Updated 4 Dec 2014