Kaiwhakararangi Tohu Hauora
This job is sometimes referred to as:
Nosologist
Clinical coders analyse information about diseases, injuries and procedures in patient discharge records and translate medical statements into health classification codes. This information is used to help write policy, monitor performance and produce health statistics.
$37K-$63K
per year
Source: PSA/DHBs Clerical/Administrative Collective Agreements.
---
Useful school subjects
Health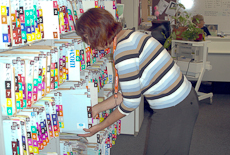 Print all sections with images
Updated 24 Nov 2014