Your feedback needed!
Careers New Zealand would like feedback on their website. Fill in the short survey and be in the monthly draw to win a $100 book voucher.
Click here to complete the survey
Rata Waewae
This job is sometimes referred to as:
Chiropodist
Foot Specialist
Podiatrists diagnose, treat and prevent foot and lower limb problems. Their work includes routine foot care, the care of lower limbs for people with diseases such as diabetes, the diagnosis and treatment of sports-related injuries, nail and skin surgery, and biomechanical assessment.
Entry requirements
To become a podiatrist you need:
a Bachelor of Health Science majoring in podiatry from Auckland University of Technology (AUT), or an overseas qualification recognised by the Podiatrists Board of New Zealand
registration with the Podiatrists Board of New Zealand
a current Annual Practising Certificate.
Secondary education
A tertiary entrance qualification is required to enter further training. Useful subjects include biology, chemistry, physical education and English.
Personal requirements
Podiatrists need to be:
patient, friendly and helpful
practical and accurate, with an eye for detail
efficient and able to work well independently
good listeners and communicators
good at time management.
Useful experience
Useful experience for podiatrists includes:
work caring for people, such as nursing
experience in shoe manufacturing or sports industries.
Physical requirements
Podiatrists need to have good eyesight (with or without corrective lenses).
Registration
Podiatrists must be registered with the Podiatrists Board of New Zealand.
Related courses
View information on courses in the course database
Find out more about training
Podiatrists Board of New Zealand

(04) 499 7979 - registrar@podiatristsboard.org.nz - www.podiatristsboard.org.nz/

Podiatry New Zealand

exec@podiatrynz.org.nz - www.podiatry.org.nz/
years of training required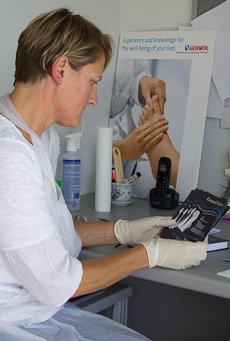 Updated 15 Feb 2013