Kaihanga Tākaro
This job is sometimes referred to as:
Game Artist/Animator
Game Designer
Game Producer
Game Programmer
Game Tester
Game developers create, write, design, program, animate, and test games and applications for computers, gaming consoles, and cellphones. The games are written in a variety of computer programming languages.
$40K-$60K
per year
$60K-$80K
per year
Source: Media Design School.
367

289

186
---
Usually required
One of:
a degree in computer science or programming
a degree or higher diploma in games art or computer animation.
Useful school subjects
Graphics
Computing and ICT
Mathematics
Physics
Visual Arts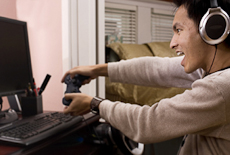 Print all sections with images
Updated 9 Jul 2014