Pirihimana
This job is sometimes referred to as:
Armed Offenders Squad Officer
Detective
Dog Handler
Forensic Services Officer
Road Policing Officer
Criminal Investigation Officer
Police Education Officer
Search and Rescue Officer
Police officers keep law and order in the community. They work to prevent and solve crime, keep the peace, and respond to criminal activities and emergencies.
Pay
Pay for police officers varies depending on their skills and experience.
During training, police officer recruits earn about $35,400 a year (total package $39,300, which includes benefits such as compulsory superannuation).
New graduates start on about $51,800 (total package $58,000, which includes benefits such as superannuation and payment for passing their Physical Competency Test).
With two years' service and on completion of their probationary period, police officers earn about $70,700 (includes benefits such as superannuation and life insurance).
After five years, this increases to about $76,000 (includes benefits such as superannuation and life insurance).
Pay also depends on a police officer's progression through the ranks.
Source: New Zealand Police.
What you will do
Police officers may do some or all of the following, depending on their area of specialisation:
patrol selected areas on foot or by car
help people in a wide range of emergencies
investigate crimes, domestic disturbances, serious crashes and sudden deaths
interview people and take statements
search for and arrest suspected criminals
write reports
give evidence in court
direct traffic and help drivers
give talks at schools.
Skills and knowledge
Police officers need to have:
knowledge of police policy and procedures
knowledge of the laws relating to police and traffic work
knowledge of how the court system works
knowledge of community support services
skills in observing human behaviour
skills in interviewing, conflict resolution and negotiation.
Working conditions
Police officers:
usually work 40 hours a week over a number of shifts, including nights and weekends
work in a variety of locations, including offices, courts, urban streets and rural areas
may be at risk of verbal or physical abuse
may travel to different sites around the country and overseas to help investigate crimes and attend conferences.
What's the job really like?
Nathalie - Police Officer
Job variety puts end to clock-watching
When Nathalie started work as a police officer it was the first time she'd been in a job she loved getting up for in the morning.
"It's a bit of a cliché," she says, "but every day is different. The variety means you're never clock-watching like you might in an office job.
"Sure there's a bit of paperwork, but most of the time you're out and about talking to people. The other night we were walking the beat in Wellington at 2am, and saw a girl huddled in a corner crying. She looked so vulnerable. She wasn't actually that drunk, she'd just got separated from her friends, so we got her up, got her details and managed to join her up with her friends. It's moments like these that can give you a sense of achievement."
Supportive team culture in the job
Working closely with supportive colleagues is another big bonus of the job, Nathalie says. "For example, if we get an incident to attend at the end of a shift, it has to be reported on the night it happens, so you might be finishing late. I've never had a job before where the whole team, even if they were done for the day, would help you finish your work."
Pay
$52K-$71K
per year
$76K
per year
Source: NZ Police.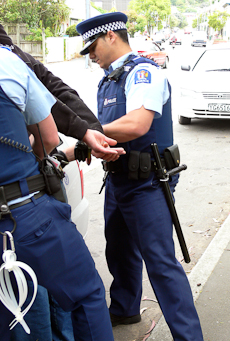 Updated 6 Dec 2013