Kaimātai Koiora Moana
This job is sometimes referred to as:
Marine Ecologist
Freshwater Biologist
Fisheries Scientist
Aquatic Biologist
Marine biologists study plants and animals that live in sea water, and their relationships with each other and their environment.
Pay
Pay for marine biologists working in government research organisations and universities depends on their qualifications and experience.
Marine biologists with Master's degrees usually earn around $55,000-$75,000 per year.
Senior marine biologists, who usually have PhDs, may earn $76,000-$94,000.
With more responsibility and experience, pay could rise to about $130,000 a year or more.
Marine biologists working in the private sector may earn more than this.
Source: Landcare Research & Universities New Zealand, 'University Staff Academic Salaries and Remuneration', 2012.
What you will do
Marine biologists may do some or all of the following:
observe marine plants and animals in their natural environment
study the impact of pollution on marine life
identify, classify and preserve different types of marine life
estimate population growth and life expectancy
plan and run field studies and experiments
use computer modelling techniques to predict future events in the marine environment
report the results of their studies in papers for science journals and in commercial reports.
Freshwater biologists do similar work, except that they study plants and animals living in rivers, lakes and ponds.
Skills and knowledge
Marine biologists need to have:
knowledge of marine science, biology, and chemistry
research skills
maths and computer skills
writing skills, for writing reports and for publications.
Working conditions
Marine biologists:
usually work regular office hours, but they may also work longer hours when doing fieldwork
work in offices and laboratories, and they also work on boats, at sea, or in isolated coastal areas in all weather conditions
travel to field study sites, and may travel around the country or overseas to attend conferences or training.
What's the job really like?
Drew Lohrer - Marine Biologist

Myth number one – marine biologists work with large animals only
"Some people think we work only with dolphins or whales, but it's not always large animals like that. I mainly work on creatures that live on the sea floor. I focus on sea urchins, shellfish and worms, trying to understand their roles in the ecosystem."
Myth number two – marine biologists work in glamorous environments
Though the work is important, it's often done in an unglamorous environment. "When I dive, it's mostly in low-visibility conditions, and my world view is often a patch of mud! However, I do get to go to exciting places like the Antarctic to study coastal systems. It is surreal diving there – the water is crystal clear and the types and amounts of animals you see are just astounding."
Myth number three – marine biologists get to dive all the time
"I don't get to dive a lot of the time. But, there's no monotony because I do different things all the time. Within a year, I might write proposals to get funding for what I want to do, then do fieldwork and perform experiments. Finally, I would analyse the data and write up my findings."
Pay
$55K-$75K
per year
$76K-$130K
per year
Source: Landcare Research & Universities New Zealand, 'University Staff Academic Salaries and Remuneration', 2012.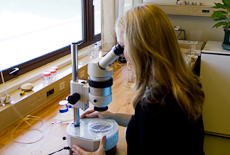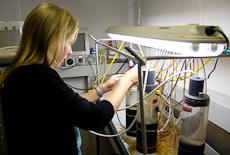 Updated 5 May 2014