Your feedback needed!
Careers New Zealand would like feedback on their website. Fill in the short survey and be in the monthly draw to win a $100 book voucher.
Click here to complete the survey
Kaihangarau Pūtaiao
This job is sometimes referred to as:
Chemistry Technician
Earth Science Technician
Life Science Technician
School Laboratory Technician
Science technicians help scientists carry out research, testing and experiments in areas of science such as chemistry, earth sciences, life sciences, and physical sciences.
$36K-$45K
per year
$50K-$60K
per year
5,245

5,177

5,038
---
Useful school subjects
Agriculture and Horticulture
Biology
Chemistry
Mathematics
Physics
This job page includes information about:
Chemistry Technician
Earth Science Technician
Life Science Technician
Related jobs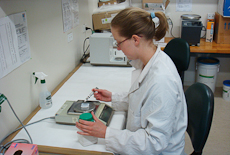 Print all sections with images
Updated 15 Feb 2013