Tūmau Waka Rererangi
This job is sometimes referred to as:
Cabin Crew Member
Travel Attendant
Flight attendants make sure that passengers travelling in aeroplanes are safe and comfortable.
Pay
New flight attendants typically earn between $31,000 and $35,000 a year, depending on whether they are working on domestic, trans-Tasman or international flights.
With five or more years' experience, flight attendants can expect to earn $40,000 to $45,000, plus allowances.
Flight service managers can earn $60,000 or more.
Flight attendants receive discounted travel benefits, and may also get meal, accommodation, uniforms and grooming allowances. Allowances increase as flight attendants gain more senior positions, and may be worth more than $15,000 a year.
Source: Air New Zealand
(This information is a guide only. Find out more about the figures and diagrams in our job information)
What you will do
Flight attendants may do some or all of the following:
look after passengers' comforts, needs and safety during flights
check emergency and safety equipment before each flight
prepare and check the catering, bar and cabin before each flight
greet passengers, help them stow their luggage and check that they are seated safely
demonstrate aircraft emergency procedures and safety features to passengers
serve and clear away food and drinks
hand out, and help passengers complete arrival documentation on international flights
keep in contact with other members of the flight crew
use their knowledge of first aid to help sick passengers.
Skills and knowledge
Flight attendants need to have:
knowledge of flight and emergency procedures
the ability to operate emergency equipment
hospitality skills for serving food and drinks
first-aid and medical skills
the ability to assist people with special needs, such as young children or people with disabilities
the ability to give tourists tips and guidance on their stay in New Zealand.
Working conditions
Flight attendants:
may work on a temporary basis, part time or full time, and work shifts including evenings, public holidays and weekends, which may involve crossing time zones
work at altitude, often in cramped conditions, spending a lot of time on their feet
work in conditions which can be uncomfortable or dangerous, and may have to deal with stressful or difficult situations
may be rostered up to 18 hours a shift, and may spend up to 10 to 18 days away from home, depending on whether they are working domestically or internationally.
What's the job really like?
Jacqui Chapman - Flight Attendant
Jacqui thrives on the constant travel involved in her job as a flight attendant. "Many times when I've been in Wellington and there's an exhibition at Te Papa, I've thought, 'I would have never otherwise got the chance to see that'.
"If you do a six-day trip, you build up a rapport with the people you've worked with, and then you might have the opportunity to go to a Robbie Williams concert in Brisbane with four or five work buddies – it's great!"
Physical effects of working at high altitude
"This job does take a toll on your body and sleep. You need to be more proactive about your diet and sleeping habits than you normally would. So, I find out where I can buy fresh food at each stopover. You just have to be a little creative."
Watching others develop
Jacqui has moved up to the role of cabin supervisor, and helps train staff. "Sometimes I work with people who are shy, so I really enjoy seeing them gain confidence. It's not just about building up your own skills. You get an intrinsic reward from helping someone else out, and seeing them develop."
What's hot
Enjoying the romance of travel.
Socialising with workmates in exotic locations.
What's not
The physical effects of working at altitude.
Having to be vigilant about keeping good sleeping and eating habits.
Pay
$30K-$45K
per year
Source: Air New Zealand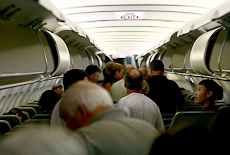 Updated 15 Dec 2014