Āpiha Kaipuke
This job is sometimes referred to as:
Chief Mate
Chief Officer
First Mate
Merchant Navy Deck Officer
Officer in Charge
Second Mate
Ship's Mate
Third Mate
Watchkeeper
Ship's officers navigate and control the safe operation of a ship and supervise and coordinate the activities of deck crew.
Pay
Salaries vary depending on rank, experience and the ship being crewed; however, ship's officers usually earn between $60,000 and $130,000 per year.
What you will do
Ship's officers may do some or all of the following:
navigate and control ships
take charge of ships when on watch
arrange repairs, fuel and supplies
supervise the loading, unloading and storage of cargo
organise crew activities on deck
organise ship security.
Skills and knowledge
Depending on their rank, ship's officers need to have:
knowledge of the requirements of running and supplying a ship
knowledge of how to navigate and control a ship
knowledge of how to read charts and identify hazards
understanding of the logistics of working with cargo, ballast and fuel
knowledge of maritime laws and Maritime Safety Authority requirements
knowledge of safety procedures and methods, such as fire-fighting, rescue, and collision prevention.
Working conditions
Ship's officers:
usually work shifts and are on call 24 hours a day while at sea. When working for international shipping companies, ship's officers typically work three months at sea followed by three months' leave
work in all weather conditions
may travel to ports around New Zealand or travel internationally to foreign ports.
What's the job really like?
Scott Mansbridge - Merchant Navy Deck Officer
What lead you to become a deck officer?
"My family always had an interest in boating and I've been living at sea since I was 13; I did my schooling by correspondence while we sailed around the Pacific Islands.
"I began working on ships commercially at 16 when I was lucky enough to secure a cadetship in Hong Kong. I worked there for five years, rising to the rank of a third mate, before returning to New Zealand and finding work with a shipping company."
What does your role involve?
"The majority of the deck officer's work is solving problems and keeping everything ticking over. The job runs 24 hours a day and obviously the chief officer can't be awake for all that time, so different responsibilities are delegated and that's where my duties come in to play."
"Smooth operation is everything. Smooth equals fast, and when the ship berths you go straight into discharging and then loading. Once you finish loading, the ship sails, so you need to be someone who can apply yourself to the task at hand."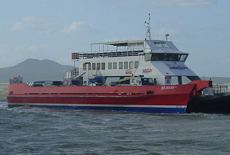 Updated 17 Jul 2013