Giving young people Work Inspiration in Henderson and Massey
Article about the delivery of the Work Inspiration programme to schools in the Henderson-Massey area.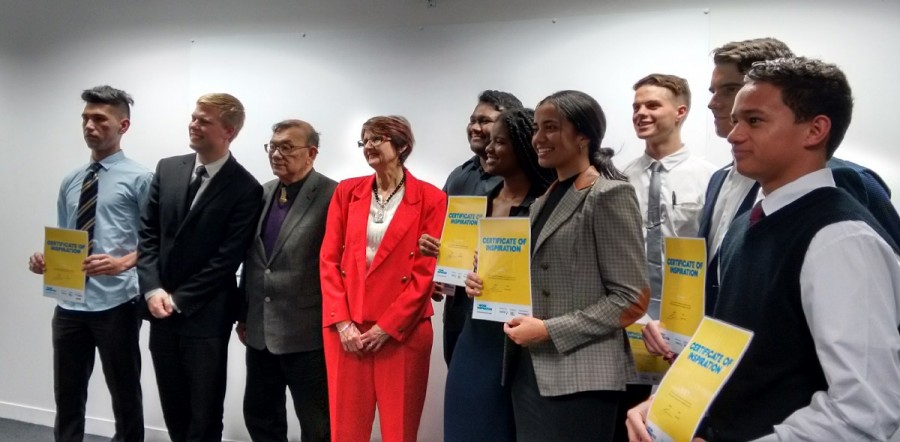 The Henderson-Massey Local Board supported Work Inspiration to deliver two programmes for 20 students from five local secondary schools.
The students were given the opportunity to spend time in six local businesses.
Work Inspiration is a programme where Year 10 to 13 students visit employers and find out more about their business and the roles on offer.
The first Work Inspiration involved 12 Henderson High School students who spent three days participating in the programme with five small businesses from the Henderson-Massey area.
The students interviewed owners and spent time at the following businesses: Local Works, Hobsonville Chiropractic, Laser Copy Design, Mackie & Co and Spice Design Ltd.
Ian Leader from Local Works Ltd (Kaipara) facilitated the programme supported by Jan Carter from the Tertiary Education Commission.
A real hit of the programme was a group of students learning about kitchen design and the computer programmes the designer used.
Michael Forester from Spice Design says designing kitchens with a computer takes a lot of time and skill.
"Spending time with the students and showing them what I do and telling them the key ingredients in being successful in business and life are attitude, passion and commitment," says Michael.
One student commented "to learn and experience what it's like to work for the different companies was fun and helpful." They then had fun designing their own rooms. 
Ian Leader of Local Works Ltd was also impressed, "watching the students begin to understand the relevance of education and their own personalities [as] critical to careers."
The second Work Inspiration at construction company Canam Group Ltd, involved getting eight students from five schools into their business.
The students spent three days trying out a number of different roles on offer – surveying, costing, and computer design and modelling.
It was an opportunity for employers to give students hands-on experience with a real-world construction project, working alongside industry professionals teaching them the ropes.
Construction is experiencing huge growth. To help meet industry demand, an injection of workers from all walks of life, young and old, is needed. 
One student who attended the Canam Work Inspiration said "it was really cool to have the opportunity to speak to managers and engineers about their work as well as their career paths.
"It was done in a way that was very comfortable and personal which was awesome. I learnt so much throughout the course."
Targeting young people earlier is key to building a consistent flow of workers and a strong workforce. International research shows young people having four or more experiences with employers during their school years sets them up well for future workplace success.
The Canam Group event got the attention of Minister Louise Upston, who attended for a first-hand look at how the education-to-employer initiatives work.
Updated 20 Sep 2017