Believe in yourself and you'll get the career you want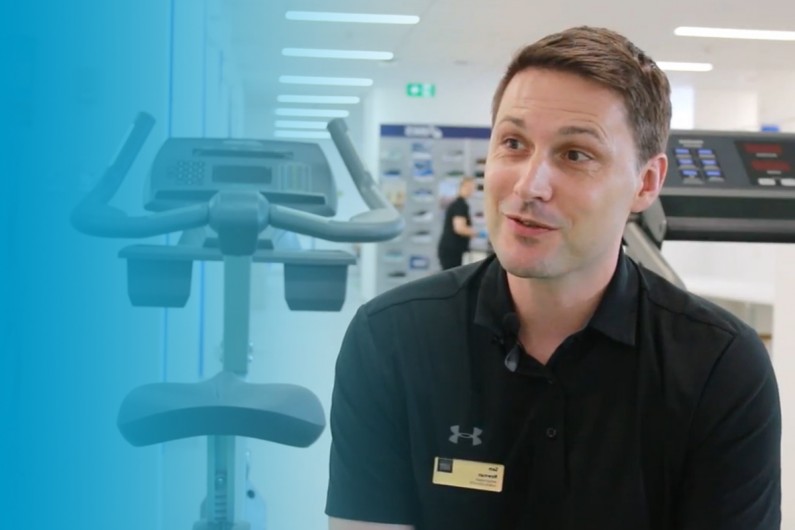 Sam Newman took an unusual path to become a physiotherapist, and his experience proves you needn't lose hope if you didn't do so well at school.
Physiotherapy is constantly evolving and you need to stay engaged
John-Paul Foliaki: How did you become a physiotherapist?
Sam Newman: I came to be a physio through a pretty unusual pathway. Like I left school and started labouring essentially and worked for a year as a stonemason, which is pretty cool. I was always questioning and challenging everything and I guess I just wasn't satisfied. And I played a lot of sport so I was initially kind of wanting to work in elite sport. So I went to uni and I did health science initially then I did some post-grad health science and then physio.
I think a big challenge for me having not done really well at school academically early on was I was unsure of whether I could get through the qualification, so how challenging it would be academically. So I was really unsure as to whether I would be able to just get assignments done, be able to sit exams, those sorts of things. And not many people in my family had gone through the academic pathway so I didn't have that kind of knowledge base there as well. But then going in early doing a foundation course and building up those skills and realising that I could do that, was really useful.
It's definitely a common thing people think physio they think All Blacks physio. The reality is it's one small part of it, you know, physio's a really broad profession. For me, the thing I really enjoy about physio is education. So in this setting I work with physio students and patients, and for me that's more rewarding than elite sport.
John-Paul Foliaki: What would you say is one of the most satisfying things about your job?
Sam Newman: Yeah, so I'd say probably two things. The first thing would be helping people, so we're really well-placed to provide support for a range of people. So that's really satisfying.
The second thing for me is that I'm constantly learning. Physio is constantly evolving and you need to stay engaged. So the degree kind of sets you up with the tools to keep learning and then you have to follow that pathway.
A late start can lead to a successful career
If you're like Sam and didn't do so well at school you needn't lose hope. Some people are later starters – then they just get on with it and land some of the best jobs. 
"I came to be a physio through a pretty unusual pathway," says Sam Newman, Physiotherapy Clinical Educator at Auckland University of Technology. 
It was a pathway that saw him leave school to work in stonemasonry as a labourer. "It was cool, but I was super annoying to work with because I was always questioning and challenging everything and I guess I just wasn't satisfied."
Physio – it's hands on and can take you in a variety of directions
Working in stonemasonry, however, did help Sam realise his preference for hands-on work, though with people rather than stone! 
Recognising his sporting interest could be career-related, he headed off to university to do a sports science degree. "Initially I wanted to work in elite sport and did work with the Breakers [a professional basketball team based in Auckland], but I wanted to be able to reach more people."
Finding out that physiotherapy (an exercise-based treatment used to restore a range of motion and prevent injury) opened up a lot more options was a big driver for Sam returning to university. "I could work in elite sport if I wanted to, or in a clinic or educational setting both in New Zealand and internationally."
It's common he says, for people to associate physio with the All Blacks. "But the reality is that elite sport is one small part. I find it more rewarding working in education with students and helping patients with a range of different injuries. You really have to be able to communicate well in this job too because you're focused on educating people and listening to their stories."
You can keep learning and challenging your limitations
The way that physiotherapy is continually evolving is also one of the most rewarding aspects of the work for Sam.
"It's an area that's really developing and I'm constantly learning," he says. "So it's really important that you're the kind of person who wants to stay engaged with new research and develop your skills."
It's that inner drive to keep learning that also accounts for Sam's success. He'd had big reservations about whether he could do well academically as he had few, if any, scholarly role models in his family.
The academic side was "the biggest barrier for me," he says. But he bridged the gap by doing a one-year foundation course. And once he'd built up some skills and "realised I could do it" there was no stopping him.
"You can set limitations on yourself based on what you think you're capable of but you need to challenge these. You have to trust that you can do it."
Thinking about a health science career?
For those who aren't taking the roundabout route to physio, Sam acknowledges it's a competitive area and recommends that you understand the basics of health science while still at school. And he suggests getting some good careers information and guidance before leaving.
"If I'd touched base with a careers adviser at high school I probably could have shortened the time it took me to figure out that physio was what I really wanted to do."
He also suggests being proactive and getting a "feel" for whether physio is right for you.
"Volunteer, or get a part-time job working in a clinic and see what goes on, or watch a physio working at a rugby game. Try anything that'll get you the exposure and help you make a decision."
Get in touch with us for career information and guidance
If you need help with your career decision making you can contact us for career information and guidance between 8am and 6pm every week day, for free.
Call us on 0800 222 733 (free from mobiles)