Helping people find a way through life's difficulties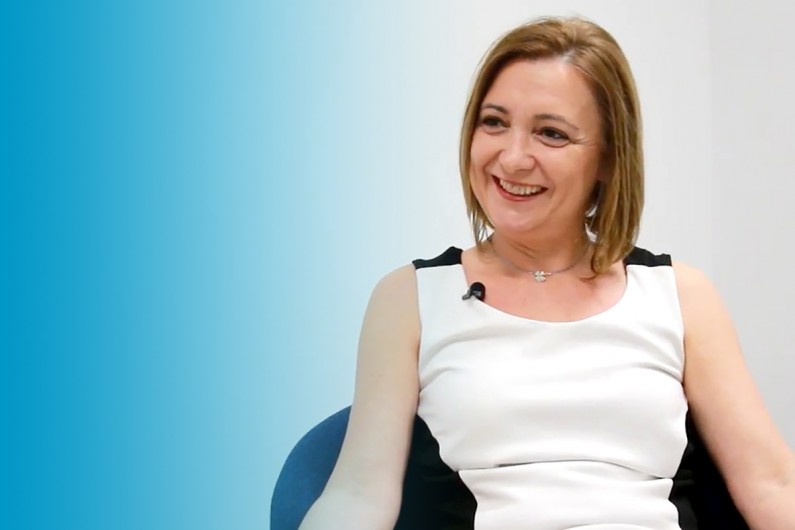 Empathy, the ability to listen and a thick skin help psychologist Rita Csako help her clients.
What makes a good psychologist? Rita Csako shares her tips
Gaby Solomona: So what's your favourite part about being a psychologist?
Rita Csako: When you've finished therapy it's amazing to see a human being going through a journey. Sometimes patients come in and they feel lost, they don't figure about themselves, they're sad. And guiding them through their journey when they flourish, they smile and when on the last session they say that 'I actually think that now I can manage on my own'. And I think that that's the most touching moment in psychology when you hear that, that 'I can do it on my own thank you'.
Gaby Solomona: When was the moment for you in your life when you decided I'm going to become a psychologist?
Rita Csako: I was always interested in human behaviour. As a psychologist you have a really good understanding of the human brain, how it works, what's going on, how emotion's generated, how motivation is generated, what drives people. Why do people behave in one way and not the other.
Gaby Solomona: What kind of people do you think are attracted to this field of work?
Rita Csako: You need to have some interest in other human beings. The really important quality is to have empathy. In therapy you quite often hear stories that are not just touching, they are sometimes shocking and you need to sit with it, and you need to carry it and you need to process it. In order to become a good psychologist you also need to have a really good understanding of who you are as a person.
Guiding clients to wellness is a psychologist's mark of success
For Dr Rita Csako, Senior Lecturer/Psychology Clinic Leader at Auckland University of Technology, the most precious moment in therapy usually comes when it's finished!
"The most touching moment is usually the last session when you hear a client say, 'I think I can do it on my own now, thank you.'"
However, Rita says that it's likely that in the future, the emphasis for psychologists will be more on prevention. "So how can we teach young people at high school to accept themselves and to recognise when they're not doing so well?"
Empathy and a thick skin required to sit through shocking stories
Behind a successful outcome which sees a client "flourish and smile" and become a happier and better adjusted person, is the guidance given by a skilled therapist.
"You need to have both empathy and an ability to 'sit' with the client in therapy and hear out whatever they have to say," says Rita.
"You quite often hear stories in therapy that are not just touching, they are sometimes shocking, so you have to be able to carry them and process them."
A scientific knowledge of human behaviour is key to the role
"It's your job to help them through their problems," she says, "and for this you need a good understanding of human behaviour.
"Most people who come to see a therapist don't know the reason why they're low in mood for example, or not achieving at university, or having relationship issues."
To be able to really help people, Rita says, "You can't just base your practice on the belief that something works, you need to act on the evidence.
"So, for example, you have to know how the environment in which people live affects their behaviour and how they relate to people, and how emotions and motivations are generated and drive their behaviour.
"The most important lesson I've learned as a psychologist is to treat psychology as a science."
Experienced psychologists have lots of career opportunities
Experience also counts for a lot in this profession, and Rita emphasises that it's a career where you need to be continuously learning: "Psychology isn't a career where you finish university, get your degree and the learning's over."
But it is a career that equips you for a broad scope of job opportunities, and there is a strong demand for psychologists in public health. Rita's own work experience spans her time in education working with children with special needs and behavioural issues, to working with people with eating disorders.
She now has the freedom to combine her role as clinic leader at AUT, teaching and supervising post-graduate students, with private practice, focusing on relationship therapy.
An early interest in the way people behave could mean you're a budding psychologist!
Tying it all together though, is that fundamental interest in human behaviour, which Rita had from a young age. Through the influence of a child psychologist and family friend, she made the decision that she wanted to become a psychologist at age seven.
"I found it fascinating how she helped children manage their anxiety, fears and nightmares. But I was always interested in human behaviour – watching how children interact and communicate, and behave on the playground – so once I found out that it's actually a profession, that was a click for me."
Get in touch with us for career information and guidance
If you need help with your career decision making you can contact us for career information and guidance between 8am and 6pm every week day, for free.
Call us on 0800 222 733 (free from mobiles)