myGPS helping Ara learners to be work-ready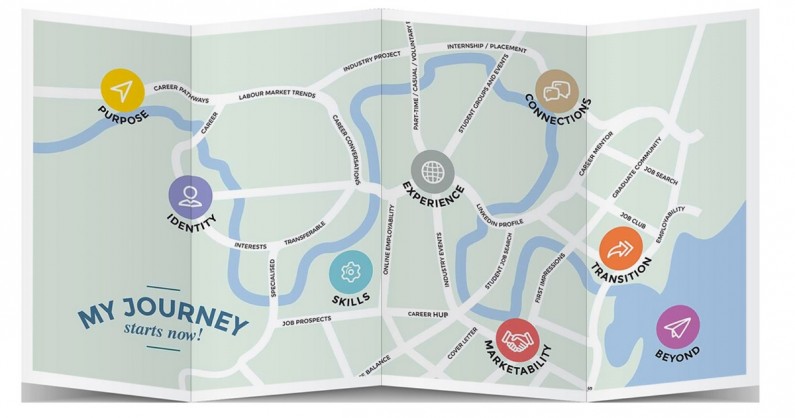 Find out how Ara Institute of Canterbury develops the employability skills of its learners.
What's on this page?
The world of work moves fast. Employers want graduates who are work-ready, with evidence of skills and work experience and the ability to communicate these skills effectively. However, many learners only think about being work-ready near the end of their studies and that can be too late to build the skills, experience and confidence employers need.
Ara Institute of Canterbury has developed myGPS, an interactive career development app for learners. The app engages learners at the start of their study. It tracks learners' employability as it takes them through a series of tasks to get work-ready and increase their value in the job market.
How myGPS works
MyGPS is available to Ara learners using either the internet or a mobile app. Learners complete – in any order – a series of career quests that sit within eight key focus areas. These focus areas include purpose, identity, skills, connections, experience, transition, beyond and marketability.
Ara's careers and transition team continually update the quests through links to current career resources and industry trends and events, such as career expos. These resources provide information that learners can read or watch, as well as an activity to complete. Learners save evidence through completing career quests. These quests cover anything from career goals and self-awareness assessments to skill-building activities and creating a marketable brand. learners are also connected with relevant employers through quests highlighting industry groups and events so they can network for potential work opportunities.
By completing quests, learners gain a sense of achievement as they develop skills, knowledge and confidence. They also create a marketable outcome through their profile. Specific quests also allow learners to regularly update their experience, skills and projects from their study to build a comprehensive and impressive career profile.
Finding work from myGPS
MyGPS is being trialled and developed. It will enable approved employers to search learners' career profiles to identify those with the skills that make them a good fit for their organisation. The profile will make finding that good fit easy as it will allow employers to see not only experience and skills, but how the learner's study connects to their workplace. The profile will also provide employers with an activity monitor to show the number of quests completed by the learner, as well as links to their CV, LinkedIn profile, e-portfolio or blog.  
The future of myGPS
Ara art and design graduate Carl Pavletich (Fabriko) designed the myGPS app with Ara's careers and transition team. They used feedback from learners and academic staff as well as research from the Ara Student to Graduate Lifecycle and the Tertiary Career Development Benchmarks. 
Through surveys and focus groups, Ara continues to use learner feedback on the app to enhance the tool. This feedback indicates that learners are feeling a sense of achievement as they see their skills, knowledge and confidence build from completing the quests and creating their profile.
Ara's careers and transitions team believe that employers will appreciate having access to a ready pool of talent they know will be a good match for their workplace. They will also value being able to easily see this through a tool that pulls together learners' academic achievements as well as evidence of experience and skills that demonstrate their work-readiness.