Success after a hard breakup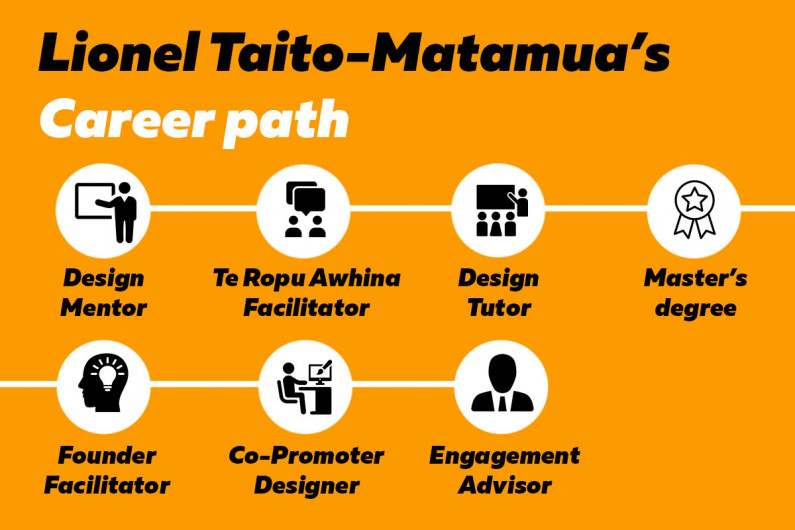 Lionel Taito-Matamua didn't let separation get in the way of his career goals.
What's on this page?
Industrial designer and entrepreneur Lionel Taito-Matamua found himself in a difficult situation when he separated from his daughter's mother.
The separation meant Lionel lost his support network, but instead of dwelling on the situation, Lionel focused on improving as a person, designer and father.
When challenges come around, know what your goals are and make sure you've got a strategy or direction so you can focus on that end goal.
Lionel loves designing with 3D printing because it has enabled him to apply new technology in different ways, such as in his outreach programme, Creative Pathways.
He launched the programme to help make 3D technology more accessible to young Māori and Pacific learners, after completing his Master of Design Innovation from Victoria University of Wellington.
At Queen Margaret College, he worked on a 3D printing project with students. He helped students design miniature Maggie dolls, the school's famous mascot, and print them as key rings that could be gifted to new students.
Lionel's positive attitude and resilience helped him move on from the separation. He didn't let the breakup get in the way of his career or fatherhood.
Watch Lionel's story
Lionel: Hi my name is Lionel and this is my one-year-old beautiful daughter Ayana-Rain.
As a father now thinking about my future it's pretty much a big thing now for me, not only thinking about what I'm up to or what I'm going to do but also considering my daughter as well, just to create a better future for us. Yeah, being a role model really.
I sort of started from a young age. I always liked to draw and create my own things, and then doing design and making 3D printing has just enabled me to transform ideas from in my head to 2D drawings and now 3D physical objects.
One of the biggest challenges for me in the last three months was going through separation with my daughter's mother, and in saying that it was sort of an experience where I did find myself in a pretty dark spot. In terms of the separation it meant I lost my support network. We're still on good terms, we're talking, but now it's enabled me to find myself: who am I as a person, designer, and also who am I as a father.
When challenges do come around it's all about knowing what your goals are and then making sure you've got a strategy or a direction that you can sort of direct all that emotion and all that kind of stuff and just focus on that end goal. And then just striving for it. 
I love doing this work because it's different and it enables me to take new technology and apply it in ways or a different ways, not just going from the design perspective but also through the education system through the outreach programme.
We're here at Queen Margaret College, Wellington, and I'm working on a 3D printing project with the students. We're making little miniature Maggie dolls, which is their school mascot, and 3D printing them into key rings that could be gifted out to kids coming into the school.
After a bad day this one pretty much cheers up everything.
Overcome career barriers like Lionel
Find out about having employability skills, returning to work or changing your career: