What to expect at institutes of technology and polytechnics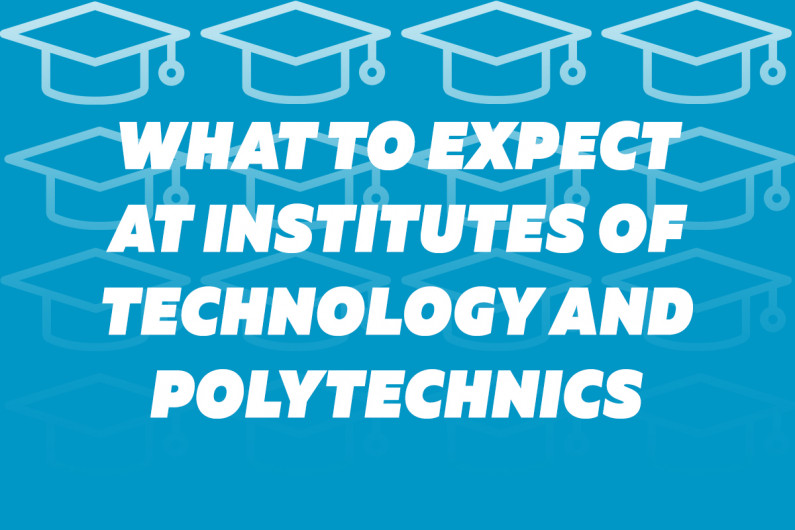 Find out what you can expect before and after starting study at an institute of technology or polytechnic.
What's on this page?
Before you start studying it's important to know what to expect from institutes of technology and polytechnics (ITPs) and what you'll do before and after starting study.
You'll also meet a variety of staff at ITPs, including lecturers, tutors, subject librarians, academic registrars and student advisors. Learning about these staff will help you to transition into ITP life.
What you'll do before starting study
Enrolment
Your first step to starting at an ITP is to choose your courses and qualification online and check that you meet the entry requirements. You'll need to add your courses and qualification to your online enrolment account before you apply to enrol. Once you've applied to enrol online, the ITP will contact you when your application has been processed.
Preparing to start study
It's important to get prepared before you start studying at an ITP. Take time to learn about your courses and what you'll need to do. Depending on what you choose, you may study at home via distance learning, attend lectures or practical workshops, work on projects with industry organisations or do a combination of various types of learning.
Some important activities to help you prepare for study include:
checking emails for announcements and course information
getting your student card
setting up your online ITP account
understanding and confirming your study timetable
locating your lecture theatres or other study facilities
buying your course books and textbooks
asking questions at student services if you're unsure about anything.
What you'll do after starting study
First week
Your first week will vary depending on the courses and qualification you choose to study. For example, if you're studying search and rescue you may be required to attend physical training sessions. However, if you're studying accounting you'll mostly attend lectures. Lectures are educational talks or presentations run by lecturers in lecture theatres.
You'll also sign up for tutorials during your first week. Tutorials are small classes that focus on developing further understanding of lecture material. If you study science or another practical subject, such as engineering, you'll sign up for laboratory classes (labs) and workshops. Labs and workshops are similar to tutorials in that they're designed to develop further understanding of lectures, but focus on learning through practical work.
If your ITP runs on the semester system, you would have two academic terms or "semesters" per year. Under the trimester system, you would have three academic terms or "trimesters" per year.
Learning by doing and making connections
Depending on your course, you may gain practical experience alongside your study, such as taking part in work placements. For example, if you take on an apprenticeship in mechanical engineering, you'll work with an employer while gaining your qualification. This can give you the chance to build connections and gain work experience in your industry during your studies, which can make finding a job easier when you graduate.
Coursework
You'll be expected to manage your own studies and finish assignments on time.
You may need to visit the library to do research, find a textbook or meet with others to work on group projects.
If you have questions about coursework, email or talk to your lecturers. You can also talk to your tutors or raise questions about coursework during tutorials. Student services offer additional learning support to help with assignments.
All the work you submit must be your own. ITPs use software to check for plagiarism when students submit assignments. Plagiarism means taking someone else's work and presenting it as your own. If you plagiarise, you may be penalised.
Support networks
If you have questions or concerns about lecture material or coursework, contact your lecturer or tutor for advice.
Talk to a student advisor if you're thinking about changing your course(s) or qualification.
Other support available for ITP students includes:
enrolment and course advice
graduation and career advice
English language support
libraries and learning services
Māori and Pacific support
refugee support
international support
disability support
health and counselling
financial support.
Differences between institutes of technology or polytechnics and universities
ITPs generally offer more certificate and diploma qualifications than universities. These qualifications focus on specific areas of work and can lead you directly into a job when you graduate. 
Studying at an ITP involves theory-based learning similar to university. The key difference is that ITPs usually combine theory with practical work or job experience. Classes at ITPs are usually smaller and offer more chances for you to participate and learn with your peers.
Updated 24 May 2021