Toolmaker
Ringa Utauta
This job is sometimes referred to by alternative titles
Toolmakers make and repair tools and other precision parts and equipment.
Pay
Toolmakers with one to two years' experience usually earn
Toolmakers with more than two years' experience usually earn
Job opportunities
Chances of getting a job as a toolmaker are average because although there has been a drop in manufacturing, regular vacancies arise.
Pay
Pay for toolmakers depends on where they work and how much experience they have. According to industry sources:
apprentice toolmakers and those with less than two years' experience usually earn between $30,000 and $40,000 a year
toolmakers with two to five years' experience usually earn between $40,000 and $60,000
senior toolmakers, or those working in supervisory positions, can earn up to $80,000.
What you will do
Toolmakers may do some or all of the following:
study clients' drawings and instructions
design tools and equipment on computers using computer-aided design (CAD) software
select metal or plastic to be used
measure and mark the metal or plastic pieces
set and operate machines to cut and shape the metal or plastic
check measurements and put parts together
polish and harden tools and equipment
test the finished product
maintain and repair tools
maintain machinery used for making tools.
Skills and knowledge
Toolmakers need to have:
knowledge of tool and instrument construction
knowledge of the properties of metals and plastics
ability to read and interpret plans and drawings
ability to operate computer-controlled machinery.
Working conditions
Toolmakers:
usually work regular business hours, but may be required to work occasional weekends and evenings
work in workshops and factories
work in conditions that may be dirty and noisy. They may work with dangerous equipment, however risks are minimised with appropriate safety procedures.
What's the job really like?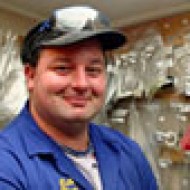 Coulton Finch - Toolmaker
As a toolmaker that specialises in working with plastics, Coulton Finch works on producing a variety of gadgets and devices, ranging from camera casings to parts for a new dish drawer.
From concept to finished product
Coulton is involved throughout the manufacturing process, from drawing up plans on the computer to machining, grinding and hand polishing the final product.
"Usually we get an idea or 3-D drawing from the customer and they'll tell us what they want it made out of or we'll give them a specification for materials. Then we put it into a tool, cut the required shape into it and send it out to the plastics factory where they squirt plastic into it and make hundreds or thousands of items from that one tool."
Making a tool can be a long but rewarding process
Because of the nature of the tools he's creating, it's not unusual for Coulton to spend up to 450 hours working on a particular tool. "It's not unheard of to make something three times before you get it right," he jokes.
But he says that when the job's done, all of the hours are worth it.
"Finishing a product and having the customer come back and say it was really good – that's great."
Entry requirements
There are no specific entry requirements to become a toolmaker. However, most employers prefer you to have completed an apprenticeship and gained a National Certificate in Mechanical Engineering (Level 4), with a strand in toolmaking.
Competenz, an industry training organisation, oversees toolmaking apprenticeships.
Secondary education
To become a toolmaker apprentice or trainee, NCEA Level 1 graphics, technical or computer-aided drawing, maths, science and workshop technology are recomended.
Personal requirements
Toolmakers need to be:
accurate and patient
good at problem solving
able to follow instructions
safety-conscious
well organised, with good planning skills
able to work well independently, and as part of a team.
It's mentally challenging because you're working with high accuracy all the time.

Wayne Muschamp - Toolmaker
Useful experience
Useful experience for toolmakers includes:
work in an industrial workshop
any work using hand tools
any work with plastics, wood or metals
operating woodwork or metalwork machinery
welding and sheet metal work.
Physical requirements
Toolmakers need to be reasonably fit as there can be some heavy lifting involved. They also need to have good eyesight (with or without corrective lenses).
Find out more about training
Competenz

0800 526 1800 - info@competenz.org.nz - www.competenz.org.nz

Futureintech

(04) 473 2023 - enquiries@futureintech.org.nz - www.futureintech.org.nz
Check out related courses
What are the chances of getting a job?
Demand for toolmakers stable
The toolmaking sector has struggled to grow, as work has increasingly been outsourced to countries where production costs are lower. As a result, some toolmaking companies have been reluctant to hire new workers and a few have laid off employees.
However, Ministry of Business, Innovation and Employment estimates show that the number of toolmakers stayed about the same between 2003 and 2012, fluctuating between 1,800 and 1,900 workers.
Companies offer apprenticeships to make sure they have a steady supply of staff
Some employers report that it has become increasingly hard to recruit experienced toolmakers, and many of them regularly recruit apprentices to help make sure they have enough staff. For example, Scott Technology Limited takes on five to six apprentice toolmakers a year. Some other large companies also do this. 
About 60 toolmakers a year retire or leave the job.
Types of employers varied
Employers of toolmakers include:
specialist toolmaking and machining companies
industrial machinery and equipment manufacturers
domestic appliance manufacturers
plastic product manufacturers
manufacturers of other fabricated metal products.
Toolmaking companies range from small organisations that employ just a few workers, to large manufacturers that employ hundreds of people.
Sources
Brooks, S, industry/qualifications manager, Competenz, Careers New Zealand interview, October 2011.
Ministry of Business, Innovation and Employment, '2003-2012 Occupation Data' (prepared for Careers New Zealand), 2013.
Scott Technology Limited, 'Apprenticeship Programme', website accessed June 2013, (www.scott.co.nz).
Progression and specialisations
Toolmakers can progress to become product engineers and designers, or move to supervisory, managerial or technical sales roles.
They may specialise in making particular parts, equipment or tools. They may also specialise in working with different types of metals, plastics, resins or other materials.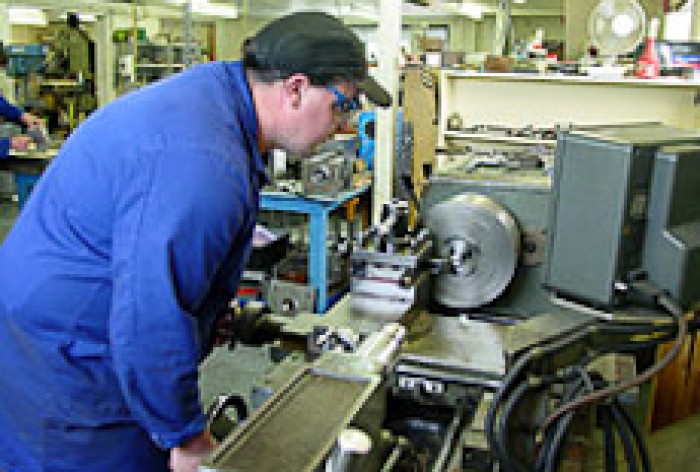 Last updated 1 June 2017