Barista
Kaiwhakarite Kawhe
Baristas prepare and serve coffee and other hot beverages to cafe, coffee shop or restaurant customers.
Pay
Baristas usually earn an average of
Source: Hospitality New Zealand.
Job opportunities
Chances of getting a job as a barista are average for those wanting to enter the role, but good for those with experience.
Pay
Baristas earn an average of about $17 an hour.
They may also receive tips from customers, and it is up to the cafe/restaurant manager whether the tips are kept by individuals, or divided equally among staff.
Source: Hospitality New Zealand, 'Annual Wage Survey 2014'.
(This information is a guide only. Find out more about the sources of our pay information)
What you will do
Baristas may do some or all of the following:
prepare and serve a variety of coffees and hot drinks
sell food and snacks
take customers' orders, collect payments, operate cash registers, and give change
collect cups and glasses from tables and place them in washing machines
wipe down tables
clean service areas and coffee machines
assist with stock control
follow workplace hygiene, occupational health and safety, and security procedures.
Skills and knowledge
Baristas need to have:
ability to prepare different types of coffees and hot drinks
knowledge of how to work a coffee machine
knowledge of food health and safety
customer service skills
cash-handling skills.
Working conditions
 Baristas:
usually work shifts, including evenings, weekends and public holidays
work in cafes, coffee shops, restaurants, bars and other dining establishments
work in venues that are often hot, busy and noisy.
What's the job really like?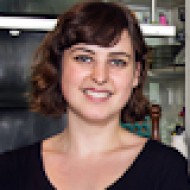 Jess Aitken - Barista
Being a barista is all about multitasking
Jess Aitken says it can take two to three months to get confident making good coffee and keeping up a conversation with customers.
"I started with my head down practising the shots, getting feedback from staff, and learning to see what tasted and smelled right. But you also need to multitask – to talk to your customers while you're making their coffee."
The barista role is usually combined with food service, so Jess decided to work towards a Certificate in Hospitality, which covers both. However, it's the barista work she enjoys the most. "It's not as exhausting as running the floor and it's fun working the machines and creating patterns on the coffee."
A job with a creative element
Jess combines her cafe work with an internship at a fine arts gallery, and says she is lucky to be able to apply her creative flair at the cafe in a number of ways. "I put the finishing touches on customers' coffees, do the design work for the cafe logo and menu, and organise the in-cafe art exhibitions."
Encouraging environmental awareness
Jess also likes the way the cafe supports environmentalism. "We use Fairtrade coffee and organic milk, and I encourage customers to get reusable coffee cups. One day I'd be keen to go to South America and see the Fairtrade coffee farms."
Check out the video of Sierra Clement to find out what it's like to be a barista - 1.30 mins.
Hi there, my name is Sierra and I work at Morrison Street café - I'm a barista and duty manager.
I started at front of house actually, the chef wouldn't let me into the kitchen before I learnt the front and that's where I got my passion for coffee and serving customers.
I think you've definitely got to be enthusiastic and have a bubbly personality, bringing energy to a workplace is extremely important and creates part of the atmosphere.
Polytech has fantastic courses – chefing, barista and front of house. I'm a firm believer in picking up your skills working in the industry hands on. You can learn only so much by the book and once you get in there it's a whole different ball game learning how to actually do it.
I believe that if you've got passion and you are a hard worker you can you can work your way anywhere in the hospitality industry.
I love the buzz, I love working hard, I love the environment, I love building relationships with customers. I love food. I love coffee. I have a passion for all of it. I live and breathe it and I couldn't have it any other way.
Entry requirements
There are no specific requirements to become a barista, as you train on the job.
Types of training:
Some employers may offer baristas the opportunity to gain the Certificate of Achievement (COA) in Barista Skills, offered by many polytechnics or private providers as a short course.
Or you can do a more comprehensive on-the-job training course, such as ServiceIQ's National Certificate in Hospitality (Food and Beverage) Level 3.
A pre-employment certificate, such as the one-year New Zealand Certificate in Hospitality Level 2,  completed at a polytechnic or private provider, can be useful for those wanting to get work in the hospitality industry.  
Secondary education
There are no specific secondary educational requirements, but NCEA Level 1 English is preferred.
Personal requirements
Baristas need to be:
good communicators, with strong people skills
able to remember customers' orders
efficient and speedy
able to work well in a team.
You can be making a lot of coffees at really busy times like mornings and lunchtimes, but you get through it by good team work – and taking deep breaths and writing things down.
Useful experience
 Useful experience for baristas includes:
restaurant, cafe or catering work
work involving customer service
retail work.
Physical requirements
Baristas need to be fit and healthy, as they are on their feet all day. They should also have a clean and tidy appearance.
Find out more about training
Hospitality New Zealand

nsc@hospitalitynz.org.nz - www.hospitalitynz.org.nz

ServiceIQ

0800 863 693  - info@serviceiq.org.nz - www.serviceiq.org.nz
Check out related courses
What are the chances of getting a job?
Demand for baristas is strong as spending on eating out has increased. However, employers prefer experienced baristas with a qualification.
Cafe worker job is one way into the role 
Your best chance of getting an entry-level barista position is to start work as a cafe worker and and then express your interest in moving into a barista role. Some employers will support their staff through formal training while they are working.
Types of employers varied
Baristas may work for:
cafes and restaurants 
bars
large department stores
luxury hotels
airports and cruise ships
mobile coffee carts.
Some baristas are self-employed.
Sources
Ministry of Business, Innovation and Employment, '2003-2012 Occupation Data' (prepared for Careers New Zealand), 2012.
Robertson, B, chief executive officer, Hospitality New Zealand, Careers New Zealand interview, January 2015, (www.hospitalitynz.org.nz).
ServiceIQ, Careers New Zealand interview, December 2014, (www.serviceiq.org.nz).
Statistics New Zealand, 'Food Price Index Review: 2014', accessed January 2015, (www.stats.govt.nz).
Statistics New Zealand, 'International Travel and Migration: November 2014', accessed January 2015, (www.stats.govt.nz).
(This information is a guide only. Find out more about the sources of our job opportunities information)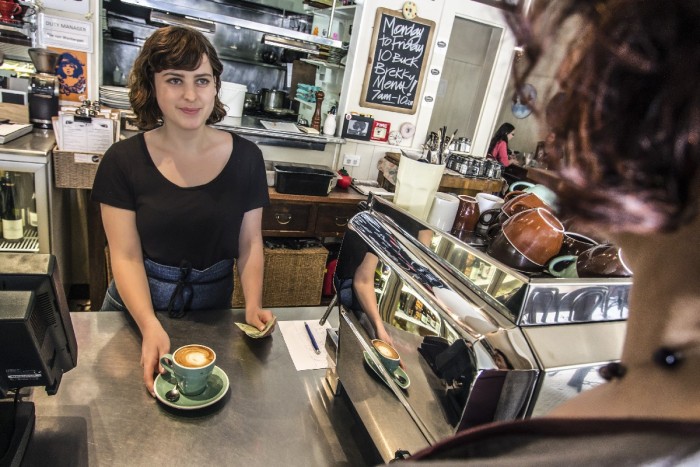 Last updated 6 June 2018