Screen Printer
Kaitā Mata
Screen printers use stencils and screens to copy designs onto a variety of materials and surfaces such as textiles, metals, walls, plastics and glass. Their skills are used in product branding and labelling, electronic manufacturing, signage and interior design.
Pay
Screen printers with up to three years' experience usually earn
Senior screen printers with more than five years' experience usually earn
Source: PrintNZ, 'Print Industry Report', 2013
Job opportunities
Chances of getting a job as a screen printer are average for new workers but better for people with experience.
Pay
Pay for screen printers varies depending on experience.
Apprentices may start on the training or adult minimum wage, with pay increasing as apprentices gain skills and complete unit standards.
After completion of a 30-month apprenticeship, screen printers usually earn $37,000 to $42,000 a year.
Senior screen printers with more than five years' experience can earn $62,000 to $72,000 a year.
Source: PrintNZ, 'Print Industry Report', 2013.
(This information is a guide only. Find out more about the sources of our pay information)
What you will do
Screen printers may do some or all of the following:
discuss design requirements with clients
contribute to the design of a product
arrange colour-matching and sampling with the original design
determine the type of screen to be used for the screen printing
place the stencils on the mesh screen
place the screen on the materials to be printed and add the ink
leave the ink to dry and add the other colours
clean the screens and equipment
check the quality of the screen-printed products.
Skills and knowledge
Screen printers need to have:
knowledge of different screen-printing methods
the ability to make up inks and colours
knowledge of art and design
an understanding of different materials, particularly the properties of different fabrics
knowledge of how the final screen-printed product will be used, so they can design it appropriately
knowledge of the printing industry and screen-printing machinery
skill in the technical and practical aspects of screen printing.
Working conditions
Screen printers:
may work regular or flexible hours. Sometimes they work after regular business hours to meet a deadline
work in large studios, workshops and factories.
What's the job really like?
Lewis Tait
Screen Printer
Having a can-do attitude right from the start
Lewis Tait says being a screen printer apprentice required a can-do attitude right from the beginning.
"I took over from the old screen printer – they pretty much chucked me in the deep end and I had to learn everything on the job, but it means that now I can usually manage by myself. Sometimes if there are big print runs I get someone else to give me a hand."
Getting involved with all aspects of the job
Lewis carries out a range of other tasks, including painting screens, printing, and using a computer to mix colours and inks. But he also really enjoys getting involved in the pre-press aspect of the job. "When we get artwork to print, I can now see when something is not going to work from a practical point of view. So I have to send it back and make suggestions how it could be done, or scribble stuff out and cut and paste things."
Being involved in all aspects of screen printing is a huge positive for Lewis. "I get to see more, and it is more creative. And it's great when something I've done comes out looking good."
Entry requirements
There are no entry requirements to work as a screen printer. However, many employers prefer to employ screen printers who have or are working towards a qualification.
To become a qualified screen printer, you need to do an apprenticeship and gain a National Certificate in Screen Printing (Level 4) through Competenz.
People wanting to become factory screen printers must be at least 16 years old, have normal colour vision and pass an eyesight test.
Secondary education
Three years of secondary school education is preferred. Useful subjects include art, technical drawing, mathematics, fabric technology and digital technology.
Some students may be eligible to take part in the Gateway programme, where students can achieve unit standards while still at school.
Personal requirements
Screen printers need to be:
good at listening, communication, and problem-solving
good at making decisions
interested in fabrics and textures and have a good sense of colour
methodical and patient
able to work well under pressure
accurate, with an eye for detail
safety-conscious as they work with inks and chemicals.
You need an eye for detail for any kind of printing. Second best is not good enough; a lot of people have a lot of things riding on your work.

Glen Perry - Screen Printer
Useful experience
Useful experience for screen printers includes:
photography
drawing or design
any work involving paints or inks
working with machinery.
Physical requirements
Screen printers need to have:
good eyesight (with or without corrective lenses)
normal colour vision
a reasonable level of  fitness and strength as some jobs can be quite strenuous, and they may spend a lot of time on their feet, or have to lift heavy buckets of ink and dyes.
Find out more about training
Competenz

0800 526 1800 -info@competenz.org.nz - www.competenz.org.nz
Check out related courses
What are the chances of getting a job?
Advancements in technology has reduced demand for screen printers as many roles have become automated. However, during the economic downturn many screen printers left the industry, which has created a gap now that business has picked up. This has seen some moderate demand for experienced screen printers.  
Industry sources suggest approaching screen printing companies directly and asking for work experience and/or an apprenticeship. Your chances are best if you have a good eye for colour and a mechanical aptitude.  
Range of employers
Screen printers may work for:
commercial printing companies
clothing manufacturers
marketing service companies
packaging companies
textile product manufacturers.
Sources
Cobb, R, general manager, PrintNZ, Careers New Zealand interview, October 2014. 
Ministry of Business, Innovation and Employment, '2003-2012 Occupation Data' (prepared for Careers New Zealand), 2012
Statistics New Zealand, 'Census 2013', 2013
(This information is a guide only. Find out more about the sources of our job opportunities information)
Progression and specialisations
Screen printers may progress to take up jobs using digital print technology, become supervisors or managers, or buy their own business.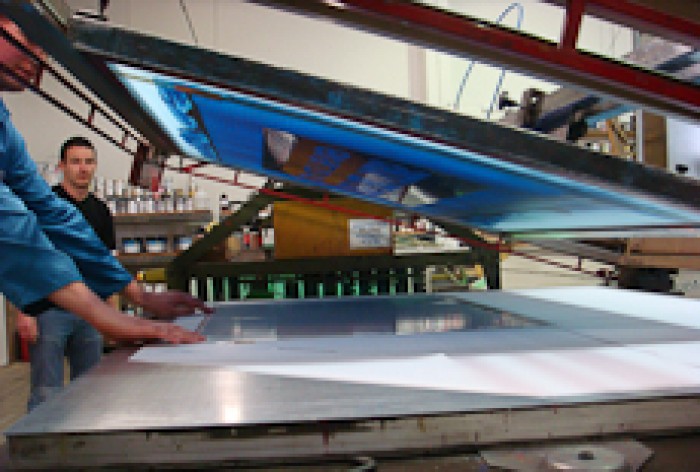 Last updated 10 April 2018