Railway Shunter
Kaikōmiri Rerewhenua
Alternative titles for this job
Railway shunters separate and join the carriages and wagons on trains. They also direct and move freight trains, organise rail freight and conduct safety checks.
Job opportunities
Chances of getting a job as a railway shunter are average due a relaitively small and stable number of workers but high worker turnover.
Pay
Pay for railway shunters varies depending on experience.
Trainee railway shunters usually start on about $18 an hour.
Once they have completed training and are fully certified, railway shunters earn about $21 an hour.
Team leaders can earn about $27 an hour.
(This information is a guide only. Find out more about the sources of our pay information)
What you will do
Railway shunters may do some or all of the following:
link and unlink train carriages and wagons
direct train drivers when coupling carriages and engines
conduct safety checks on trains
place wagons into sidings (railway parking tracks)
direct train drivers around the rail yard
move trains with remote control devices
adjust railway tracks
prepare documents about the load on train wagons.
Skills and knowledge
Railway shunters need to have:
mechanical and practical skills for moving trains and freight carriages
knowledge of signalling, wagon types and classes
knowledge of the layout of railway yards, stations and lines
understanding of emergency and safety procedures, and first aid
knowledge of clients' freight requirements.
Working conditions
Railway shunters:
work rostered shifts, which include evenings and weekends
work in train depots and railway yards, and on sections of railway track
work outdoors in all types of weather
work in conditions which can be hazardous.
What's the job really like?
Eddie Tugaga - Rail Operator
How do you know which tracks to shift?
"Every train that comes into the yard has to be piloted in. First of all you call up the boss to find out exactly which track he would like the train on. There are hand-pulls that move the lines so that a train can be moved from one track to another. Once the boss gives us the final OK, we bring in the train."
What's your responsibility when trains are about to leave?
"When a train is ready to leave, we give it a check to make sure it's safe and ready to go. We look at things like brake locks and container doors. If everything's good and the driver's happy then we sign the train list to say that he is safe to run, and he's on his way. As he leaves, we do what is called a roll-by, to check everything as he goes by."
What do you like best?
"They're a great bunch of guys – always willing to help and they're always watching us new ones. It's all about trust – everyone looks after each other – because when working with heavy machinery, safety is the biggest factor."
Watch the video to find out what working in the rail industry involves - 5.55 min. (Video courtesy of Competenz)
I'm Sam Caughan, I'm 18 years old and I'm interested in the rail industry.

Clinton: Well Sam's off to spend some time with the Auckland operation of Kiwi Rail, New Zealand's rail industry operator. Kiwi Rail run both freight and passenger services.

Colin: There is a huge range of jobs available in the rail industry – there's mechanical engineers, there's train drivers, there's shunters, there's signalmen, or if you want to work inside there's the office side of it.

Clinton: Keeping Sam on track is Colin Vickery.

Clinton: First up, Sam's headed to the Takapuna administration centre.

Colin: Welcome Sam, this is where we do everything in Kiwi Rail to make sure that we're getting the right containers on the trains, make sure we've got the right locomotives, make sure we've got the right drivers and make sure that we've got the right freight. Over here on this side here is part of the train-bill team, and they will actually allocate the wagons to be used on the train and they will virtually build that train in the computer system to make it look like it's exactly what they're doing.

Chris: Ok Sam, this is our CTMS programme – it's pretty much a visual representation of the way we're going to load the train. Up here, they're our wagons, and all these boxes down here are our containers. It's got all of our info we need to know about the container down here, it's a simple click and drag operation.

Clinton: Chris builds up the train - 1000 tons. Destination –Christchurch, and the information is mailed to the Marshalling Yard.

Colin: Out here are the Westfield yards, this is what's called a Marshalling Yard, where the trains are marshaled into the correct order. Some of the customers here might be wanting to send wagons to Mt Maunganui, others to Palmerston North, so when they say they're marshalling a train, they're putting all the Palmerston North wagons together and they're going to put all the Mt Maunganui wagons together.

Clinton: It's all like one giant sized postal sorting office and it's the job of a shunter to shuffle the wagons into the right order. Three wagons have to be dropped off this train and the shunter today, Lee, first shows Sam how the wagons are coupled.

Lee: And the bridle, that goes over there.

Sam: So what does the bridle do?

Lee: The bridle stops our hook from jumping, as the train is moving.

Clinton: Before any train can travel, the wagons have to be checked.

Lee: Would you like to put that inside?

Colin: The locomotive shouldn't move without a shunter on board, so they're used as pilots and they're the ones that actually tell the locomotive engineer how far they have to come back, how far they have to go forward and also ensure that it's safe for them to carry out that movement.

Colin: One of the good things about working in the railways is that whether you're a shunter or a driver, or if you're looking after the points or if you're a signalman, everyone knows one another and you're all actually working together.

Clinton: Our loco is about to head out on the road but first it has to be serviced.

Colin: This here is the sand department, so we put sand inside the locomotive so when the wheels start to slip, the actual locomotive senses the wheels are slipping and it puts sand down on the track to be able to give it some kind of adhesion to the rail, traction.

Clinton: Once the loco is refuelled it's ready for the rostered driver to take charge.

Colin: I suppose one of the good things about being a train driver is - if you like trains, it's the perfect job. It's the kind of job where you work by yourself a lot of the time and you get some really big toys to play with.

Clinton: Neil Messiter hails from a railway family. Both his father and grandfather were locomotive drivers.

Neil: Coming out Lee.

Neil: This particular locomotive is the most powerful class of locomotive that we have in this country. I actually love this locomotive. It's a diesel/electric locomotive – it's basically an electric locomotive with it's own power plant.

Neil: So how does it feel sitting in the seat, Sam?

Sam: It feels pretty good, let's go for a drive!

Clinton: Lee gives the wagons one final check and it's time for Sam's ride.

Lee: 183, you're ready to leave?

Neil: Receiving Lee.

Colin: To become a locomotive engineer to drive a freight train, currently you have to do on-the-job training for 1040 hours, and you get sent away to school in Woburn and you get taught how the trains work, how the motors work, how the locomotives work and you're also taught how to shunt and about road knowledge, so you have to know that bit of track like the back of your hand

Neil: Road knowledge is very important – 99% of knowing the road makes a good driver.

Neil: Because the terrain we travel over can be hilly - we only have so much braking power, and once you use that brake up, you've lost control of your train and then you're in serious trouble.

Colin: It's like a big family – everyone gets on and everyone gets in together and they pull their weight together. The other good thing about the job is that working in the railways you can either work inside or outside and you can do a number of different things.

Colin: I've been in the rails 17 years old and I've worked in a lot of different parts of it so far and I'm still not bored with the industry.

Clinton: So how has Sam done?

Colin: Sam's done surprisingly well, he's got a lot of knowledge, he seems to have taken a lot in and he's been enthusiastic about the whole thing.

Sam: I think it surprised me quite a bit that there's a lot of variety in the industry, because I thought it would be just as simple as jumping in the train and driving off, but there's a lot more to it than that.

Clinton: There's a wide range of opportunities for anyone wanting to join the rail industry. Practical on the job instruction is a major part of training. The level 2 National Certificate in Rail Transport is an introduction to a career in the railways. The level 4 Certificate in Locomotive Engineering recognises the skills required for driving locos. There's a strand for the additional skills needed for driving a freight train.
Entry requirements
To become a railway shunter you must pass a:
basic entry test
medical test that includes drug testing.
The tests are arranged by KiwiRail as part of the job application process.
Railway shunters usually do a short training course at the Woburn Rail School in Wellington. They are also given a full induction at the railway yard where they will be working.
Personal requirements
Railway shunters need to be:
responsible
alert
safety-conscious
punctual
quick and efficient, and good organisers
good communicators
able to remain calm under pressure.
Physical requirements
Railway shunters need to be reasonably fit and healthy, with good hand-eye co-ordination.
They need to pass medical tests, have good hearing and eyesight (with or without corrective lenses), and normal colour vision.
Find out more about training
KiwiRail

recruitment.centre@kiwirail.co.nz - www.kiwirail.co.nz/index.php?page=home

Veolia Transport

09 969 7777 - info@veoliatransport.co.nz - www.veoliatransport.co.nz/
Check out related courses
What are the chances of getting a job?
According to Ministry of Business, Innovation and Employment estimates, the number of people employed as railway shunters has remained steady at about 200 over the past two years.
However, KiwiRail reports good opportunities for people looking to enter the role in some centres.
Opportunities regularly arise in the following centres: Kawerau, Taranaki, New Plymouth, Palmerston North, Christchurch, Invercargill and Dunedin. KiwiRail says they often struggle to full positions in these regions, particularly Invercargill and Taranaki. 
Work may be harder to find outside of these centres.
Railway shunter vacancies come up regularly as people move on to other jobs
Jobs for railway shunters regularly come up because:
the job is physically demanding, so people often stay in the role for a short time only
people often use the job as a stepping stone to other railway jobs such as locomotive engineer.
Most railway shunters work for one employer
Most railway shunters are employed by KiwiRail.
There are some independent rail operators servicing large industries or running tourist ventures that also employ railway shunters.
Sources
Cheyne, J, human resources advisor, KiwiRail, Careers New Zealand interview, April 2013.
Ministry of Business, Innovation and Employment, '2003-2012 Occupation Data' (prepared for Careers New Zealand), 2012.
Department of Labour, Jobs and Tertiary Education Indicator Tool, accessed April 2013, (www.dol.govt.nz).
(This information is a guide only. Find out more about the sources of our job opportunities information)
Progression and specialisations
Railway shunters may progress to work as train drivers.
KiwiRail fills many of its vacancies with internal applicants, so starting out as a railway shunter is a good way to enter the rail industry before moving up to other positions.
Some railway shunters may specialise as remote control operators, which involves moving locomotives by remote. Experienced railway shunters may become team leaders.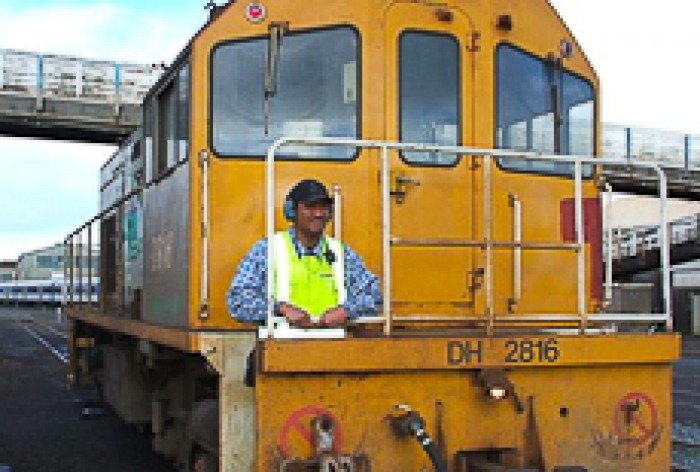 Last updated 13 June 2017