Train Controller
Kaiwhakarite Tereina
Train controllers direct and monitor the movement and safe operation of trains within an assigned geographical area.
Pay
Trainee and inexperienced train controllers usually earn
Experienced train controllers usually earn
Job opportunities
Chances of getting a job as a train controller are poor as the occupation is small and people tend to stay in the job for a long time.
Pay
Pay for train controllers varies depending on experience.
Trainee train controllers start on about $30 an hour.
Once they have completed training, train controllers earn about $33 an hour.
Very experienced train controllers who oversee a large geographical area can earn up to $40 an hour.
Source: KiwiRail.
(This information is a guide only. Find out more about the sources of our pay information)
What you will do
Train controllers may do some or all the following:
authorise and direct the movement of trains in their assigned geographical area
communicate with train drivers to ensure the safe movement of trains
record the movement of trains on a train control diagram
record departure times and station stop times
keep other train controllers informed about trains connecting or going through their areas
authorise and control any activities on railway tracks in their area
contact railway workers or emergency services to deal with equipment failures or emergencies
inform their manager of all incidents, irregularities and train delays and log these in the system.
Skills and knowledge
Train controllers need to have:
knowledge of railway signal systems
an understanding of railway terms and radio transmitter operating protocols
computer skills, including the ability to work between three or four different computer programs and screens at the one time.
Working conditions
Train controllers:
work rotating shifts, including nights and weekends
spend most of their time in a network control office
work in conditions which may be stressful due to busy networks and responsibility for passengers' safety
may travel to see the areas they are controlling.
What's the job really like?
Lena Pedersen - Train Controller
Train controllers need a special personality
"I've always been super-organised – in my earlier job as a gym coach, I was always the one who could delegate and prioritise, which is also a big part of being a train controller. And you need to be able to stay calm – we all get a little bit stressed in here sometimes, but you've just got to deal with it."
Tracking trains – by computer
At the beginning of each shift, Lena is allocated a geographical area and is responsible for making sure trains move safely within it. Multiple computer screens at each controller's desk show where trains are at any time, and the train controllers plot the trains' movements on graphs.
Lena's day is full, from the moment she logs on until the end of her shift, when she hands over to her replacement. "You just have to keep planning all day long, and keep the trains running on time."
"It is hard work, but I think it's rewarding and I feel good every day when I go home having done a good day's work."
Watch the video below to find out what working in the rail industry involves. 5.55 min. (Video courtesy of Competenz)
I'm Sam Caughan, I'm 18 years old and I'm interested in the rail industry.

Clinton: Well Sam's off to spend some time with the Auckland operation of Kiwi Rail, New Zealand's rail industry operator. Kiwi Rail run both freight and passenger services.

Colin: There is a huge range of jobs available in the rail industry – there's mechanical engineers, there's train drivers, there's shunters, there's signalmen, or if you want to work inside there's the office side of it.

Clinton: Keeping Sam on track is Colin Vickery.

Clinton: First up, Sam's headed to the Takapuna administration centre.

Colin: Welcome Sam, this is where we do everything in Kiwi Rail to make sure that we're getting the right containers on the trains, make sure we've got the right locomotives, make sure we've got the right drivers and make sure that we've got the right freight. Over here on this side here is part of the train-bill team, and they will actually allocate the wagons to be used on the train and they will virtually build that train in the computer system to make it look like it's exactly what they're doing.

Chris: Ok Sam, this is our CTMS programme – it's pretty much a visual representation of the way we're going to load the train. Up here, they're our wagons, and all these boxes down here are our containers. It's got all of our info we need to know about the container down here, it's a simple click and drag operation.

Clinton: Chris builds up the train - 1000 tons. Destination –Christchurch, and the information is mailed to the Marshalling Yard.

Colin: Out here are the Westfield yards, this is what's called a Marshalling Yard, where the trains are marshaled into the correct order. Some of the customers here might be wanting to send wagons to Mt Maunganui, others to Palmerston North, so when they say they're marshalling a train, they're putting all the Palmerston North wagons together and they're going to put all the Mt Maunganui wagons together.

Clinton: It's all like one giant sized postal sorting office and it's the job of a shunter to shuffle the wagons into the right order. Three wagons have to be dropped off this train and the shunter today, Lee, first shows Sam how the wagons are coupled.

Lee: And the bridle, that goes over there.

Sam: So what does the bridle do?

Lee: The bridle stops our hook from jumping, as the train is moving.

Clinton: Before any train can travel, the wagons have to be checked.

Lee: Would you like to put that inside?

Colin: The locomotive shouldn't move without a shunter on board, so they're used as pilots and they're the ones that actually tell the locomotive engineer how far they have to come back, how far they have to go forward and also ensure that it's safe for them to carry out that movement.

Colin: One of the good things about working in the railways is that whether you're a shunter or a driver, or if you're looking after the points or if you're a signalman, everyone knows one another and you're all actually working together.

Clinton: Our loco is about to head out on the road but first it has to be serviced.

Colin: This here is the sand department, so we put sand inside the locomotive so when the wheels start to slip, the actual locomotive senses the wheels are slipping and it puts sand down on the track to be able to give it some kind of adhesion to the rail, traction.

Clinton: Once the loco is refuelled it's ready for the rostered driver to take charge.

Colin: I suppose one of the good things about being a train driver is - if you like trains, it's the perfect job. It's the kind of job where you work by yourself a lot of the time and you get some really big toys to play with.

Clinton: Neil Messiter hails from a railway family. Both his father and grandfather were locomotive drivers.

Neil: Coming out Lee.

Neil: This particular locomotive is the most powerful class of locomotive that we have in this country. I actually love this locomotive. It's a diesel/electric locomotive – it's basically an electric locomotive with it's own power plant.

Neil: So how does it feel sitting in the seat, Sam?

Sam: It feels pretty good, let's go for a drive!

Clinton: Lee gives the wagons one final check and it's time for Sam's ride.

Lee: 183, you're ready to leave?

Neil: Receiving Lee.

Colin: To become a locomotive engineer to drive a freight train, currently you have to do on-the-job training for 1040 hours, and you get sent away to school in Woburn and you get taught how the trains work, how the motors work, how the locomotives work and you're also taught how to shunt and about road knowledge, so you have to know that bit of track like the back of your hand

Neil: Road knowledge is very important – 99% of knowing the road makes a good driver.

Neil: Because the terrain we travel over can be hilly - we only have so much braking power, and once you use that brake up, you've lost control of your train and then you're in serious trouble.

Colin: It's like a big family – everyone gets on and everyone gets in together and they pull their weight together. The other good thing about the job is that working in the railways you can either work inside or outside and you can do a number of different things.

Colin: I've been in the rails 17 years old and I've worked in a lot of different parts of it so far and I'm still not bored with the industry.

Clinton: So how has Sam done?

Colin: Sam's done surprisingly well, he's got a lot of knowledge, he seems to have taken a lot in and he's been enthusiastic about the whole thing.

Sam: I think it surprised me quite a bit that there's a lot of variety in the industry, because I thought it would be just as simple as jumping in the train and driving off, but there's a lot more to it than that.

Clinton: There's a wide range of opportunities for anyone wanting to join the rail industry. Practical on the job instruction is a major part of training. The level 2 National Certificate in Rail Transport is an introduction to a career in the railways. The level 4 Certificate in Locomotive Engineering recognises the skills required for driving locos. There's a strand for the additional skills needed for driving a freight train.
Entry requirements
To become a train controller you must:
complete a three-month theory correspondence course and pass personality and competency tests
do theory work for five to six weeks at the Train Control School
do eight to 12 weeks of on-the-job training, where you are mentored by a qualified train controller
sit written and practical exams to become certified
pass a medical examination, which includes a drug test.
Secondary education
Useful subjects include maths, geography and English.
Personal requirements
Train controllers need to be:
good communicators
good at maths
able to remain calm under pressure
able to pay attention to detail and concentrate for long periods
good team members.
Useful experience
Experience in the rail industry is useful for train controllers.
Physical requirements
Train controllers must have good hearing and eyesight (with or without corrective lenses) and normal colour vision. They must also have a clear speaking voice.
Find out more about training
KiwiRail

recruitment.centre@kiwirail.co.nz - www.kiwirail.co.nz/index.php?page=home
Check out related courses
What are the chances of getting a job?
There are only about 30 train controllers and they all work at KiwiRail's network control office, which services the whole country. The number of train controllers has been stable for a number of years and job numbers are unlikely to increase significantly in the near future.

KiwiRail recruits between two and four trainees each year to fill vacancies arising due to people leaving the job. Competition for these positions can be high.
Only one employer of train controllers
KiwiRail is the only employer of train controllers in New Zealand.
Sources
Campbell, J, human resources manager, KiwiRail, Careers New Zealand interview, December 2010.
Cheyne, J, human resources adviser, Kiwirail Freight, Careers New Zealand interview, April 2013. 
Ministry of Business Innovation and Employment, '2003-2010 Occupation Data' (prepared for Careers New Zealand), 2010.
Thompson, N, customer service manager, KiwiRail, Careers New Zealand interview, August 2009.
 
(This information is a guide only. Find out more about the sources of our job opportunities information)
Progression and specialisations
Experienced train controllers may progress to work as network control managers.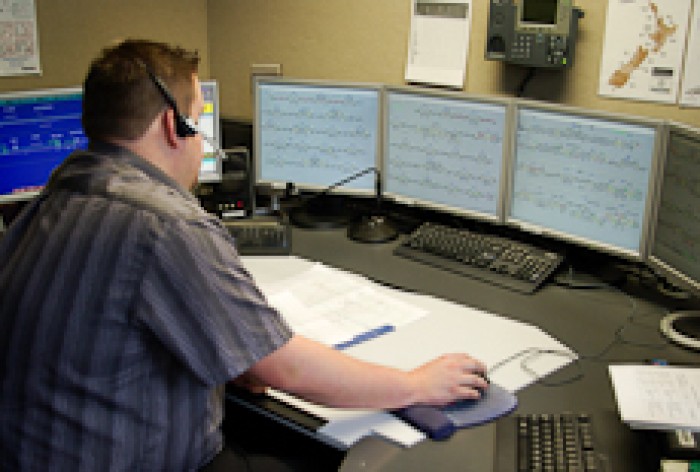 Last updated 25 January 2018