Career Stories: First Choices
A multi-media resource to help senior secondary and tertiary students build understanding and confidence to make career decisions at school and beyond.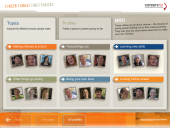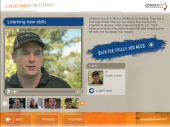 Career Stories: First Choices is an interactive video-based resource that brings together the stories of around 20 young people aged between 17 and 29. It focuses on the career journeys these young people have made so far, not on the destinations they have chosen. 
These stories are a powerful way to encourage young people to reflect on their own lives and situations, and to help them make decisions about their futures. 
The interactive features and topic approach promote user-led exploration and discovery. 
Career Stories: First Choices can be used independently by young people, and in teaching and learning contexts. It includes a teachers' guide with suggestions for using the topics and individual stories in group and one-to-one situations. You can download this guide below.
A DV-Rom is available for order for $49.50 (incl. GST). It can be used on PC or MAC computers. It cannot be played in DVD players. You can run the resource directly from the DV-Rom or load it onto your computer.
Downloadable components
How to order
Updated 13 May 2016