Crane Operator
Kaiwhakamahi Wakaranga
This job is sometimes referred to by alternative titles
Crane operators use cranes to lift and move objects, such as building materials on construction sites, shipping containers on wharves or heavy parts for the manufacturing industry. There are many diffferent types and sizes of cranes.
Pay
Crane operators usually earn
Job opportunities
Opportunities for crane operators are average for inexperienced crane operators and good for those with experience.
Current job prospects
Opportunities for crane operators are average for inexperienced crane operators and good for those with experience.
How many people are doing this job?
2014

1,273

2013

1,239

2012

1,236
Source: Ministry of Business, Innovation and Employment, '2003-2012 Occupation Data' (prepared for Careers New Zealand), 2012.
Pay
Pay for crane operators varies depending on their experience, qualifications, location, and the size and type of crane they operate.
Someone starting out in the role can expect to earn about $18-20 an hour.
Those with experience usually earn between $26 and $35 an hour. Very experienced crane operators operating certain types of cranes may earn more than this.
Source: the Crane Association
What you will do
Crane operators may do some or all of the following:
check the crane's air, water, oil, fuel and other mechanical parts
drive mobile cranes to and from worksites
identify and control any hazards associated with lifting objects
ensure lifting equipment meets required standards and is in good working order
check the crane is set up correctly and is secure
make sure the load to be lifted is within the safe lifting capacity of the crane
move the load and place it in the required position
follow directions from dogmen (dogmen secure loads and direct crane operators from the ground or buildings using hand signals and two-way radios).
Crane operators may also work as dogmen.
Skills and knowledge
Crane operators need to have knowledge of:
safety regulations that govern crane operation, such as road regulations and vehicle weight permits
weight limits for various cranes
how to maintain cranes
hand signals, including the ability to understand them.
Working conditions
Crane operators:
often work irregular hours, including nights and weekends
work in various locations, including building construction sites, in and around warehouses, and on wharves
work in most weather conditions, except high winds and heavy rain.
What's the job really like?
Allan Charteris - Crane Operator
It takes time to know your crane well
Allan Charteris started out as a crane rigger then moved on to operate track cranes, before finally making the move up to tower cranes. "Operating a tower crane and operating a track crane are totally different experiences, but the principles are the same. You have to know your angles; you have to know your weights. You have to know capabilities – of the crane, of the chains, of what you're lifting, of strops [straps for securing loads], the whole shebang.
"You need to take the time to get to know your crane and know it well – all its little facets, all its little foibles. Every crane has its own foibles."
Crane workers must be comfortable working at heights
Allan adds that not everyone is cut out to be a crane driver. "There are two kinds of people in the world – those who can handle heights, and those who can't. Those who can't shouldn't even try."
What's hot
Great views.
Working a large machine.
What's not
Constantly looking down, which can give you a sore neck.
Long ladder climbs up to the cab of the crane.
Ferdinand talks about life as a crane operator - 1.05 mins. (Video courtesy of Got a Trade? Got it Made!)
I love what I do because I challenge myself every day, every day is different. Working on to Waterview at the moment. I'm really happy to work on it because it's the biggest job to work on. Learning a lot. There's a lot of challenges doing the pilling, it's not easy, there's a lot of learning.

Having a qualification in trade is good because I got a qualification behind me, I always get the job and always get paid. Once I'm qualified I can travel all around the world and do my job.

I love this job because I'm not stuck on the computer or in the office. It's really interesting, and making some good friends and it's really fun.

I'm Ferdinand, I'm 21 and I got a trade.
Entry requirements
To operate a crane you must undertake adequate industry training as defined by the Approved Code of Practice for Cranes. This may include gaining unit standards for the specific type of crane being operated.
Some employers prefer crane operators to have a national certificate for the crane they are operating. National certificates in crane operations (Level 3 and 4) are overseen by the industry training organisation The Skills Organisation and delivered by approved training providers. National certificates combine theory and on-the-job training.
Skills are gained on the job, with experienced staff instructing new crane operators until they are proficient enough to work on their own.
Other requirements needed for operating a crane
Mobile crane operators must also:
hold the appropriate Heavy Vehicle Licence (varies depending on the size of the crane)
be at least 18 years old to drive a mobile crane on the road.
Crane operators can attend courses and seminars to keep up to date with changes in the building construction industry, and changes to health and safety regulations and crane technology.
Secondary education
There are no specific secondary educational requirements, but three years' secondary education is recommended. Useful subjects include maths and English.
Year 11 and 12 students can learn more about the construction industry, and gain relevant skills, by doing a National Certificate in Building, Construction and Allied Trades (Levels 1 and 2) through the BConstructive programme.
For Year 11 to 13 students, the Gateway programme is a good way to gain construction industry experience.
Personal requirements
Crane operators need to be:
responsible and careful at all times when operating a crane
be able to work well independently and in teams
patient and observant
good communicators
good at decision-making.
"What we try to identify are young people with the right attitude. You've got to be a team player and listen to what control want you to do and listen to your hatchmen [people on the ship who guide the crane driver]."

Warren Stoddart - Crane Operator - Assessor
Useful experience
Useful experience for crane operators includes:
building or engineering work
truck driving
experience operating earthmoving machinery or other heavy machinery.
Physical requirements
Crane operators need to be reasonably fit, have good eyesight (with or without corrective lenses), and good hearing. Crane operators must also be comfortable working at heights.
Find out more about training
Crane Association of New Zealand

(04) 569 9799 - info@cranes.org.nz - www.cranes.org.nz

Crane Industry Training Ltd

021-145-2222 - tony@cranetraining.co.nz

The Skills Organisation

0508 754 557 - www.skills.org.nz
Check out related courses
What are the chances of getting a job?
Construction activity increasing
Crane operators are employed across a range of industries, but the single biggest source of employment is the building and construction industry, particularly the commercial (non-residential) building sector. 
The building and construction industry is steadily improving and with it demand for crane operators. Much of this work is in Auckland and Christchurch, although the amount of work being undertaken is increasing in most regions.
While demand for people with experience is good, people with no or little experience will likely find it harder to find work.
Opportunities average outside of the building and construction industry
Opportunities for crane operators in most industries other than building and construction are average. Crane operators in industries such as shipping and manufacturing tend to stay in the role for a long time, so turnover among workers is low. However, many crane operators are reaching retirement age, which is creating some openings. 
Crane operator employers mostly involved with construction
Most crane operators work in the building and construction industry. However, some are also employed in:
manufacturing
engineering
machinery equipment hire and leasing
forestry
water transport (operating dockyard cranes).
Sources
Auton, R, chief executive, Crane Association of New Zealand, Careers New Zealand interview, April 2014.
Department of Building and Housing, New Zealand Housing and Construction Quarterly, December 2013, accessed March 2014, (www.dbh.govt.nz).
Immigration New Zealand, 'Canterbury Skills Shortage List', accessed April 2014.
McClintock, J, operations manager, Certified Builders Association, Careers New Zealand interview, February 2014.
Ministry of Business, Innovation and Employment, '2003-2012 Occupation Data' (prepared for Careers New Zealand), 2014.
Statistics New Zealand, 'Building Consents Issued February 2014', accessed April 2014, (www.stats.govt.nz).
Steeman, M, Wood, A, Stuff website, 'Christchurch rebuild set to accellerate', January 2013.
Progression and specialisations
People usually start out in craning as dogmen, securing loads and advising the crane driver from the ground. They may then move on to operating mobile cranes and tower cranes. Crane operators may progress to supervisory and managerial roles.
There are many different kinds of cranes, each requiring specific skills. Crane types include:
mobile cranes
crawler cranes
tower cranes
truck-mounted cranes
travelling gantry cranes
overhead cranes
container and harbour cranes.
Crane operators might also be involved with crane site supervision, and rigging and slinging (securing) of loads.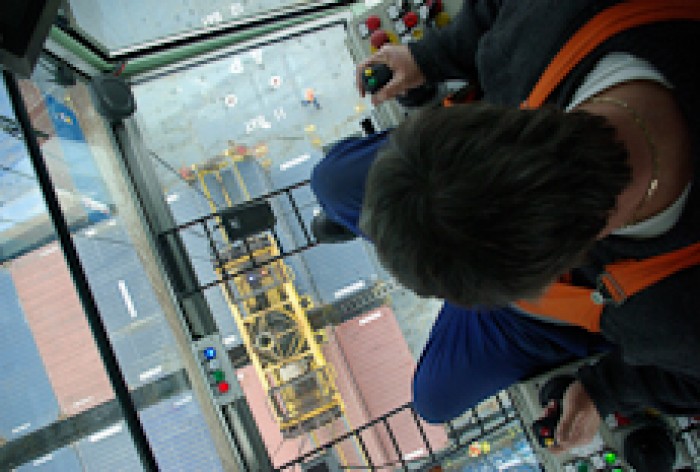 Last updated 8 August 2016