Dairy Farmer
Kaiahuwhenua Miraka Kau
This job is sometimes referred to by alternative titles
Dairy farmers feed, care for, and milk herds of cows on farms. They aim to get the cows to produce as much high quality milk as possible, cost-effectively.
Pay
Dairy farmers in charge of herds or running a farm usually earn
Experienced dairy farm managers and dairy farm owners usually earn between
Source: Federated Farmers/Rabobank, 'Farm Employee Remuneration Survey', 2014.
Job opportunities
Chances of getting a job as a dairy farmer are good due to high demand for experienced herd and farm managers.
Current job prospects
Chances of getting a job as a dairy farmer are good due to high demand for experienced herd and farm managers.
How many people are doing this job?
2014

28,355

2013

26,782

2012

26,783
Source: Ministry of Business, Innovation and Employment, '2003-2012 Occupation Data' (prepared for Careers New Zealand), 2012.
Pay
Pay for dairy farmers or managers varies depending on experience and responsibilities, and the profitability of their farms.
Assistant herd managers earn an average of $46,000 a year.
Average pay for herd managers is $53,000.
Dairy farm managers earn an average of $67,000.
Operations managers in charge of large or multiple dairy farms earn an average of $71,000. 
Sharemilkers' and farm owners' pay
The earning potential of sharemilkers (who are considered herd owners and supply a proportion of the herd or equipment in exchange for an agreed percentage of milk company payouts), and managers (who enjoy profit-sharing arrangements with farm owners) can be high, but may fluctuate from year to year.
The amount they earn depends on how much milk their cows produce, and milk company payouts, which vary depending on global market conditions.
Other benefits
Dairy farm managers are often supplied with free power, telephone, some or all meals, and sometimes farm-killed meat or milk. The monetary value of these extras can be significant with the average about $5,000 a year, according to Federated Farmers. Accommodation is also available on most farms, sometimes at subsidised rates. 
Source: Federated Farmers/Rabobank 'Farm Employee Remuneration Survey, 2015/2016.
(This information is a guide only. Find out more about the figures and diagrams in our job information)
What you will do
Most dairy farmers milk cows twice a day – once in the morning and again in the afternoon. Some dairy farmers milk seasonally and others milk all year round. Dairy farmers may do some or all of the following:
milk the cows using milking machinery
wash out pipes with water and detergent and clean the yard after milking
plan and manage the amount and type of food the cows eat, which can include purchasing feed supplements
manage the health, breeding and mating of the herd
manage calving and raise calves
carry out general maintenance such as fencing and spraying weeds around the farm
keep financial and farming records, and organise the farm business plan
maintain equipment and farm vehicles, such as farm bikes and tractors
employ and train people to work on the farm and/or manage staff who look after administrative duties on the farm such as organising training and rosters 
interact with vets, farm advisors and other contractors to ensure efficient running of the farm   
develop working practices to support a sustainable dairy farm
keep up to date with, and use new farm technology to help grow the business.  
Skills and knowledge
Dairy farmers need to have:
good animal-handling skills to ensure cows, calves and bulls are healthy and productive
an understanding of animal welfare, including knowing how to treat common animal health issues     
an understanding of pasture management practices to ensure production is maximised
knowledge of the milk harvesting process
an awareness of milk company standards and safe practices on the farm
ability to drive vehicles and operate farm machinery
mechanical knowledge to fix machinery and complete regular maintenance
knowledge of accounting and how to run a business
an understanding of sustainable environmental management practices such as safe effluent disposal 
Working conditions
Dairy farmers:
usually start milking early in the morning, but get time off in the day; may work long hours during peak seasons, and often work six days a week
work on farms and inside milking sheds
work outside in all weather conditions, and may work in dusty, dirty, wet, and noisy locations
may visit other farms or attend agricultural field days, and sometimes travel overseas to learn about other farming methods.
What's the job really like?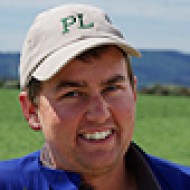 Adam Waite - Dairy Farmer
Variety and working outdoors make the job enjoyable
Southlander Adam Waite says the outdoor lifestyle is what attracted him to dairy farming.
That, and the variety of the work. "We're doing a lot of farm maintenance at the moment, fixing fences and gates, and trying to catch up on weed spraying. There are calves to feed, and we start weaning them in a few weeks. Artificial insemination of the cows starts soon and in summer there will be grass to cut for baleage. Then there are the everyday jobs such as milking and shifting the cows to fresh paddocks.
"But we don't get too stressed about jobs. If we get sick of doing one thing, we'll just go and find something else to do, or if we don't get something finished one day, there's always tomorrow."
Knowing how to handle stock is key
Of all the skills dairy farmers need to do their work, Adam says the most important is stock-handling - knowing how to move and work with the cows without getting them too stressed. "You need to have a passion for animals, too. There is a lot to keep an eye on, but if you have good stock skills, then you learn to read the animals, and know when something is wrong."
What's hot
Working with animals, especially watching them grow from calves to cows.
Working outdoors
Driving motorbikes, tractors and machinery
Interaction with vets and contractors.
What's not
Bad weather such as foods, snow and drought
Machinery breakdowns
Being flicked by cows' tails when milking
Long hours during calving, and weekend work.
Matthew and Samantha talk about their passion and plans for their career in dairy farming - 2.05 mins. (Video courtesy of Ministry for Primary Industries)
Matthew: I was born onto a farm and the vast majority of my extended family all farm. I always spent holidays at aunties' farms and stations and all that – it was always where I wanted to be.

Probably the best thing about dairying for me and why I chose dairying above anything else is there's a direct, very achievable pathway through it.

There's probably 10 or 15 steps there that are all very achievable for someone within 5 to 10 years.

Samantha: I did vet nursing and then from there I studied rural animal vet nursing.

The idea behind it was because this way it helps me understand what's going on, on the farm and I'm a lot more help to Matthew.

I can dag cows and all that kind of stuff, so it just helps us get a bit further ahead and it looks really good on our CV.

Matthew: To be a farmer, I think the most important thing is passion. You've got to love it. You don't have to be born into it, I know quite a few mates who have come out of Auckland who are dairy farmers now and they love it.

It's just that passion side of things. You're never going to know unless you try it.

Samantha: I didn't think I would. I was studying architecture, straightening my hair for milking, all that kind of stuff – and here I am, doing it.

Matthew: You'll know within a very short period of time whether you want to do it or not.

I know I had found what I wanted to do because I'd probably do it for free. Maybe not quite, but pretty close.

It provides such a great life for us, that I wouldn't trade it for anything.

Samantha: It's not work either, it's a lifestyle.

Matthew: As I got into the industry it was still farming, not really considered a business. As I've grown into it, it's a very professional industry now. We record everything now: animal remedies, animal health, when effluent is applied, how it's applied, where it's applied.

It's not good business to have nitrogen or whatever leaching out of the system because we could be utilising that to grow grass.

Samantha: We're going to get there, we'll have 2,000 cows one day, we'll have our own farm one day – even if it's a small farm, we'll still have it.

Matthew: Sam wants our own land so she can build her dream house and I can build my dream farm.
Entry requirements
There are no specific entry requirements for dairy farmers, but training will help you with your career. A relevant training course in agriculture, dairy farming, agribusiness, or farm management is recommended. Most dairy farmers offer their employees training through the Primary Industry Training Organisation (Primary ITO), which offer apprenticeships. 
It is useful to have a motorcycle and heavy vehicle driver's licence.
Secondary education
At least three years of secondary school education is recommended, and useful subjects include agriculture, maths, accounting, biology or science, and computers.
Personal requirements
Dairy farmers need to be:
patient, adaptable and practical
motivated and able to follow a routine
able to show initiative and make decisions
well organised, goal focussed and forward thinking  
able to work well independently, and as part of a team
good at communicating with, and managing people.
Useful experience
Useful experience for dairy farmers includes:
any farm work
working with animals
working in mechanical, maintenance and building industries 
experience in rural professional roles such as fertiliser representative, banker or stock agent selling cattle or sheep
joining a young farmers club. 
Physical requirements
Dairy farmers need to be fit, with good stamina, as the job can be physically demanding.
Find out more about training
Primary Industry Training Organisation

0800 208020 - info@primaryito.ac.nz - www.primaryito.ac.nz
Check out related courses
What are the chances of getting a job?
Because of high demand for people with dairy farming skills, dairy farm manager, and dairy farm assistant roles appear on Immigration New Zealand's immediate skill shortage list. This means the Government is actively encouraging people skilled in these roles to come and work in New Zealand.
Managing farms is often a stepping stone to dairy farm ownership, and vacancies for managers arise frequently as people progress, move between farms, or retire.
New farming opportunities
Nationally, New Zealand is experiencing a trend of increasing herd numbers with an average herd size of 413 cows, compared to 285 cows 10 years ago. This reflects a trend towards corporatisation of dairy farms, which is creating new hands-off farm management roles; including, operation managers, business managers, and farm supervisors. These roles are often responsible for a number of farms. The increasing specialisation of roles will require an up-skilled workforce and greater demand for people with management skills.
Increasing opportunities to get on the dairy farm ladder 
The increasing size of dairy farms is creating more opportunities for dairy farm assistants, and most dairy farmers are willing to train people with little prior experience as long as they have a can-do attitude and willingness to learn. 
A variety of working arrangements for dairy farmers 
Dairy farmers may work for themselves, as permanent staff members, or on a range of profit-sharing contracts, which includes part-ownership. Farms range in size from small units supporting one or two workers, to large units with 10 staff or more.
A growing number of large farming property-companies own many dairy farms, and employ managers and other staff to run them.
Sources
Camilleri, C, product manager, Dairy NZ, Careers New Zealand interview, February 2015. 
Federated Farmers/Rabobank Farm Employee Remuneration Survey', June 2014, (www.fedfarm.org.nz).
Immigration New Zealand, 'Immediate Skill Shortage List', accessed February 2015, (www.immigration.govt.nz).
Ministry for Primary Industries, 'People Powered', June 2014 (www.mpi.govt.nz).
Statistics New Zealand, 'Census of Population and Dwellings', 2014 (www.stats.govt.nz). 
Progression and specialisations
Most dairy farmers start as farm workers or assistants, and progress into other roles such as herd manager or sharemilker. Some eventually buy and run their own farms.
During their career, dairy farmers may choose from a variety of profit-sharing and management roles, such as:
Contract Milker

Contract milkers pay for a percentage of the farm costs (without owning the cows) and receive a set reward per kilogram of milk solids.

Dairy Farm Manager

Dairy farm managers are responsible for the financial and physical performance of the farm in consultation with a farm's owner.

Dairy Herd Manager

Herd managers are paid a wage to look after a herd.

Operations Manager

Operations managers are responsible for meeting farm owners business goals, and other farm management functions such as ensuring the farm/s meet resource requirements.

Sharemilker

Sharemilkers either milk a dairy farmer's cows for a profit share, or own a herd of cows and milk them on an owner's land for a profit share.
Other employment and profit-sharing arrangements are available in the dairy farming industry. The Go Dairy website has details about all options.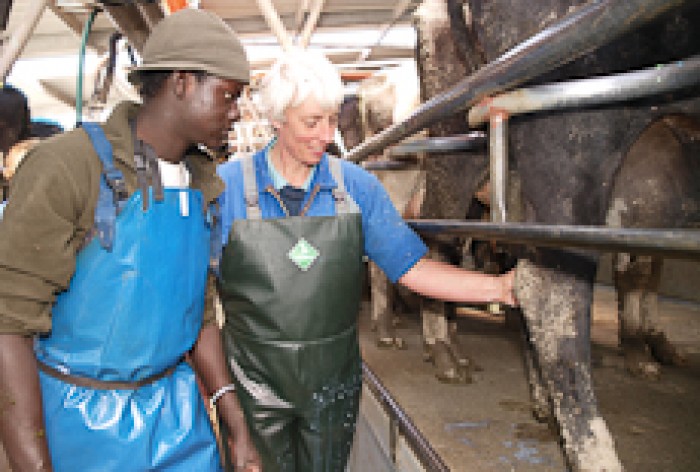 Last updated 21 July 2016