Game Developer
Kaihanga Tākaro
Alternative titles
Game developers create, write, design, program, animate, and test games and applications for computers, gaming consoles, and cellphones. The games are written in a variety of computer programming languages.
Pay
Game developers starting out usually earn
Game developers with experience can earn
Source: Media Design School.
Job opportunities
Chances of getting a job are good for skilled game developers. Though the occupation is small, it is growing rapidly.
Current job prospects
Chances of getting a job are good for skilled game developers. Though the occupation is small, it is growing rapidly.
How many people are doing this job?
2012

448

2011

289

2010

186
Source: NZ Game Developers Association annual surveys.
Pay
Pay for game developers varies depending on their responsibilities, and the type of games they create.
New game developers with a portfolio of work can expect to start on between $36,000 and $50,000 a year.
Those with two or more years of experience may be paid between $65,000 and $90,000.
Source: Media Design School.
What you will do
Game developers may do some or all of the following:
create games based on their own or others' ideas
produce preliminary storyboards, character biographies, storylines, and features of the new game
write detailed design documentation, showing how the game will function, sample menus, functionality, and style
write computer code to create the game
source and add additional graphics, sound effects, and digital images
create test versions of the game, and identify and correct any errors
oversee gameplay testing to ensure it works as intended.
Skills and knowledge
Game developers need to have knowledge of some or all of the following:
gaming and game platforms such as Xbox or PlayStation
computer systems, processes, and languages (such as C++, or C#)
video graphic design
3-D art and animation computer software.
Working conditions
Game developers:
work regular business hours, but sometimes have to work evenings and weekends to complete a project on time
usually work in offices or studios and must meet deadlines
may sometimes travel around New Zealand or overseas to meet with clients.
What's the job really like?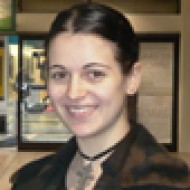 Luba Miteva - Games Tester
Luba Miteva gets paid for what others do in their leisure time – play video games.
Luba is one of nine game software testers working for Wellington developers Sidhe. "I feel pretty lucky; some days I have to pinch myself."
Spotting the bugs and making sure the game works
But testing a game involves more than just playing it. Luba ensures all the games' features and graphics are doing exactly what they're designed to do.
"You need an eye for detail. Some bugs are big and easily spotted, but others are harder to see.
"We are usually working off a test plan and checking one particular thing at a time. There's internal tracking software that we use and every time you find something wrong, or not where it's supposed to be, you have to log the faults consistently and clearly."
It's a great job but there are deadlines to meet
Luba, who has a Diploma in Software Development, loves her job, though it often involves working late. "Everything we do is on a really tight schedule so some weeks there are crazy amounts of overtime. But I don't mind because it's an awesome job."
What's hot
Developing and testing new games.
Working in a team of creative-minded people.
What's not
Working overtime to meet deadlines.
Starting out on a less creative aspect of the job, such as game testing.
Maru Nihoniho talks about working as a game developer - 3.03 mins. (Video courtesy of Te Puni Kōkiri - for more videos go to www.maorifuturemakers.com)
My name is Maru Haeramuri Nihoniho and I'm Whānau ā Apanui, Ngāti Porou, and Ngāi Tahu.

I make games across all genres from action adventure to puzzle games for PlayStation to mobile phone games. I've always had an interest in computer games right from when I was young and I've always enjoyed being creative so I've being a bit arty, I enjoyed technical drawing at school and so it wasn't until later on in life when I realised I could combine the two and start my own games company. I thought I would just do it and then learn as I go along and so yeah it's been a big learning curve for me.

I put myself through a multi-media course and that was so I could get the basic knowledge of how to design websites, how to edit video and audio and also some 3D modelling and animation. A lot of people think that games are for teenage boys but statistics show that actually half the game players are female and they're a bit older than teenagers so it's quite a balanced market. The other misconception is that I have a lot of fun while I'm working and that I play games all day, which I actually play games for research, you know if we're developing a certain game then I'll research it. However my game playing days have become limited now that I started making them, I guess I transferred the fun of playing games into making them.

One of the big challenges I have is finding the staff I need to make the games, there is a shortage of programmers and art people to come on board and join the team. The skills you need to come into the industry depend on what you're going to do with in the team. If you're wanting to come and be a game artist then the best thing to do would be through school take on art subjects such as art, technical drawing will help a lot and then follow that through into tertiary education. My programmers have come to me because they've had a strong interest in maths and science and they've followed that through high school on through to tertiary education. Some of them have come through doing a specialised game development course and others have come out of university after doing a Bachelor in Computer Science.

The opportunity and the potential is huge, I think that being in New Zealand we are in a unique position and we've got our own stories to tell. We don't have to follow formats from overseas, we can actually come up with our own unique ideas whether they're cultural, or whether they're just New Zealand themed. With Māori I think we have that extra layer of uniqueness.

Come and work in the games industry because it's creative, it's exciting, it's changing, the technology changes, it offers new challenges all the time, it doesn't get boring, what we do evolves constantly and because of that it makes it fun.
Entry requirements
The qualifications you need to become a game developer depends on what area you want to work in - game programming, game art or game design.
Game programmer
You usually need a Bachelor's degree in one of the following:
computer science
programming
software development.
Many university degrees have papers specialising in computer graphics or interaction design, and opportunities to make a game as a project.
Game artist/designer
You usually need a degree or diploma in one of the following:
2D and 3D animation
graphic design
visual effects
specialist game art qualifications.
Employers also prefer you to have some knowledge of programming.
Secondary education
A tertiary entrance qualification is needed to enter tertiary training.
Useful subjects at school for students intending to be game programmers include maths, physics, and computing. Art, graphics and design subjects are recommended for students interested in becoming game artists.
Personal requirements
Game developers need to be:
creative and artistic
methodical and accurate
patient and adaptable
able to work well under pressure
able to work well in a team
good at managing projects
skilled in analysing computer and video game software and systems
good at planning, organising and problem-solving
good oral and written communicators.
Useful experience
Useful experience for game developers includes:
writing computer code to create games, software or websites
art or design work
experience recording or editing film
playing computer and video games.
Physical requirements
Game developers spend a lot of time using computers and video game equipment, so need to know how to use equipment properly to minimise the risk of occupational overuse syndrome (OOS).
Find out more about training
Institute of IT Professional (IITP)

0800 252 255 - info@iitp.org.nz - www.iitp.org.nz

New Zealand Information and Communication Technologies Group (NZICT)

09 4750204 - info@ict.org.nz - www.ict.org.nz

NZ Game Developers Association

info@nzgda.com - www.nzgda.com
Check out related courses
What are the chances of getting a job?
Number of game developers growing rapidly
The New Zealand game development industry is growing rapidly - industry income increased by 86% between March 2011 and 2012. Consequently, the number of game developers more than doubled between 2010 and 2012 to 448, according to an annual survey run by the NZ Game Developers Association.
About half the employers in the survey also reported a shortage of appropriately skilled programmers and game designers.
Demand for game developers likely to continue
Job opportunities for game developers is likely to continue because:
demand for games on cellphones and other mobile computer devices is growing
many social media sites are offering a growing number of games for their users.
Portfolios and networking improve your chances of getting a job
The New Zealand Game Developers Association (NZGDA) recommends you build up a portfolio of paid or voluntary game development work that you have done outside of your coursework.
Look on the NZGDA news page and forums and on individual members websites for notices of vacancies. Events such as the Auckland Game Developers Meetups and AnimFX also provide valuable networking opportunities.
Types of employers varied
Employers of game developers range from small games development companies with fewer than five staff, to those with 50 or more staff.
Some game developers are self-employed.
Sources
Ashok, S, 'Kiwi-made games industry grew by 86% last year: survey', 30 October 2013, NZ Reseller News.

Chapman-Smith, B, 'Booming NZ game industry faces skills shortage', 30 October 2013, NZ Herald.
Progression and specialisations
Game developers usually work in one of three broad areas - game programming, game art or game design.
Within these areas, they may specialise in a particular game platform, such as PlayStation, Xbox or Nintendo, and a particular aspect of game development such as:
artificial intelligence (AI) programming - making game characters learn logically and behave like humans
2-D and 3-D art and animation - creating the illusion of movement and depth of vision
game designing - creating the content, rules and look of a game
digital sound - using computer code to create the sounds and music heard in a game
physics programming - ensuring elements and characters in a game follow real-life rules of physics
tools programming - building special sub-programs within a game to help it run better or faster
game play programming - developing a game's strategy, logic, mechanics, and feel
video effects - adding special effects like explosions or fires to a game
art direction - creating the background and mood artwork required for a game
studio management - overseeing staff and other resources to ensure games are delivered on time and to budget
production and development - a management role involving negotiating contracts, hiring staff, and controlling finances
testing - playing the games as they're developed to make sure they work properly, and noting bugs and other issues.
Game developers can progress to become team leaders, project managers, or company managers. It's also possible for game developers to start and run their own game or computer software businesses.
Last updated 28 January 2016