Survey Technician
Kaihangarau Rūri Whenua
Alternative titles for this job
Survey technicians measure and study land under the direction of a land surveyor or engineer.
Pay
New survey technicians can earn
Experienced survey technicians earn
Job opportunities
Job opportunities for survey technicians are average in most parts of the country but good in Christchurch.
Pay
Survey technicians who are still working toward their Diploma in Surveying can earn between $29,000 and $40,000 a year, depending on where they work. Once qualified, survey technicians usually earn between $35,000 and $55,000.
(This information is a guide only. Find out more about the sources of our pay information)
What you will do
Survey technicians may do some or all of the following:
take measurements and plot out land divisions using survey equipment
process data and make calculations gathered from fieldwork and surveys
make observations, record measurements, and collect other data about the land
draft and interpret plans for land use
prepare reports using the measurements and data calculations
supervise the work of survey assistants.
Skills and knowledge
Survey technicians need to have:
knowledge of surveying methods
the ability to interpret drawings and plans
the ability to read maps, and judge contours and distances
knowledge of how to use and care for survey equipment such as theodolites (small, tripod-mounted telescopes that measure horizontal and vertical angles)
skill using surveying and computer-aided design (CAD) software
good mathematical knowledge, particularly in trigonometry
an understanding of the laws and legislation relating to land use and surveying
Working conditions
Survey technicians:
usually work regular business hours
work in offices, but also spend time doing technical work on-site at locations such as construction sites, farms, at sea, or even in populated areas such as a CBD
may have to travel to remote on-site locations.
What's the job really like?
Rebekha Upston - Survey Technician
With a big grin Rebekha Upston points at a picture on her office wall of a country estate subdivision plan, explaining that it was her first "out on my own" subdivision project.
Rebekha has taken a roundabout route to becoming a survey technician. At 16 she joined the Navy as a hydrographic assistant, but several years later left to become a chef. After taking time out to start a family Rebekha was considering a return to the hospitality industry when fate played its hand. "I saw an ad in the paper for a survey technician. I had experience using the equipment doing surveying in the Navy, and am always of the opinion nothing sought, nothing gained, so I applied, and here I am!"
"This job felt right from day one. I like doing subdivisions best because they make you think. Often you need to work out how to overcome a tricky situation, like when you go to a job site and have to find three old location marks using old survey plans. It's all flat on paper, but the land's not always flat; there might be hills and trees and stuff. If I get stuck, I just work my way through it or maybe go back to the start and try another approach."
Entry requirements
To become a survey technician you need a National Diploma in Surveying (Level 6), which can be gained through full-time or part-time study, and typically takes at least three years to complete.
Secondary education
Survey technicians need to have NCEA Level 2 in English and maths, and preferably one science subject. Useful subjects include computer science, technical drawing, geography, physics or economics.
Personal requirements
Survey technicians need to be:
methodical and accurate
patient
able to work well under pressure, as they often work to deadlines
able to work independently as well as in a team.
Useful experience
Useful experience for survey technicians includes:
work as a survey assistant
draughting, engineering and/or cartography work
tramping, orienteering and map reading experience
experience in other outdoor pursuits.
Registration
National Diploma of Surveying (Level 6) graduates are eligible to become technical associate members of the New Zealand Institute of Surveyors. With this membership they may take part in continuing professional development courses.
Find out more about training
Connexis

(07) 834 3038 - www.cocnexis.org.nz

New Zealand Institute of Surveyors (NZIS)

(04) 471 1774 - nzis@surveyors.org.nz - www.surveyors.org.nz/careers
Check out related courses
What are the chances of getting a job?
Although opportunities for survey technicians have been good in recent years, the recent economic downturn means there will be more competition for jobs, at least in the short term.
Despite this, the job of survey technician appears on Immigration New Zealand's immediate skill shortage list. This means the Government is actively encouraging diploma-qualified survey technicians to work in New Zealand.
A 2013 survey sent by Unitec to members of the New Zealand Institute of Surveyors found that 37% of organisations were either likely or extremely likely to hire in the next 12 months.  
Infrastructure projects creating job opportunities for survey technicians
Survey technicians have a better chance of finding work on infrastructure projects, such as improving roads and bridges, because of an increase in government funding.
In the 2011 Budget and the National Infrastructure Plan, the Government outlined plans to spend about $12.2 billion on upgrading New Zealand's state highway network in the 10 years to 2021. It has also allocated $7.6 billion for new public buildings such as schools, hospitals and prisons over the next 20 years.
Private surveying companies and construction and engineering consultancies will need survey technicians to help with these and other projects.
Survey technicians needed to help rebuild after Canterbury earthquakes
The 2010 and 2011 Canterbury earthquakes are generating a significant amount of building and construction work.
Survey technicians are needed to help inspect sites before reconstruction work can begin on buildings, roads, bridges and other infrastructure. Rebuilding and repair work is expected to take five to 10 years.
Types of employers varied
Survey technicians typically work for:
private surveying practices
land developers
local government
mining companies
construction or civil engineering consultancies.
Sources
English, B, 'Infrastructure Plan Outlines Large Programme' (media release), 2 March 2010, (www.beehive.govt.nz).
Immigration New Zealand, 'Immediate Skill Shortage List', accessed July 2011, (www.immigration.govt.nz).
Kloeten, N, 'Budget 2011: Government Commits to SOE Selldowns', 19 May 2011, (www.nbr.co.nz).
South, G, 'Demand for Experts to Rebuild City', 15 June 2011, (www.nzherald.co.nz).
New Zealand Institute of Surveyors, 'Surveying Activities', accessed February 2009, (www.surveyors.org.nz).
Unitec, ''National Diploma in Surveying: Industry Feedback', 2013. 
Willscroft, C, 'Govt Admits No New Details in $17 Billion Infrastructure Plan', 04 July 2011, (www.nbr.co.nz).
Progression and specialisations
Survey technicians may progress by becoming a fully qualified surveyor, or by working in a management role.
They may also specialise as a:
Survey Photogrammetrist

Photogrammetrists specialise in determining the size and scale of objects in photos.

Aerial Survey Technician

Aerial survey technicians specialise in creating reports and data from aerial photographs and the reference points that can be identified on them.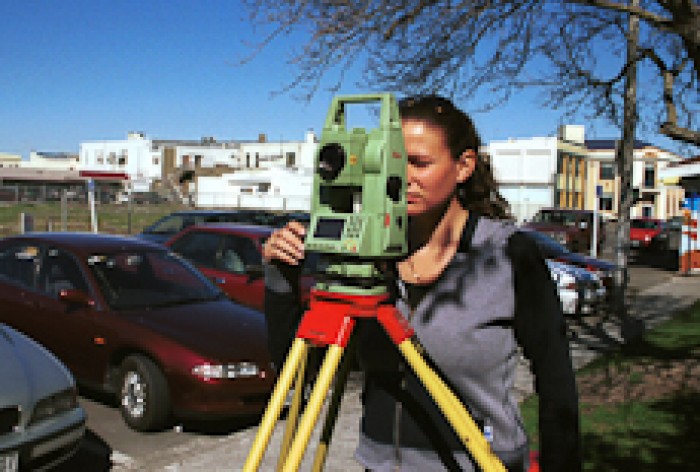 Last updated 9 May 2018