Carpet Cleaner
Kaiwhakapai Whāriki
This job is sometimes referred to by alternative titles
Carpet cleaners reduce or remove stains and dirt from carpets, mats, rugs, floors and furnishings.
Pay
Carpet cleaners usually earn
Source: Carpet Cleaners Association of New Zealand, 2016.
Job opportunities
Chances of getting a job as a carpet cleaner are average as it is a small occupation with a regular turnover of staff.
Pay
Carpet cleaners usually earn between $18 and $25 an hour.
Carpet cleaners who have their own business can earn more than this, though earnings can vary widely depending on the success of their business.
Source: Carpet Cleaners Association of New Zealand, 2016.
(This information is a guide only. Find out more about the sources of our pay information)
What you will do
Carpet cleaners may do some or all of the following:
discuss clients' requirements
choose the most appropriate cleaning method
carry out specialised stain removal or reduction
clean carpets, hard floors, chairs, sofas and curtains
restore carpets or floors to good condition
sell products for cleaning and protecting carpets and furniture
use sprays to control household pests such as fleas, cockroaches and ants.
Skills and knowledge
Carpet cleaners need to have knowledge of:
carpets and furniture fabrics
stain removers and other chemicals
how to use and care for their equipment.
Working conditions
Carpet cleaners:
may work evenings, weekends and be on call
work in homes, offices and public buildings
work with chemicals
travel locally to clients' homes and workplaces.
What's the job really like?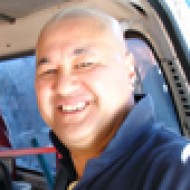 George Epiha
Carpet Cleaner
How did you get into the job?
"I started about 15 years ago when a friend asked me to help him with his carpet cleaning business in north Sydney. He taught me what he knew and when I got back to New Zealand I decided to continue with it."
What are some of the more difficult jobs you do?
"At the last company I worked for, we were decontaminating methamphetamine labs. That was interesting, as it takes a while to clean the room where they've been cooking. It's important to provide a top service for clients, especially if they've got little kids and babies crawling around."
Can you remove every stain?
"Stain removal is a big part of our role, but not all stains can be pulled out of carpets. I have to tell the client there's no guarantees that I can get something out. However, when I've worked hard on a tricky stain and do get it out, it makes me feel a whole lot better and I just go, 'Choice I did it'."
Entry requirements
Carpet cleaners need to:
hold a clean Class 1 driver's licence
pass a police security clearance check.
Carpet cleaning is taught on the job. Carpet cleaners can gain an Institute of Inspection Cleaning and Restoration Certification (Carpet Cleaning Technician), but it is not essential.
Secondary education
There are no specific secondary education requirements to become a carpet cleaner. However workshop technology is useful.
Personal requirements
Carpet cleaners need to be:
able to follow instructions
honest and reliable
good at time management.
Useful experience
Useful experience for carpet cleaners includes:
cleaning work
customer service experience.
Physical requirements
Carpet cleaners need to have a good level of health and fitness. They must not be allergic to the chemicals they use.
Registration
Carpet cleaners are recommended to register with the Carpet Cleaners Association of New Zealand.
Find out more about training
Carpet Cleaners Association of New Zealand

0800 422 269 - www.carpetcleaners.org.nz
Check out related courses
What are the chances of getting a job?
Chances of getting work as a carpet cleaner are average as although the number of positions available is small, enough people leave the job each year to create regular job vacancies. 
The average age of carpet cleaners is 45-54, so more vacancies may become available as cleaners get nearer to retirement age.
Half of carpet cleaners self-employed
Census figures show that half of carpet cleaners are self-employed and working on their own.
Carpet cleaners may also work for cleaning agencies that have contracts with private homes, businesses, hospitals, city council amenities and other organisations.
Sources
City Care, '2015 Year in Review', 2015, (www.citycare.co.nz).
Ministry of Business, Innovation and Employment, '2006-2014 Occupation Data' (prepared for Careers New Zealand), 2015.
Stylianou, N, et al, 'Will a Robot Take Your Job?', 11 September 2015, (www.bbc.com).
Teesdale, M, Carpet Cleaners Association of New Zealand, Careers New Zealand interview, June 2016, (www.carpetcleaners.org.nz).
Progression and specialisations
Carpet cleaners may move into supervisory or management roles within the carpet cleaning business they work for, or set up their own business and become self-employed.
Carpet cleaners may also specialise as a:
Floor Scrubber/Floor Polisher

Floor scrubber/floor polishers strip, clean and polish hard floors.
Last updated 9 June 2017