Roadmarker
Ringa Tohu Papa
Alternative titles for this job
Roadmarkers use machines to apply markings to roads and surfaces such as car parks and sports courts.
Pay
Source: NZ Roadmarkers Federation, 2018.
Job opportunities
Chances of getting a job as a roadmarker are average due to stable numbers of people in the role.
Pay
Pay for roadmarkers varies depending on experience, responsibility, and where they work.
Roadmarker assistants usually earn between minimum wage and a little more.
Skilled roadmarkers, known as operators, can earn up to $40 an hour.
Pay rates may increase as roadmarkers gain qualifications, heavy vehicle licences and dangerous goods endorsements, and first aid certificates.
Source: New Zealand Roadmarkers Federation, 2018.
(This information is a guide only. Find out more about the sources of our pay information)
What you will do
Roadmarker assistants may do some or all of the following:
control traffic
lay out traffic cones to protect markings, and pick them up 
check machinery and make minor repairs
load trucks with equipment and supplies.
Roadmarker operators may also:
drive roadmarking trucks
operate roadmarking machines to renew or install markings such as paint, rumble strips and cat's eyes
manage health and safety and environmental control
measure, assess and record their work
supervise a team.
Skills and knowledge
Roadmarkers need to have:
knowledge of traffic control
knowledge of different types of roadmarkings and how to apply them
the ability to operate and repair their machinery
driving skills.
Working conditions
Roadmarkers:
may work regular business hours, night shifts or extended hours
work on roads, motorways, car parks, sports courts and factories
work in conditions that may be noisy, dusty, dirty, dangerous, hot or cold
travel locally to work sites and may stay away from home at times.
What's the job really like?
What do you like about your job as a roadmarker?
"Being outdoors, driving to job locations around the country and overcoming the challenges, as there are always issues which I have to resolve.
"I like the satisfaction of completing a job and receiving positive feedback from clients. Driving through a job site at a later date I'm still chuffed about the work I've done.
What do people need to know about roadmarking?
"During summer we have to make the most of the fine weather and we usually work 60 to 70 hours a week. Winter is the complete opposite – we work less hours and they are usually spent doing training or maintaining our equipment."
What's the hardest part?
"There's no shortage of bad drivers around worksites. They come in all shapes and sizes, from learners to your own work colleagues, so being able to manage hazards is a day-to-day challenge.
"But I like knowing I'm playing a major part in keeping road users safe – if it wasn't for the painted lines on the road I'm sure there would be a lot more accidents." 
Photo: Morgan Rouse
Entry requirements
There are no specific requirements to become a roadmarker. They usually start as roadmarker assistants and receive traffic control training to work in temporary traffic management.
Most employers prefer that roadmarkers:
have experience in traffic control
are at least 18 years old
have a full driver's licence
can pass a pre-employment drugs test.
A heavy vehicle licence (Class 2 to 4) for driving roadmarking trucks, and holding a dangerous goods endorsement (D) are useful.
Roadmarkers gain skills on the job and may train for New Zealand Certificates in Roadmarking Assistant (Levels 2, 3 and 4) 
You can apply for Civil Trades Certification, which leads to registration as a certified tradesperson, if you have either:
an approved Level 4 qualification and 8,000 hours (around four years) of practical experience
at least five years' experience in the industry and documentation, such as a logbook, to prove you have a high skill level.
Secondary education
There are no specific secondary education requirements to become a roadmarker. However, maths, English, construction and mechanical technologies, and physical education are useful.
Personal requirements
Roadmarkers need to be:
independent
able to work well in a team
able to concentrate and stay alert for long periods when driving vehicles
good at following instructions
accurate, with an eye for detail.
Being a roadmarker could be for you if you would like a job that's adventurous, where you are out every day with your team and you won't be sleeping in your own bed every night.

---

Alister Harlow

Executive Director, Roadmarkers Federation
Useful experience
Useful experience for roadmarkers includes:
labouring work
driving heavy vehicles
maintaining machinery.
Physical requirements
Roadmarkers need to be reasonably fit and strong as they do heavy lifting.
Find out more about training
Connexis

0800 486 626 - askus@connexis.org.nz -www.connexis.org.nz

New Zealand Roadmarkers Federation

(09) 625 7470 - alister@nzrf.co.nz - nzrf.co.nz
Check out related courses
What are the chances of getting a job?
Roadmarking assistant vacancies common
Although roadmarker is a relatively small occupation, chances of getting a job as an entry-level roadmarker assistant doing traffic control are good because:
turnover of roadmarker assistants is high as the work is demanding and dangerous, especially on open road and motorways
maintenance and resealing of existing roads means constant demand for roads to be remarked
improvements to roads and motorways mean existing roads may need to be remarked multiple times during an upgrade, as lanes shift to allow work to take place
the Government's emphasis on road safety, meaning high demand for new road markings, including high performance markings and rumble strips. 
Linemarker (another name for roadmarker) will appear on Immigration New Zealand's Construction and Infrastructure Sector Agreement in early 2024. This means the Government is actively encouraging these skilled workers from overseas to work in New Zealand.
Few jobs for skilled roadmarkers
It can be difficult to get a job as a skilled roadmarker operator as there are few positions available and staff turnover is low.
According to the Census, 396 roadmarkers worked in New Zealand in 2018.
Seasonal opportunities for roadmarkers 
Roadmarkers tend to have more work in summer when temperatures are warmer and roads are dry, and less over winter, so contractors usually take on more roadmarkers between September and May.
Working as a roadmarker assistant on a casual basis during the busy summer months is a good way of gaining experience and can lead to a permanent position. 
Versatility may help your chances of finding work
When the weather is too cold or wet for roadmarking, companies that do other roading construction work may employ roadmarkers to perform other duties. Having a heavy vehicle licence or skill using heavy machinery may help your chances of finding full-time work.
Small range of employers
Roadmarking assistants are usually employed through labour hire companies.
Roadmarkers are mostly employed by Downer, Fulton Hogan and Coastline Markers.
Some roadmarkers working on car parks and sports courts are self-employed.
Sources
Harlow, A, executive director, New Zealand Roadmarkers Federation, careers.govt.nz interview, August 2018.
Immigration New Zealand, 'Changes to Immigration Settings Announced, '23 September 2023 (www.immigration.govt.nz).
Ministry of Business, Innovation and Employment, '2003-2014 Occupation Data' (prepared for Careers New Zealand), 2015.
New Zealand Ministry of Transport, 'Government Policy Statement on Land Transport', 29 June 2018, (www.transport.govt.nz).
Stats NZ, ' 2018 Census Data', 2019.
(This information is a guide only. Find out more about the sources of our job opportunities information)
Progression and specialisations
Roadmarkers usually start as roadmarker assistants, doing traffic control, and progress to work as skilled operators.
They may choose instead to specialise as Site Traffic Management Supervisors (STMS). 
Skilled operators can become supervisors or managers.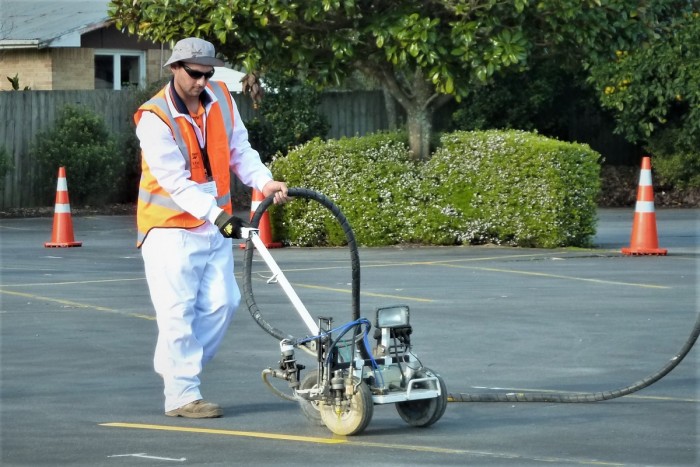 Last updated 26 September 2023