Stonemason
Pouwhakanao Kōhatu
Alternative titles for this job
Stonemasons work with stone to construct or renovate buildings, fittings, walls and paving, or to create monuments.
Pay
Source: New Zealand Stone Masons Association, 2018.
Job opportunities
Chances of getting a job as a stonemason are good due to a shortage of workers.
Pay
Pay for stonemasons varies depending on experience and location. Pay is usually higher in regions with greater demand such as Auckland, Wellington, Christchurch, Queenstown and the Central North Island.
Stonemason apprentices usually start on the training minimum wage.
Unqualified, inexperienced stonemasons working as labourers usually start on the minimum wage.
Experienced, qualified stonemasons usually earn between $25 and $40 an hour.
Self-employed stonemasons with specialist skills can earn more than $40 an hour, but their income depends on the success of their business.
Source: New Zealand Stone Masons Association, 2018.
(This information is a guide only. Find out more about the sources of our pay information)
What you will do
Stonemasons may do some or all of the following:
talk to clients, design plans for stonework, and provide quotes
read and follow plans
split, cut and shape stone, and set in place using techniques such as dry-stone walling
mix, pour and lay concrete and cement
set stone panels onto building walls
lay and polish stone floor tiles
design, create and inscribe headstones and other memorials (monumental masonry).
Skills and knowledge
Stonemasons need to have:
stone-cutting and building skills
skill in working with different types of stone
knowledge of how to use traditional hand tools and diamond-cutting tools
knowledge of stone-polishing techniques
knowledge of safe work practices, and general building practices
design skills.
Self-employed stonemasons must also have small business skills.
Working conditions
Stonemasons:
usually work 40 hours a week, but may also need to work evenings and weekends
spend most of their time working outdoors at building or renovation sites
work in dusty and noisy conditions
may travel locally to clients and building sites.
What's the job really like?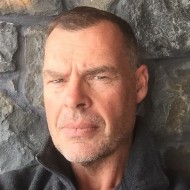 How did you get into being a stonemason?
"I'm a fourth-generation stonemason, so through my father and grandfather."
What do you enjoy most about your work?
"Just that it's very creative. You can do just a small part on a property and it's that small feature that really brings the property to life.
"I also enjoy exceeding the client's expectations. If you can give them that wow factor for their property that's always pleasing."
What skills are important for stonemasons?
"Having a bit of artistic flair is really helpful. It allows you to visualise what a project is going to look like before you've even started. Especially as there are different strands of stonemasonry – not just the laying of stone but also stone cutting, lettering, and carving. So I think having that artistic flair is the most helpful thing for a stonemason."
What advice would you give someone interested in getting into stonemasonry?
"As a trade or craft, stonemasonry is very rewarding, but be prepared for some hard work.
"With a lot of other trades, your work is hidden. But for a stonemason, your work is generally the feature piece on the property and you know that it's going to be there for a long, long time. After we're all gone these properties are going to be the next historical buildings of New Zealand."
Stonemason video
Find out about a career in stonemasonry – 1.33 mins. (Video courtesy of the Building and Construction Industry Training Organisation)
Narrator: Stonemasonry is one of the oldest trades, creating timeless pieces like stone walls, churches, monuments and heritage buildings dating back hundreds of years.

Masons work with traditional tools like hammers and mallets on natural materials like limestone, granite and natural New Zealand stone, and may also work with digital design and computer driven cutting machinery.

If you're interested in making pieces of art, monumental masonry allows you to create decorative art forms from stone. A lot of the work has emotional significance creating headstones, statues and monuments. It is particularly appealing for people looking at second careers.

Stonemasonry is the art of creating architectural and decorative features for structures such as walls, entrance ways and fireplace hearths. There is a large demand for stonemasons in Central Otago on high-end builds and work on historically significant sites such as churches and old stone fences.

If you've already been working in the trade for some time or if you've trained and worked professionally overseas, BCITO offers excellent opportunities to recognise your skills and get qualified.

It pays to have good hand-eye co-ordination and a love for detail alongside maths and English skills. The work is particularly satisfying for people who enjoy working with their hands, taking time to shape stone into beautiful and seamless designs.

Stonemasonry is a specialist trade that can take you around the world.

Check if you're eligible. Getting qualified could be fees-free.

Entry requirements
There are no specific entry requirements to become a stonemason. However, a New Zealand Certificate in Stonemasonry (Level 4) may be useful. This is available as either:
an apprenticeship overseen by the Building and Construction Industry Training Organisation (BCITO)
a two-year full-time course through Otago Polytechnic.
The New Zealand Stone Masons Association can help you find stonemasons who take on and train apprentices.
Secondary education
There are no specific secondary education requirements to become a stonemason. However, NCEA Level 2 construction and mechanical technologies, maths, English and physical education are useful.
Year 11 and 12 learners can find out more about the construction industry, and gain relevant skills, by doing a National Certificate in Building, Construction and Allied Trades (Level 1 and 2) through the BConstructive programme.
For Year 11 to 13 learners, trades academies and the STAR and Gateway programmes are good ways to gain relevant experience and skills.
These programmes may help you gain an apprenticeship, but do not reduce the amount of time it takes to complete it.
Personal requirements
Stonemasons need to be:
accurate, with an eye for detail
practical and patient
safety-conscious
motivated and good at solving problems
artistic and able to visualise a finished product
good at basic maths.
Useful experience
Useful experience for stonemasons includes:
construction work
art and design experience.
Physical requirements
Stonemasons need to have a good level of fitness. They also need to have a strong back and strong arms as they have to bend and lift heavy materials and equipment.
Find out more about training
Building and Construction Industry Training Organisation (BCITO)

0800 422 486 - info@bcito.org.nz - www.bcito.org.nz
Check out related courses
What are the chances of getting a job?
Strong demand for stonemasons
Chances of getting work as a stonemason are good due to:
growth in construction activity, which is expected to continue until at least 2023. This is mainly due to more homes being built
demand for high-quality stonework for luxury homes, particularly in Auckland, Wellington, Christchurch, Queenstown and the Central North Island
a shortage of stonemasonry apprentices.
Stonemason appears on Immigration New Zealand's construction and infrastructure skill shortage list. This means the Government is actively encouraging skilled stonemasons from overseas to work in New Zealand. 
However, like many construction jobs, this role can be affected by economic conditions. A downturn in the economy can lower demand for stonemasons.
According to the Census, 744 stonemasons worked in New Zealand in 2018.
Fewer openings for monumental masons
Monumental masons, who work on headstones and other memorials, are less in demand due to use of:
overseas companies to create headstones, as this costs less
computerised lettering rather than masonry techniques.
Most stonemason jobs not advertised
Stonemason jobs are not usually advertised. You can contact the New Zealand Stone Masons Association about possible jobs or apprenticeships.
Many stonemasons run their own businesses
One-third of stonemasons are self-employed, and 13% employ others. Most stonemasons work for small companies of between two and eight employees.
Sources
Building and Construction Industry Training Organisation, 'Stonemasonry', accessed August 2018, (www.bcito.org.nz).
Gautron, P, chairperson, New Zealand Stone Mason Association, careers.govt.nz interview, August 2018.
Immigration New Zealand, 'Construction and Infrastructure Skill Shortage List', 27 May 2019, (www.immigration.govt.nz).
Ministry of Business, Innovation and Employment, 'National Construction Pipeline Report 2018', July 2018, (www.mbie.govt.nz).
Ranchhod, S, 'Construction Bulletin – July 2018', July 2018, (www.westpac.co.nz).
Stats NZ, '2018 Census Data', 2019.
(This information is a guide only. Find out more about the sources of our job opportunities information)
Progression and specialisations
Experienced stonemasons may progress to set up their own business, or move into related work such as landscaping.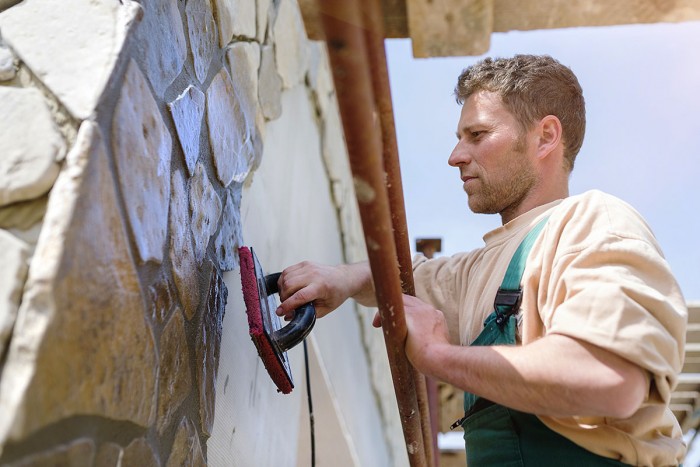 Last updated 4 April 2023