Stonemason
Pouwhakanao Kōhatu
Alternative titles for this job
Stonemasons work with stone to construct or renovate buildings, fittings, walls and paving, or to create monuments in cemeteries. 
Pay
Source: New Zealand Stone Masons Assocation, 2016.
Job opportunities
Chances of getting a job as a stonemason are average for newly qualified people and good for experienced workers.
Pay
Pay for stonemasons varies depending on experience and location. Pay is usually higher in regions with greater demand, such as Auckland and Christchurch.
Stonemason apprentices usually start on the training minimum wage.
Unqualified/inexperienced stonemasons working as labourers usually start on the minimum wage.
Experienced stonemasons usually earn between $20 and $30 an hour.
Highly skilled stonemasons can earn up to $40 an hour. 
Self-employed stonemasons with specialist skills can earn more than $40 an hour, but their income depends on the success of their business.
Source: New Zealand Stone Masons Association, Careers New Zealand interview, 2016.
(This information is a guide only. Find out more about the sources of our pay information)
What you will do
Stonemasons may do some or all of the following:
talk to clients, design plans and provide quotes
split, cut and shape stone, and set in place using techniques such as dry stone walling, concreting or reinforcing
mix, pour and lay concrete and cement
set stone panels onto building walls
lay and polish stone floor tiles
design, create and inscribe headstones and other memorials (monumental masonry).
Skills and knowledge
Stonemasons need to have:
skill in working with different types of stone
stone-cutting and building skills
knowledge of stone-polishing techniques
knowledge of safe work practices, and general building practices
design skills.
Self-employed stonemasons must also have small business skills.
Working conditions
Stonemasons:
usually work 40 hours a week, but may also need to work evenings and weekends
spend most of their time working outdoors at building or renovation sites
work in dusty and noisy conditions
may travel locally to clients and building sites.
What's the job really like?
Kiri Whangapirita
Stonemason
String, level and hammer – the tools of stonemasonry
Kiri Whangapirita says stonemasonry puzzles a lot of people, but to him the attraction of it is clear. "It's all about measuring using a string line and a level to anchor a stone on top of the mortar, then using your hammer to shape the stone to fit. Once you've finished you scratch out the mortar that's visible."
Each day you build up your skills
Although it seems like a simple process, Kiri points out that it requires skill and dedication. "It takes time to get your speed up without jeopardising quality, but your confidence grows every day. The beauty of stonemasonry is that the quality of your work can always be improved."
Kiri Whangapirita is of Ngāti Porou descent.
Ryan discovers what's involved in a career as a stonemason – 12.27 min. (Video courtesy of BCITO)
Ryan: Hey Guys, I'm Ryan McFarlane, I go to Riccarton High School, and I'm interested in a career in stonemasonry.

Clinton: Stonemasonry is one of the oldest trades and the skills used hundreds of years ago are still used today to build stone structures like walls, churches and heritage buildings.

We're introducing Ryan to Ben West, director of Christchurch stonemasonry company Stoneworks.

Ben: I'll get you to come in and we'll show you around.

Ryan: Cool!

Ben: So, Stonework is a family owned and run stonemasonry company, one of the largest stonemasonry companies in New Zealand. We cover all aspects of stonework.

We're particularly interested in traditional skill sets – restoration trades, dry-stone walling.

Ryan, the first thing coming into the workshop, we've obviously got to get you kitted up in the right sort of gear. I see you've got the appropriate steel-capped boots on, which is good.

Clinton: Health and safety is a top priority. So, after kitting Ryan out with the right gear, and going through the health and safety book for the workshop, Ben showed Ryan some of the raw materials he'll come across today.

One of those materials, Oamaru stone, is currently being used to make a fireplace.

Ben: This is what we do, creating fireplaces and parts of buildings.

Clinton: Now it's time for Ryan to get down to work. Ben introduced Ryan to Regan, a highly skilled and experienced stone carver – a skill known in the trade as a 'banker mason'.

And Dave, who is going through the Building and Construction ITO's apprenticeship scheme for stonemasons.

Regan: Gidday guys. This is one of the jams we're making for the fireplace. As you can see here we've got a mould template. That's our mould that's been scribed on there [shows the block of stone with the clear template over the top and marking on the stone].

So we've got to cut some other stones down, so we'll walk over to the saw and take a look at that.

Clinton: The saw Ryan and Dave are going to use is a large, diamond-bladed electric saw.

Regan: OK Dave, so we'll get you to operate the saw.

Clinton: With full safety gear [mask, safety glasses, high-visibility vest, helmet, earmuffs] on, Dave started up the saw with Ryan looking on. In days gone by, this cutting had to be done by hand saws, but this beast made things a little easier, and the cut is very clean.

Ryan: That made a nice clean cut.

Dave: There we go [removes the blocks he's cut].

Clinton: With the stone cut, the next job for Ryan was to try his hand at some nice simple stone carving.

Regan: So this here, this is the mantle of the fireplace.

Clinton: Ryan has to cut a groove along its length so the stone can be fixed to one that will go on top.

Regan: So what we want to do is put the chisel on the line there, just give it a light tap in. So if you want to try that, down that end [hands Ryan the chisel and he starts tapping the chisel with a mallet].

That's it, then you come around the other side of the stone. Yeah, just come from the other side again – a bit more angle on your chisel.

Clinton: Carvings like Ryan has just been doing are often used in Stoneworks' restoration work.

Ryan: [to Dave] So have you been working on any of the [earthquake] restorations in Christchurch?

Dave: Yeah, personally I've been at Christ's College for pretty much the four years, I've been working for Ben. We've been doing a lot of restoration there, plus some other bits and pieces around the city.

Ben: This Cashmere Presbyterian church dates from about the 1920s. In 2010 I believe there was an extension on the church so initially what we did was we converted one of the existing windows into a doorway so they could go through to an annexe. And that was quite an interesting operation in that we had to preserve the integrity of the inside of the church. There was an extension that we did on the church at that time, just trying to match the stonework style.

And then after the quake, there was some limited damage to a couple of areas, and we've repaired those areas and then new capstones on the top of the tower and actually retro-tying with some helifix ties some of the cladding on the tower.

[At the estuary looking at a stone wall.]

So what we've got here Ryan, this area was damaged in the earthquake. This is quite an old historic reserve and so what we're doing is rebuilding this section of wall to match the existing, to maintain the look of the reserve.

We've got a traditional capping style here, which is "cock and hen" like the comb on a cockerell, and then a chicken doesn't have it. This is quite a traditional style of wall with what we call "ribbon pointing", which is a more formal style of pointing, and [scene changes to a modern stone structure] now we're at a more contemporary structure – still using the same Port Hills basalt, but this structure was built – 2008 I think, so pretty contemporary design as you can see. We've got very recessed mortar so it's built almost stone on stone, but there's still mortar in behind.

Whereas last time, if you remember we had the "cock and hen" cap, here it's much more contemporary [ie a flat top] – the wall just terminates, and the same with the column tops.

[scene changes to a wall beside a hill]

You can see that fundamentals of a dry stone wall – the structure of the wall is based on the depth of the stone. If you think about a stack of wood and what you're looking at is the end of the logs.

We're still following the same sort of bonding rules, but you'll see what we call a stretcher, which is a stone that's long across this way [at right angles to the wall] and the great bulk of these are sitting back into the wall and the wall's based on gravity – what keeps this together, the bonding and then the weight of the stone above.

A style of construction that's five to ten thousand years' old. Probably some of the earliest structures in the world will be dry stone structures.

We try and get our trainees into this sort of work fairly early on, because it's not too fussy, and it falls over if they don't do it right!

Clinton: So, as Ryan was Ben's newest trainee, he got Ryan to try his hand at dry stone walling.

Back at the workshop, stonemason Tim showed him what to do.

Tim: We need to look at the stone, and find what works as a good base. If it's nice and flat and it sits nice and easy, we know it's going to be nice and strong in the wall. We take our hammer and pitcher [a tool like a large blunt chisel]. Give it a big whack. [more bangs to level the stone]

Now we just pick it up, put it in the wall – it's nice and strong and it will work.
What you want to do, is turn your stone away from you, and you want to dress [work] along that line.

[Ryan hammers the stone to make it even]

Tim: So now it pays to turn it over, and we do the same again from the other side. That's a good job there, it's almost ready to go in the wall.

Clinton: With the stones dressed, it's time to build the wall.

Tim: So what we want to do is build a mini-wall on the bench. The main thing to look at is the bonding, making sure we are covering our vertical joints, and not have any running joints.

[Ryan places the stones together]

Tim: Very good! Nice and straight and we've got our joints covered here from below, with the rock above.

Ryan: Cheers mate. [They shake hands]

Clinton: Stonemasonry skills are learned on the job, and Ryan could see how the skills he's just learned are put to good use on this wall being built by Ben's professional team.

Stonemasonry is not just about building stone walls and repairing heritage buildings. Modern structures use stone for many decorative features.

This building in Christchurch's CBD was damaged in the earthquake and is now being repaired and the decorative stonework is being upgraded and extended – a job for Ben and his team at Stoneworks.

Ben: And so this application of stone is what we call mechanical fixing and it allows our stone to be used in a relatively thin sort of thickness and large pieces. We have a mechanical clip that picks up the stones and has the connection. And each stone's actually supported independently to the substrate with a rail system.

So we're just here doing a cutting list for all our dimension sizes for the stone. Because even though it is deemed an architectural cladding, it is quite heavy – even at 100ml thick there's a fair bit of weight there.

Clinton: The Building and Construction ITO (BICTO) manages stonemasonry apprenticeships. Ben himself has been actively involved with the ITO, formalising the qualification, and his stonemason Dave is now going through the apprenticeship with Ben's company. BCITO training advisor Brian makes regular visits to Dave to make sure he is keeping on track with his apprenticeship.

Brian: We try to see the apprentice about every three months, and see what he's worked on since the last visit. And check their books and normally get them to do a tour of the site – whatever they are working on and explain the job. What their involvement's been, and also what they have done themselves.

Evidence is a really important part of the apprenticeship these days. There is still some written work that they do in their books and also recording in their diary, and the photographic work. They take normally about one or two photographs per week, just to show their progress, what they've been working on.

Ben: It's been a real partnership with BCITO. We owe them a lot. I think we'd be struggling as an industry without recognition and a good training situation. For them, we see it as positive.

We're very vocal in trying to get members of the New Zealand Stone Masons Association, which is a recently-formed association of stonemasons, to get that message across that people should be training. And to preserve the industry and the skills that come with it.

Clinton: Well, it's been a busy day for Ryan experiencing the diversity of the work of a stonemason. But – is it the job for him?

Ryan: I've learned loads. You can go from using stones for building a wall, to doing a sculpture, you can pretty much do anything with it – just whatever your mind desires you can do. It could be just the job for me.

Ben: I thought Ryan did really well. It's really nice to see some engagement and interest – I think that's the key thing for any career – a real engagement and connection with what you are doing.

And he could see the variety of it which was really, really nice.

Clinton: The Building and Construction ITO manages stonemasonry apprenticeships. The apprenticeship typically takes three years to complete. You'll work under experienced stonemasons and have ongoing guidance and support from the BCITO.

Your skills will be assessed on the job. Stonemasons combine practical and artistic skill to create structures that will last for generations.

By doing the BCITO stonemasonry apprenticeship, you will earn while you learn.
Entry requirements
There are no specific entry requirements for becoming a stonemason.
However, to become qualified, you can complete a New Zealand Certificate in Stonemasonry (Level 4). This is available as either:
an apprenticeship overseen by the Building and Construction Industry Training Organisation (BCITO)
a two-year full-time course through Otago Polytechnic in Cromwell.
The New Zealand Stone Masons Association can help you find stonemasons who take on and train apprentices.
Secondary education
No specific secondary education is required for this job, but NCEA Level 2 maths, English and design and visual communication subjects are useful.
Year 11 and 12 students can learn more about the construction industry and gain relevant skills, by doing a National Certificate in Building, Construction and Allied Trades (Level 1 and 2) through the BConstructive programme.
For Year 11 to 13 students, the Gateway programme is a good way to gain industry experience.
These programmes may help you gain an apprenticeship, but don't reduce the amount of time it takes to complete it.
Personal requirements
Stonemasons need to be:
accurate, with an eye for detail
practical and patient
safety-conscious
motivated and good at solving problems
artistic and able to visualise a finished product
good at basic maths.
Useful experience
Useful experience for stonemasons includes work in construction such as:
brick and blocklaying
concreting, plastering or labouring.
Art or design experience is also useful.
Physical requirements
Stonemasons need to be fit and strong, especially in the back and upper body, as they have to bend and lift heavy materials and equipment.
Find out more about training
Building and Construction Industry Training Organisation (BCITO)

0800 422 486 - info@bcito.org.nz - www.bcito.org.nz
Check out related courses
What are the chances of getting a job?
Construction boom driving stonemason demand
Opportunities are good for stonemasons due to:
a construction boom that is predicted to last until 2021
the extra 22,000 houses needed over the next 10 years in Auckland
building work needed to upgrade leaky homes and earthquake-prone buildings
demand for high-quality stonework for upmarket homes, particularly in Christchurch, Central Otago and Auckland.
the Christchurch rebuild, which is predicted to extend until at least the end of 2017.
Stonemason is included on Immigration New Zealand's Canterbury skill shortage list, which highlights occupations in shortage during the rebuild of the region. It also appears on Immigration New Zealand's immediate skill shortage list. This means the Government is actively encouraging skilled stonemasons from overseas to work in New Zealand.
There is a shortage of stonemasons due to:
many leaving this job after the 2008 recession
not enough apprentices being trained.
However, the demand for stonemasons can be affected by economic conditions. A downturn in the economy can lower demand for stonemasons. Being adaptable, focusing on high-value work, building good relationships with other building professionals and being willing to travel all increase your chances of staying in work.
Fewer openings for monumental masons
Monumental masons, who work on headstones and other memorials, are less in demand due to: 
use of overseas companies to create headstones 
use of computerised lettering rather than masonry techniques.
Most stonemason jobs not advertised
Stonemason jobs are not usually advertised. Contact New Zealand Stone Masons Association about possible jobs or apprenticeships.
Many stonemasons run their own businesses
One third of stonemasons are self-employed, and 13% employ others. Most stonemasons work for small companies.
Sources
BRANZ and Pacifecon, 'National Construction Pipeline Report 4', July 2016, (www.branz.co.nz).
Gautron, P, chairman, New Zealand Stone Mason Association, Careers New Zealand interview, August 2016.
Immigration New Zealand, 'Canterbury Skill Shortage List', accessed July 2016, (www.immigration.govt.nz.
Immigration New Zealand, 'Immediate Skill Shortage List', accessed March 2017, (www.immigration.govt.nz).
McClintock, J, operations manager, Certified Builders Association, Careers New Zealand interview, June 2016.
Ministry of Business, Innovation and Employment, '2006-2014 Occupation Data' (prepared for Careers New Zealand), 2015.
(This information is a guide only. Find out more about the sources of our job opportunities information)
Progression and specialisations
Experienced stonemasons may progress to set up their own business, or move into similar work such as landscaping. 
Stonemasons may specialise in monumental masonry (headstones).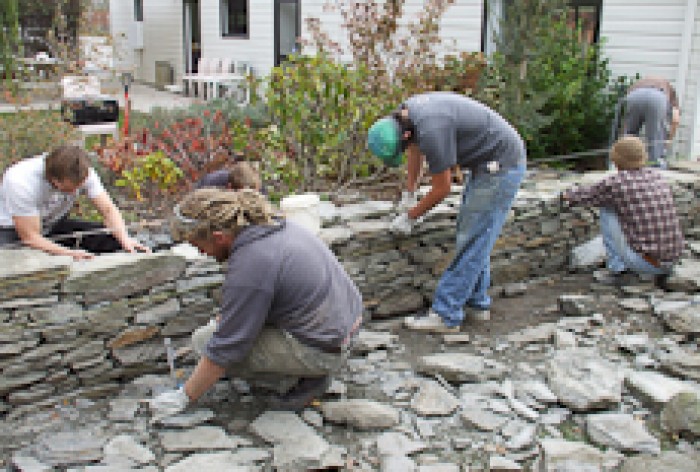 Last updated 17 July 2018