Property Manager
Kaiwhakahaere Papa Whenua
This job is sometimes referred to by alternative titles
Property managers look after the daily running of residential and commercial properties.
Pay
Property managers usually earn
Source: 2014 Hays Salary Guide.
Job opportunities
Chances of getting work are good in residential property management, and in commercial property management in Auckland and Christchurch.
Pay
Pay for property managers varies depending on experience and the area of property they work in.
Property managers with up to three years' experience earn between $35,000 and $85,000 a year.
Property managers with over three years' experience earn up to $110,000.
Commercial property managers charge set fees for managing properties, while residential property managers charge the property owner a fee of the rent. Some residential property managers are paid a salary by their company while others work on commission only.
Source: 2014 Hays Salary Guide.
 (This information is a guide only. Find out more about the figures and diagrams in our job information)
What you will do
Property managers may do some or all of the following:
advertise and show properties to prospective tenants
negotiate and secure leases and tenancy agreements with tenants
collect rents and lodge bonds, and monitor rent arrears
investigate and resolve any tenant complaints
review property maintenance, security and tenancy contracts
compare properties, look at the overall market, and ensure owners are maximising their investments.
Commercial property managers may also do financial reporting on issues such as forecasting or aligning income and budget. Many also provide consulting services on issues such as business relocations.
Skills and knowledge
Property managers need to have knowledge of:
property inspection and valuation
building methods and materials, and architectural and engineering plans
property laws, such as the Resource Management Act and the Building Act 2004, and local regulations
the real estate market.
Trade skills, such as plumbing or carpentry, may also be useful.
Working conditions
Property managers:
usually work regular business hours, but may work evenings and weekends, and be on call
are based in offices, but often travel locally or nationally to clients' properties, and to meet with prospective clients or attend courses.
What's the job really like?
Nadene Quirk - Property Manager
Nadene Quirk learned about property management while working as a receptionist at a real estate firm. "There was just so much going on – the challenges and the commission – that I thought this could be for me."
She job-shadowed one of the property managers to learn more, before going on to secure a property manager job. After a few years, Nadene took on the challenge of starting her own business.
A 24/7 job
Hard work has been an important part of Nadene's success, and she is quick to point out that property management isn't a nine-to-five job. Everywhere she goes, the job goes too.
"My car is my office! If I'm not in my car carrying my work around, then I'm in my room late at night doing the admin side of things. Sometimes I might be out for dinner or about to jump into bed, and my phone rings. People apologise for ringing at times like that, but it is part of my job."
Confidence the key to success
This drive to succeed has helped Nadene overcome many challenges. "Some clients, particularly those at the top end of the market, seem to think that because I'm a younger person I wouldn't know what they should be doing with their investment. I realised I had to be confident in what I do to be successful."
What's hot
Finding solutions to problems, for both tenants and property owners.
The opportunity to learn the job.
What's not
Dealing with difficult customers, and chasing up those who haven't kept up with their rent.
Having to take phone calls from clients after hours.
Ravi finds out about property management and real estate - 5.44 mins (video courtesy Dave Mason Productions).
Clinton: Residential agents are almost always paid on commission whereas property management agents are paid a salary. Des Ryder is a property manager and he has an assistant too - its Theo's brother, Carlos.

Des: My lifestyle – I prefer property management. I like to have the freedom of my weekends and also not having afterhours work so much – I do have some after-hours emergency calls but in general I've got the weekends free for family and things like that.

Clinton: The team are doing an inspection of a rental before the tenants move in. A detailed list of the condition of the property is made.

Des: So, it basically just goes room to room, door to door. So the first thing I'll check is things like doors…

Des: It's a very varied job. So I can be like this morning, we went out and checked the water meter to just see if it was leaking, I can be doing bond inspections when people have left, I can be showing houses. The great thing is about talking to people, so you're not just sitting in an office, you're out and about.

Clinton: Real Estate agents have to work within a legal framework that protects consumers, so learning about legislation that relates to the job, is important.

Clinton: The Skills organisation is the Industry Training Organisation that offer a range of qualifications for exciting careers in Real Estate.

Annette: At the Skills Organisation, we offer two qualifications in Real Estate and Residential Property Management. The first one is the National Certificate in Sales Person (Level 4) – this is a critical certificate to obtain if you want to sell real estate or work in the real estate industry. The second one is the New Zealand Certificate in Residential Property (Levels 3 & 4). These qualifications offer you the ability to work in the residential management.

Clinton: An important part of any marketing campaign is the chance for the public to view the property - the Open Home…

Clinton: …and sometimes there's a few last-minute tidy ups before the potential buyer's arrive.

Clinton: Ravi's doing the doorstep meet and greet, and taken down the visitors details.

Jamie: Hi guys, how are you? Good.

Jamie: So for me, a big part of the job is etiquette - some people have natural etiquette when it come sot dealing with people, other people pick it up more slowly than others but it's very important about how to treat people, how to listen to them and how to understand what's actually important for other people.

Clinton: And Ravi's definitely getting the right idea, he's right in the thick of it, and enjoying himself.

Open-homer: How big is the section out there?

Clinton: It's all about clinching the deal. In the real estate agent world, no deal means no pay.

Clinton: For Jamie and Ravi, their efforts have paid off. A client's made the decision to buy.

Jamie: And what level of offer were you considering making today?

Home buyer: $550,000.

Jamie: $550,000? Ok, that's great.

Jamie: It's so challenging – you meet someone, you build a rapport, you think everything is going well, you're just about to get the deal signed, and then all of a suddenly, something changes. But if you love the challenge of being out there, pitching yourself and working with people and dealing with sometimes difficult personalities, then it's definitely a job for you.

Clinton: Over 12,000 real estate professionals are members of the Real Estate Institute of New Zealand. Helen O'Sullivan is the Chief Executive Officer.

Helen: First and foremost, you've got to be prepared to work hard. This is a great industry, it is however a very challenging industry and you've got to be prepared to put in the hard yards but you also have to have a work ethic and a commitment to professionalism. I would absolutely recommend that newcomers to the industry join an agency that is a member of the Real Estate Institute, apart from access to our Advisory Services Library and a lot of the guidance that we provide to members, they will also have access to the statistics, the most up-to-date data at what the market is transacting at right now, which is a key requirement for them when they're acting in a quickly moving market.

Jamie: Yeah, so I'm very impressed with Ravi, he seems very keen and I think one of the most important things in real estate is to have a great attitude and work hard, so I'm sure he will do really well.

Ravi: It was really great, it was really, really interesting and I'm really thankful for the experience. It was a lot more than I thought it would be and it was a lot more than, like there was a lot of stuff to do and everything – it was great!

Clinton: A good understanding of relevant legislation is essential. The Skills Organisation offer qualifications designed to put you at the front of your profession. A National Certificate in Real Estate is available that provides the skills to conduct legal property transactions. Qualifications available are The National Certificate in Real Estate (Salesperson) (Level 4), The New Zealand Certificate in Residential Property Management (Level 3) and The New Zealand Certificate in Residential Property Management (Level 4).
Entry requirements
There are no specific entry requirements to become a property manager, and many larger property firms provide in-house training.
However, employers at commercial property companies often prefer their entry-level positions to be filled by graduates with:
a degree or diploma in property management, finance or marketing
experience in professional areas such as law, construction, or accounting and finance.
Sales and real estate diplomas or certificates are also useful for commercial property managers.
Residential property managers can train on the job and achieve a New Zealand Certificate in Residential Property Management - Level 4 through the Skills Organisation.
Secondary education
A tertiary entrance qualification is required to enter tertiary training. Useful subjects include English, maths, computer studies, economics and physics.
Personal requirements
Property managers need to be:
honest and reliable
excellent communicators, with good listening and writing skills
proactive and adaptable
organised
able to make good judgements.
I guess you have to be pretty thick-skinned. I want to have a good relationship with a tenant so they can trust what I'm saying, but at the same time I need to look after the best interests of the landlord. So you also need to be an honest and loyal person.

Nadene Quirk - Property Manager
Useful experience
Useful experience for property managers includes work in:
building
real estate
property investment
valuation
quantity surveying
finance and administration.
Any work that involves direct communication with clients is also useful.
Registration
Some property managers are registered with the Property Institute of New Zealand (PINZ). To do this you need to have an accredited property degree.
Find out more about training
Property Institute

(04) 384 7094 - national@property.org.nz - www.property.org.nz

Real Estate Institute of NZ

(09) 356 1755 - www.reinz.org.nz/

Skills Organisation

0508 754 557 - website@skills.org.nz - www.skills.org.nz
Check out related courses
What are the chances of getting a job?
Opportunities are good for residential property managers, as more people are buying investment properties. This is because fewer home buyers are able to afford a 20% deposit, and therefore more housing stock is available for investment buyers.
Housing bond records show that the number of rented properties rose by nearly 18,000 in the year to September 2014.
Commercial sector picking up 
The commercial property sector is starting to pick up nationally, but opportunities are best in Auckland and Christchurch, where there is more investment in building development, and proportionally more business activity.
 Types of employers varied
Property managers can work for:
large or small property management agencies
institutional investors who run property funds
government departments with property portfolios.
According to Census 2013 data, 40% of property managers were self-employed.
Sources
Fraser, G, national director real estate management, Colliers, Careers New Zealand interview, March 2014. 
Hays, 'Hays Quarterly Report - Property October - December 2014', (www.hays.net.nz).
Interest.co.nz, 'Property news', accessed 21 October 2014, (www.interest.co.nz).
Ministry of Business, Innovation and Employment, '2003-2012 Occupation Data' (prepared for Careers New Zealand), 2012.
Stuff website, 'Investors move in as first-time buyers fold', 13 October 2014, (www.stuff.co.nz).
Watson, M, principal, Quinovic Kent Terrace, Careers New Zealand interview, March 2014. 
Progression and specialisations
Property managers may move into property sales or valuation work, or start their own businesses.
They may also specialise in dealing with:
residential properties
commercial properties such as retail spaces, office buildings, or industrial buildings.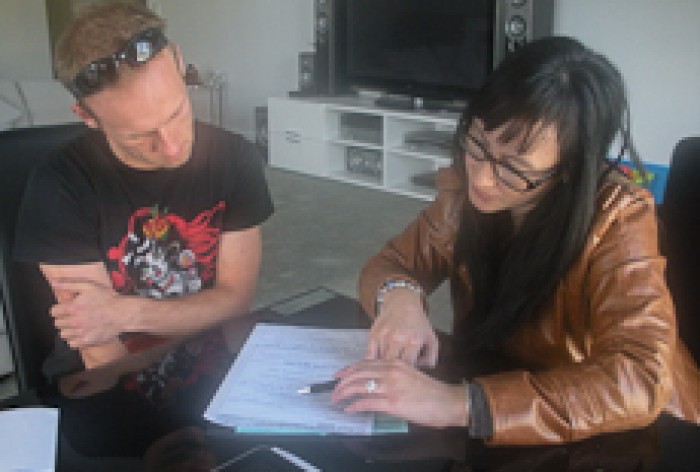 Last updated 7 June 2017