Dentist
Ngaio Niho
This job is sometimes referred to by alternative titles
Dentists study and treat diseases, injuries and problems of the mouth, teeth, gums and jaw. They also educate patients on how to avoid oral health problems.
Pay
Dentists with up to five years' experience usually earn
Very experienced dentists usually earn
Source: Association of Salaried Medical Specialists, 2017.
Job opportunities
Chances of getting a job as a dentist are average for graduates, but good for those with experience.
Pay
Pay for dentists varies depending on their experience, location and size of their practice.
Dentists with one to two years' experience usually earn between $65,000 and $80,000 a year.
Those with three to five years' experience can earn between $80,000 and $120,000.
Dentists with more than five years' experience can earn up to $150,000.
Qualified dental specialists working for district health boards can earn between $150,000 and $212,000.
Source: Association of Salaried Medical Specialists, 2017.
(This information is a guide only. Find out more about the figures and diagrams in our job information) 
What you will do
Dentists may do some or all of the following:
examine patients' mouth, teeth, gums and jaw
diagnose and treat diseased teeth and gums
replace missing teeth with implants, bridges, or partial or full dentures
improve the appearance of teeth with veneers, crowns, bleaching or braces
advise patients on how to keep their teeth clean and prevent diseases
refer patients to other dental specialists and health professionals
do dental research.
Skills and knowledge
Dentists need to have knowledge of:
how to assess and diagnose dental problems
the structure and functions of the teeth, jaw and mouth
the structure and functions of the body, and general injuries and diseases of the body, especially the head and neck
injuries and diseases of the mouth
dental and oral health care methods, materials and medicines
hygiene and sterilisation procedures, and first aid.
Working conditions
Dentists:
usually work regular business hours, but may be required to do some evening and weekend work
work in offices and surgeries in places such as private practices, hospitals and community health centres.
What's the job really like?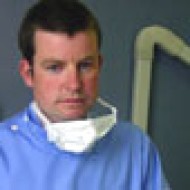 Freeing people from their dental pain and bringing back a winning smile are what Bevan Edwards finds most satisfying about his job as a dentist.
Bevan set his mind on dentistry after doing first-year health sciences at university, and spending time working in a dental practice during the holidays. "It's a really good idea to spend time with a local dentist to see if you're going to enjoy the work."
Working at a regional practice means Bevan does a range of tasks
Nowadays Bevan works in a dental practice where he gets to do a wide range of tasks because there are no specialists in the Gisborne region. "You become more of a generalist when you work outside the major centres. I get to do procedures like root canals and pulling out wisdom teeth.
"However, it's also important to recognise when referral is the best option. I often discuss the more difficult cases with the other dentists in the practice before making a decision to go ahead."
Educating patients is just as important as treating them
Bevan sees 15 to 20 patients a day – including primary and secondary school students – for routine examinations. "We usually tell the patient what problems we see and then give them different treatment options. But I try to educate my patients about dental health care as well as treat them."
Bevan Edwards is of Ngāti Awa descent.
What's hot
Being able to relieve clients' pain and restore their self-confidence.
Earning good money.
Constantly learning new things.
What's not
Dealing with bad oral hygiene.
Having to pay attention to posture to prevent back and neck problems.
It takes five years to train.
Dr Scott Waghorn talks about working as a dentist - 2.44 mins. (Video courtesy of Te Puni Kōkiri - for more videos go to www.maorifuturemakers.com)
Anyone can be a dentist, you just have to decide that that's what you want to do and then just apply yourself. I was very lucky, when I was 11 years old I was at the careers expo and I saw a little brochure of an old white dentist, wearing a white lab coat and concentrating and looking like he was doing something quite clever and I thought that's something quite difficult and challenging that's what I want to do. I was at the very very start when the school dental nurse was just starting to become lovely and friendly people and consequently I use to love going to the dentist, I use to really enjoyed sitting there and lying back and having a little pick around. I was also lucky because my mum was very bossy and she'd demand that I brush my teeth very well, so I never had any fillings.

Studied down in Otago, so at the age of 18 I left home, my mum and dad drove me down there and I spent the next five years studying. I was actually quite excited to get down there because of the fact university is different to school and it's all self-directed, you know at school you're told what to do and what to learn whereas at university it's up to you. The problem remains that in order to get into the course you have to attain extremely high marks in your first year of study which can be a bit of a barrier, not in terms of getting the marks, but that it can be a little bit scary for people who even attempt to do it.

When you're a dentist you spend five years and you learn the basics of how to be a general dentist which can handle anything from fixing gums, fixing the tooth, doing root canal treatments, making a set of dentures and a few little bits and pieces like screwing bolts into jaws and doing implants. With all those sections I just mentioned you can then go and spend some more time training, either at the university for three more years to become a specialist, or if you like general dentistry but you want to flavour your practice a little bit, that's what I've done, I really enjoy the orthodontist side of things, so I've gone and done a lot of training just to learn that aspect. I enjoy the technical, getting into the mouth and doing a filling, I enjoy the customer service aspect because I love meeting people and I love being a problem solver and I also love the business aspect of running a practice as well.

The most common misconceptions about dentist's are that we are mean, torturous people, that we like to inflict pain and in actual fact that's all true, yes we are and then we like to charge you for that as well. Everyone can do what they want to do for a career, I personally recommend dentistry cause it's a fantastic job you get to choose your own hours, you get to be caring, and you get to be paid well for your skills. Do not be afraid of having a dream like becoming a dentist because you can do it, pretty straight forward, you just have to for five or six years knuckle down, work hard and then sit back and enjoy a long term career.
Entry requirements
To become a dentist you need to:
complete the Health Sciences First Year programme at Otago University
complete a four-year Bachelor of Dental Surgery degree at Otago University. 
The University of Otago is the only university in New Zealand that offers a Bachelor of Dental Surgery.
You also need to be registered with the Dental Council of New Zealand. 
The Vulnerable Children Act 2014 means that if you have certain serious convictions, you can't be employed in a role where you are responsible for, or work alone with, children. 
Secondary education
NCEA Level 3 is required to enter tertiary training. Useful subjects include maths, chemistry, physics, biology and English.
Additional requirements for specialist roles:
To specialise in an area of dentistry, such as orthodontics, you need to complete postgraduate study at the University of Otago. You also need to be registered as a dental specialist with the Dental Council of New Zealand.
Personal requirements
Dentists need to be:
able to relate to a wide range of people
accurate, with an eye for detail
able to work well under pressure
good at problem solving and decision making.
Useful experience
Useful experience for dentists includes work with people, particularly in the health industry.
Physical requirements
Dentists need to have good eyesight (with or without corrective lenses) and good hand-eye co-ordination. 
Registration
Dentists need to be registered with the Dental Council of New Zealand.
Find out more about training
University of Otago - Faculty of Dentistry

(03) 479 7019 - dentistry@otago.ac.nz - www.otago.ac.nz
Check out related courses
What are the chances of getting a job?
Securing full-time work takes longer for newly-qualified dentists
It can take time for graduate dentists to gain full-time employment. There are few entry-level positions available and 60-80 graduates annually. Many established private practices don't take on graduates full time. Graduate dentists working in private practices can find it hard to get new patients as they lack experience, especially as the cost of treatment is not subsidised.
Once graduate dentists have gained 1-2 years' experience their employment chances increase. 
Strong demand for experienced dentists
Dentist appears on Immigration New Zealand's immediate skill shortage list. This means the Government is actively encouraging skilled dentists from overseas to work in New Zealand. 
The shortage of experienced dentists is due to:
significant numbers of dentists leaving to work overseas
more dentists choosing to work part time rather than full time
a worldwide shortage of dentists, which means that it can be hard for New Zealand to attract dentists from overseas to work here.
Regions with a shortage of dentists include:
Waikato/Bay of Plenty
Central North Island
Wellington
Canterbury/Upper South Island
Otago/Southland.
Most dentists work in private dental practices
Most dentists are self-employed in a dental practice, but some are employees. Others are employed by:
hospitals
community dental services
the Army
the Faculty of Dentistry at the University of Otago.
Sources
Colhoun, M, senior communications advisor, New Zealand Dental Association, Careers New Zealand interview, April 2017.
Faculty of Dentistry, University of Otago, Careers New Zealand interview, April 2017.
Ministry of Business, Innovation and Employment, '2006-2014 Occupation Data' (prepared for Careers New Zealand), 2015.
Nichols, G, dental house surgeon, Canterbury District Health Board, Careers New Zealand interview, April 2017.
Progression and specialisations
Dentistry graduates usually start work as dental house surgeons at public hospitals, or as assistant dentists. With experience, they may choose to set up their own practice.
Dentists may specialise in an area of dentistry such as:
Oral and Maxillofacial Surgeon

Oral and maxillofacial surgeons diagnose diseases, injuries, and defects of the jaw and surrounding structures. They also perform surgery to correct these diseases, injuries or defects.

Oral Medicine Specialist

Oral medicine specialists diagnose and manage the oral health care of patients with medically related disorders of the teeth and jaw.

Orthodontist

Orthodontists diagnose and correct bad bite, crooked teeth and poor jaw growth in children and young people. This often involves fitting braces and can involve correcting facial abnormalities such as a cleft palate.

Paediatric Dentist

Paediatric dentists provide oral health care to children from birth through to adolescence. Their work involves the management of dental problems related to behavioural, physical or developmental disabilities.

Periodontist

Periodontists treat diseases of the gum to prevent tooth loss.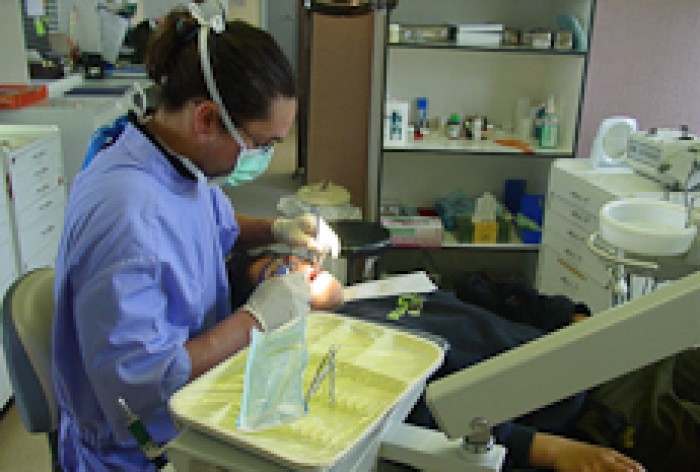 Last updated 13 August 2017