Radiation Therapist
Kaihaumanu Pūhihi
Alternative titles for this job
Radiation therapists are part of a specialised team that uses radiation to treat cancer and other diseases
Pay
Radiation therapists usually earn
Radiation therapists with extra responsibilities or expertise usually earn
Source: APEX and Te Whatu Ora, 2022 - 2024
Job opportunities
Chances of getting work as a radiation therapist are average, but better in larger cities.
Pay
Pay for radiation therapists varies depending on performance and experience. 
Radiation therapists working for Te Whatu Ora Health NZ
Radiation therapists usually start on $66,000 a year.
Radiation therapists with two to seven years' experience usually earn $70,000 to $98,000.
Radiation therapists with extra responsibilities or clinical expertise can earn between $101,000 and $124,000.
Source: 'APEX and Te Whatu Ora Radiation Therapists Collective Agreement 8 April 2022-7 April 2024', 2022.
(This information is a guide only. Find out more about the sources of our pay information)
What you will do
Radiation therapists may do some or all of the following:
work with radiation oncologists (cancer specialists) to plan and deliver treatment
use computed tomography (CT) scans, computer programmes and clinical information to plan radiation treatment
make immobilisation devices, such as masks, to help patients lie still during treatment
build rapport and communicate with patients during treatment
deliver radiation treatment using high energy x-ray machines (linear accelerators)
educate people about radiation therapy and its side effects.
Skills and knowledge
Radiation therapists need to have knowledge of:
radiation treatment methods and radiation equipment
radiation physics and how radiation affects the body
anatomy, physiology and pathology
how to make patients comfortable.
Working conditions
Radiation therapists:
usually work regular hours and may also work weekends and be on call
work in oncology departments at public and private hospitals.
Entry requirements
To become a radiation therapist you need to have a Bachelor of Radiation Therapy, or another qualification recognised by the Medical Radiation Technologists Board.
You also need to be registered with the Medical Radiation Technologists Board.
The Bachelor of Radiation Therapy is only available from the University of Otago's Wellington campus, and there are about 30 places on the course each year. You can increase your chances of being accepted on to the course by:
having strong NCEA Level 3 results, or at least one year's university study in science and psychology
showing an interest in, and knowledge of, radiation therapy.
The Vulnerable Children Act 2014 means that if you have certain serious convictions, you can't be employed in a role where you are responsible for, or work alone with, children. 
Secondary education
A tertiary entrance qualification is required to enter further training. Useful subjects include biology, English, maths and physics.
Personal requirements
Radiation therapists should be:
understanding and empathetic
accurate, with an eye for detail
able to work well under pressure
safety conscious
excellent communicators
good at planning and organising
interested in research
good at problem solving.
Useful experience
Useful experience for radiation therapists includes:
any work involving helping or caring for people
work in hospitals
experience with organisations that work with people who have cancer, for example CanTeen or the Cancer Society.
Registration
Radiation therapists need to be registered with the New Zealand Medical Radiation Technologists Board and have a current Annual Practising Certificate.
Find out more about training
New Zealand Medical Radiation Technologists Board (MRTB)

(04) 801 6250 - mrt@medsci.co.nz - www.mrtboard.org.nz

University of Otago Wellington, Department of Radiation Therapy

(04) 385 5475 - rtenquiries.uow@otago.ac.nz - www.otago.ac.nz
Check out related courses
What are the chances of getting a job?
Chances of getting work as a radiation therapist are average because:
only around 30 radiation therapy students a year are accepted for training
many radiation therapists leave New Zealand to get experience overseas
an ageing population increases demand for more health checks and scans for age-related diseases
However, medical radiation therapist appears on Immigration New Zealand's long-term skill shortage list. This means the Government is actively encouraging skilled radiation therapists from overseas to work in New Zealand.
According to the Census, 1,209 radiation therapists worked in New Zealand in 2018.
Most radiation therapists work for public hospitals
Most radiation therapists work in hospital oncology (cancer) departments in:
Auckland
Hamilton
Palmerston North
Wellington
Christchurch
Dunedin.
Radiation therapists may also work in private cancer treatment centres in Auckland, Tauranga, Wellington and Christchurch.
Sources
Coleman, K, director and head of radiation therapy department, University of Otago – Wellington, Careers New Zealand interview, April 2017.
Health Workforce New Zealand, 'Health of the Health Workforce 2015', February 2016, (www.moh.govt.nz).
Immigration New Zealand, 'Long Term Skill Shortage List', 27 May 2019, (www.immigration.govt.nz).
Stats NZ, '2018 Census Data', 2019.
The Royal Australian and New Zealand College of Radiologists, Faculty of Radiation Oncology, 'The Radiation Oncology Workforce in New Zealand: Projecting Supply and Demand 2012-2022', 21 February 2013, (www.ranzcr.edu.au).
(This information is a guide only. Find out more about the sources of our job opportunities information)
Progression and specialisations
Radiation therapists can progress into management roles or teach in a hospital or university.
Radiation therapists may also move into roles in research, sales and marketing of radiation equipment and cancer drugs, or developing new radiation technology.
Radiation therapists can specialise in:
treatment planning
CT scanning
treatment delivery
clinical education and research.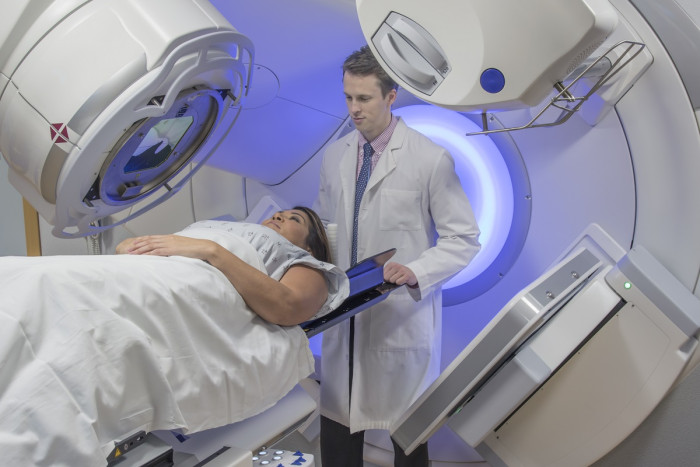 Last updated 20 November 2023