Dog Trainer
Kaiako Kurī
Dog trainers train dogs and diagnose and treat their behaviour problems.
Pay
Experienced dog trainers in established businesses can earn
Job opportunities
Chances of getting full-time work as a dog trainer are poor for new trainers and average for experienced trainers.
Pay
Dog trainers are usually self-employed so their income depends on the success of their business. Starting out, they are likely to charge a lower rate and have fewer clients.
Typically, dog trainers earn between $31,000 and $45,000 a year. Some established trainers may earn more than this.
Source: Dog Guru, 2016.
(This information is a guide only. Find out more about the sources of our pay information)
What you will do
Dog trainers may do some or all of the following:
work with clients to fix dogs' behaviour problems
run a dog day care centre 
hold classes for people and their dogs, including dog obedience classes
talk to the general public, media, and schools about dog training
work with organisations such as animal protection bodies and the courts.
Skills and knowledge
Dog trainers need to have:
knowledge of animal psychology and behaviour
the ability to observe, assess and treat dogs' behaviour problems
the ability to train and care for dogs
knowledge of animal biology.
Because most dog trainers run their own businesses, they also need business, management and marketing skills.
Working conditions
Dog trainers:
work flexible hours to suit their clients' needs, so may work nights and weekends, and be on call, or work regular hours if based at a dog day care centre 
may work from clinics, at their own or clients' homes, or at dog day care centres.
What's the job really like?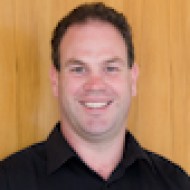 Simon Goodall
Dog Trainer
Helping dogs be well behaved
Simon Goodall has trained dogs – and their owners – all his working life. His vision is to help hundreds of people own "really nice dogs".
"You go in, you see the bad dog, you make some changes, and show the client what to do."
Simon's training model is based on gradually shaping a dog's behaviour – and he even uses these techniques with his own young children.
"My son had trouble sleeping. We'd pat him, stop, wait two seconds, pat, wait four seconds, pat, wait six seconds, pat, wait 10 seconds, in a couple of nights he was cured. My wife was staggered!"
Training the dog owners
In the long run, dogs have to listen to their owners, not to Simon. So after the initial two-hour session when he shows the owners how to keep their dog under control, he leaves them to practise the techniques on their own.
"I contact them a few weeks later and see how they are going. Some stuff they do; and some they don't and they give up, so I go back to see them again to give them the confidence to do it.
"It's brilliant. There's nothing better than seeing a proud client with their once-aggressive dog, walking along the beach."
Entry requirements
There are no specific requirements to become a dog trainer.
However, a qualification in animal care, animal behaviour, zoology or psychology is useful, in addition to experience working with animals and people.
Secondary education
Useful subjects include science subjects, maths and English.
Personal requirements
Dog trainers need to be:
confident and assertive
excellent at communicating
patient and adaptable
dedicated and motivated.
People skills are the biggest part of the job. You've got to be able to give owners confidence, and tell them what to do, without offending them.

Simon Goodall

Dog Trainer
Useful experience
 Voluntary or paid work with animals is useful for dog trainers. This could include:
dog and animal training
work in veterinary clinics, or dog day care centres
work at boarding kennels and catteries.
Physical requirements
Dog trainers need to be strong enough to control large dogs.
Find out more about training
Association of Pet Dog Trainers (New Zealand)

International Association of Animal Behaviour Consultants

International Association of Canine Professionals

iacpadmin@mindspring.com - www.canineprofessionals.com
Check out related courses
What are the chances of getting a job?
Hard to secure full-time dog training work
Full-time dog training work can be hard to find as dog owner numbers are stable and the occupation is small. As a result, dog trainers often supplement their income with work at a dog day care centre (which still allows them to use their dog-training skills), or other related roles.
Experience with animals and/or a qualification can increase your chances
Dog training is a small industry and there is strong competition for jobs from people interested in working with animals. However, experience working with animals in a dog day care centre, for example, or doing an animal health and welfare course, can increase your chances of getting dog training work.  It also gives you more credibility with dog owners.           
Many dog trainers work for themselves
Most dog trainers are self-employed, or work under a franchise for an established dog training company.
Sources
Denby-Gibbs, P, president, Association of Pet Dog Trainers NZ, Careers New Zealand interview, March 2014.
Goodall, S, director, Dog Guru, Careers New Zealand interview, February 2016.
Ministry of Business, Innovation and Employment, '2006-2014 Occupation Data' (prepared for Careers New Zealand), 2015.
(This information is a guide only. Find out more about the sources of our job opportunities information)
Progression and specialisations
Dog trainers who are employed by an established business may move on to set up their own business.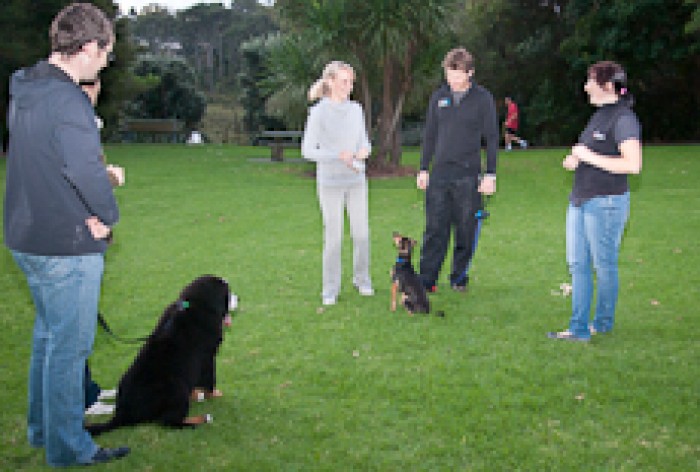 Last updated 31 May 2018