Veterinarian
Pūkenga Hauora Kararehe
Alternative titles for this job
Veterinarians treat sick and injured animals, provide general animal care, and advise about health care and disease prevention for pets and farm (production) animals.
Pay
New veterinarians usually earn
Experienced veterinarians running a business can earn
Source: NZ Veterinary Association, 2023.
Job opportunities
Chances of getting a job as a veterinarian are good due to a shortage of workers.
Pay
Pay for veterinarians varies depending on experience, responsibilities and location.
New graduates with one to three years' experience usually earn between $75,000 and $105,000 a year. 
Veterinarians with three to five years' experience usually earn between $90,000 and $120,000. 
Senior veterinarians with six to 10 years' experience usually earn between $105,000 and $150,000. 
Experienced veterinarians involved in running a business can earn between $130,000 and $220,000. 
Source: Veterinary Business Branch of the New Zealand Veterinary Association, 2023.
(This information is a guide only. Find out more about the sources of our pay information)
What you will do
Veterinarians may do some or all of the following:
work with clients to prevent and treat animal problems and diseases
advise on preventative health care, nutrition and the care and welfare of animals
examine dead animals to find out the cause of death
work with herd and flock owners to help them meet breeding and production goals
work in a quality control role at processing facilities 
negotiate with other countries to set health standards for animal or animal product imports and exports
write and develop statutes, codes, regulations and policies that protect animal welfare
develop specialist skills to assist with surgery, medicine, epidemiology and pharmacology for animals
be involved with disease investigation and research and co-ordinate national disease control programmes
help pharmaceutical companies develop and market products used on animals. 
Skills and knowledge
Veterinarians need to have:
knowledge of animals and animal diseases
animal-handling skills
knowledge of animal anatomy, physiology and biology
knowledge of biochemistry, microbiology and parasitology
skill in treating animals with medicines and performing surgery
knowledge of radiography, dentistry and lab methods
up-to-date knowledge of developments in veterinary science.
Business management knowledge may also be useful.
Being a vet is about being a problem solver. Whether it's dealing with a dog with cancer, or a cow that's not producing quality milk. You use your knowledge to fix the problem, or let the client know you'll find the answer.

---
Working conditions
Veterinarians:
work long and irregular hours, are often on call, and may also work evenings and weekends
may work at clinics, hospitals, farms, zoos, catteries, dog kennels, meat processing plants, laboratories, teaching institutes, and government regulation agencies such as biosecurity and Ministry for Primary Industries (MPI) 
often have to travel locally to visit and treat animals.
What's the job really like?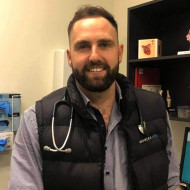 Farm vet work focuses on disease prevention
"Growing up on a beef and sheep farm, I knew being a vet wasn't all about puppies and kittens", says veterinarian Henry Yule.
Now working in one of the largest vet clinics in South Auckland, Henry divides his time between farm and companion animal work.
"In Spring I get to work on interesting cases, assisting with calving on dairy farms – doing surgery and caesareans. But there's also a big focus on prevention – vaccinating, checking herds for infection, and making sure the animals are well fed."
Communication and adaptability important vet skills
"You become a vet because you're good with animals, and because you're a people person", says Henry.
"You have to get information about a sick pet from a client in an often emotional situation. And you need to ask the right questions and give clients all the options.
"Being adaptable also helps because you could be vaccinating a new puppy in one consulting room, then euthanising a dog in the next."
Many ways to progress your vet career
"Having a vet degree gives you lots of options. You can do a veterinary internship and specialise, or go into research.
"I've done postgraduate study in critical care in small animals while working here, but like most vets will eventually look at doing a stint overseas."
Veterinarian video
Holly Blue talks about life as a veterinarian – 2.13 mins
Hi, my name's Holly and I'm a vet.
At our clinic my main responsibility is looking after the health of mares and
foals. I've always wanted to be a vet right from a young age.
So you can qualify or graduate as a veterinarian and work in general
practice.
Lots of people will choose a field that they have a particular interest in.
They may even take that further to specialise within that species. There
are general practice equine vets throughout New Zealand that may do
dentistry, lameness, just
general practice illness.
There's a lot of specialist avenues you can explore. So
I was really keen to go to vet school.
I didn't quite have the confidence coming straight out of high school,
so I went to university and did a few general subjects first.
For me personally,
going out and getting some life skills first and working on lots of farms,
working as a vet nurse,
really gave me a good foundation to back myself and go back to
university. You do have to apply yourself academically.
Your biology, chemistry,
and physics will be looked at before gaining entry to vet school.
Having background work experience is really
useful to then complement your education and
your skills that you pick up at university as well. Something to bear in
mind is that there are long hours often covered in all
sorts of things, cold and out in the elements,
and having support is key. I just love working with
horses because most of the time they've got the most beautiful nature.
Yeah, they definitely, as we see them coming through our clinic,
have their own unique personalities.
There's nothing else I'd rather be doing and it's really awesome to follow my
passion.
Entry requirements
To become a veterinarian, you need to:
complete a Bachelor of Veterinary Science
be registered with the Veterinary Council of New Zealand
have an Annual Practising Certificate.
Only Massey University offers the Bachelor of Veterinary Science course. Students do a pre-veterinary semester, and have a minimum of 10 days' veterinary work experience before being considered for the course. Each year 124 students, of whom 100 are New Zealand residents, are accepted. 
You can apply for the Bachelor of Veterinary Science degree under the Veterinary Maori and Pacific students (VetMAP) pathway. 
Secondary education
NCEA Level 3 is required to enter tertiary training. Useful subjects include chemistry, biology, physics and maths. 
Personal requirements
Veterinarians need to be:
understanding, patient and concerned for animals 
mature and responsible
organised and able to work well under pressure
able to inspire confidence in clients
good communicators with excellent interpersonal skills
decisive and good at solving problems
motivated and have a desire to learn.
Useful experience
Useful experience for veterinarians includes:
practical experience with farm animals
work as an animal technician
animal training
volunteer or paid animal care work.
Physical requirements
Veterinarians need to have good eyesight (with or without corrective lenses), good hearing, and good hand-eye co-ordination. They also need to have a reasonable level of fitness as they may spend long periods on their feet and the work can be physically demanding.
Registration
Veterinarians need to be registered with the Veterinary Council of New Zealand and have a current Annual Practising Certificate.
Find out more about training
Massey University

0800 627 739 - vet@massey.ac.nz - www.massey.ac.nz
Check out related courses
What are the chances of getting a job?
Good opportunities for veterinarians
Opportunities for new graduates and experienced veterinarians are good because there are not enough to meet demand, particularly in rural areas.  
As a result, veterinarian appears on Immigration New Zealand's long-term skill shortage list. This means the government is actively encouraging skilled veterinarians from overseas to work in New Zealand.
According to the Census, 2,475 veterinarians worked in New Zealand in 2018.
The Ministry for Primary Industries offers a bonding scheme for newly qualified veterinarians willing to work in particular areas.
Shortage of veterinarians has many causes
The shortage of veterinarians is due to:
limits on trainee numbers 
growing demand for veterinarian services, particularly in mixed animal practices
qualified veterinarians moving overseas for higher pay
qualified veterinarians leaving the job due to the high workload. 
About 60% of graduates start work in mixed (farm animal and pet) practices, mainly in smaller towns. However, rural practices still find it hard to attract veterinarians because the work often involves long hours and is physically demanding. 
Graduates can find roles quickly if they're prepared to be flexible about their hours and where they work.
Types of employers varied
About 40% of veterinarians work in mixed rural practices and 40% work in urban practices, which mainly deal with pets. Practices can be small, with just one or two veterinarians, or large, with up to 20 staff.
Veterinarians may also work for:
companies or government agencies
the Ministry for Primary Industries
AgResearch
universities
wildlife services, such as zoos and sanctuaries for endangered animals
organisations such as DairyNZ, Beef + Lamb NZ
diagnostic laboratories
animal health companies.
Veterinarians can also be self-employed, working as locums and contractors. 
Sources
Beattie, H, NZVA chief veterinary officer, New Zealand Veterinary Association, careers.govt.nz interview, June 2020.
Doyle, K, 'Stressed vets say their profession is desperate for more support', 4 April 2019, (www.rnz.co.nz). 
Immigration New Zealand, 'Long Term Skill Shortage List', 27 May 2019, (www.immigration.govt.nz).
Massey University website, accessed June 2020, (www.massey.ac.nz).
Ministry of Business, Innovation and Employment, 'Occupational Outlook 2020', accessed June 2020, (www.mbie.govt.nz).
Ministry for Primary Industries, 'Voluntary Bonding Scheme for Veterinarians,' accessed June 2020, (www.mpi.govt.nz).
Stats NZ, '2018 Census Data', 2019.
Tso, M, 'Shortage of vets a cause for concern for rural and urban areas', 18 November 2018, (www.stuff.co.nz). 
(This information is a guide only. Find out more about the sources of our job opportunities information)
Progression and specialisations
Veterinarians may progress to set up their own vet practices, or move into non-clinical roles such as teaching and research, or management. 
Veterinarians may also specialise in: 
large or small animals 
wildlife
poultry
horses and farm animals
zoo animals
domestic pets.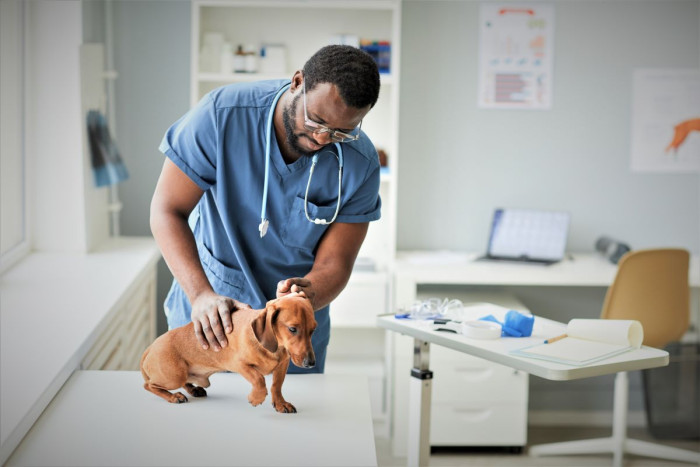 Last updated 25 September 2023