Contact Centre Worker
Kaimahi Pokapū Whakapā
Alternative titles for this job
Contact centre workers answer enquiries and provide or organise help for those who contact them. They may also deal with customer complaints, or sell goods or services.
Pay
Contact centre workers usually earn
Source: Hays Recruitment, 'The 2015 Hays Salary Guide', 2015.
Job opportunities
Chances of getting a job as a contact centre worker are good due to increasing demand for their services.
Pay
Pay for contact centre workers depends on their experience and responsibilities, and the size and type of contact centre they work for.
Team members usually earn between $39,000 and $48,000 a year.
Senior contact centre staff and team leaders may earn up to $52,000.
Source: Hays Recruitment, 'The 2015 Hays Salary Guide', 2015.
(This information is a guide only. Find out more about the sources of our pay information)
What you will do
Contact centre workers may do some or all of the following:
provide information, advice or appointments to people who contact an organisation
resolve customer enquires and complaints
forward enquiries to relevant departments
follow up enquiries by sending information
ring customers to promote products or services
conduct surveys.
Other duties vary according to the organisation they work for. For example, those who work in ambulance centres may give first aid advice.
Skills and knowledge
Contact centre workers need to have:
excellent speaking and listening skills
excellent writing skills, as they may respond to enquiries through email, web chat, or letters
good computer and data entry skills
knowledge of their organisation's products or services.
Working conditions
Contact centre workers:
may work full or part-time hours, during evenings, nights and weekends, and sometimes on rotating shifts
work in contact centres or from reception desks, though some may work from home
may work in stressful conditions – for example, in an emergency contact centre.
What's the job really like?
Lucian finds out about being a customer services consultant at ANZ's contact centre - 7.27 mins. (Video courtesy of Dave Mason Productions)
Clinton: Welcome back to Just the Job. This is our banking special programme and coming up next Lucian from Westlake Boys' School explores the career opportunities as an ANZ customer services consultant.

Clinton: And Lucian will get that chance at ANZ's Auckland contact centre, the largest financial call centre in the country.

Lucian: Hi I'm Lucian.

Corinne: Hi Lucien, I'm Corinne. Welcome to the ANZ Contact Centre.

Lucian: Thank you.

Corinne: So, this is the inbound contact centre, and this is where the customer services consultants come and take the incoming calls.

Corinne: In inbound, we take about 10,000 calls a day, across both Auckland and Wellington sites, and those are the customers calling us on any one of our 0800 numbers.

Clinton: And when they call, the answering consultant is their first point of contact with the bank so to ensure Lucian makes a good impression, Pamela Mansell will be showing him the ropes.

Corinne: Pam!

Pam: Hi!

Corrine: Hi, this is Lucian.

Pam: Hi Lucian.

Corinne: He's spending the day with us today and I'm going to leave him on your capable hands.

Lucian: So what does a customer services consultant do?

Pam: How about I show you?

Lucian: Cool.

Pam: So this is a team of customer service consultants. If you're employed by the bank you work with a group of about 10-15 people. Each customer services consultant will take around 100 to 120 calls per day.

Corinne: Calls that they could be expected to field could be just customers ringing up for balances, or it could be a customer in dire need of help – assistance, their credit card has been stolen – it's wide-ranging.

Clinton: Each teams aim is to answer a minimum number of calls per minute. Ensuring they do are team leaders like Pam who monitor their progress and mentor them through the more complex enquiries.

Pam: This here is all of our queues, and it's also reflected on all of our boards around the building. So our aim of course is to answer all of the calls, but to also answer them within a timely manner, so our agreement is to answer 80 percent of calls within 30 seconds.

Lucian: Well there's one sitting there, do you reckon I'd be able to take it?

Pam: Er, well we do usually give staff around five weeks' training before they're allowed to get on the phones, but we are about to have a training session now if you'd like to come along to that.

Lucian: Sweet, sounds good.

Pam: Great!

Pam: This is Lucian, he's here today to learn a bit about the job and what we do here. Alright, so everyone Shay's going to take us through a quick icebreaker.

Corinne: Training is really important because we don't want our customer service consultants tripping up on our customers. We want to make sure that they're as well-informed as possible so that they can take that call, and even if they don't know it, they know where to go to get that answer.

Clinton: During your five weeks of training you'll discover just how fastpaced the job can be. A buzz for those who enjoy the high-energy lifestyle. For this reason it's important at ANZ their consultants are given the chance to relax and recharge in their purpose-built rec room. And after an intensive day's training it's the perfect chance for Lucian to catch up with Ryan, who himself has recently entered the industry.

Lucian: So now that you've done all your training, what are your options from here? What are you planning on doing?

Ryan: I study during the week, so what they've done is they've arranged it so I can work a full-time shift over the weekend, so then I'm free Tuesday, Wednesday, Thursday to study and it makes a massive difference, so I can work full-time and study and I'm able to pay off my studies without having to take any loans and it makes a big difference to me, you know, it's something I really enjoy.

Clinton: So now that Lucian's recharged and back on form, it's time to see if he can talk the talk.

Pam: Hi Jesse!

Jesse: Hey!

Pam: This is Lucien.

Jesse: Hi Lucien, how's it going?

Lucien: Nice to meet you.

Pam: Lucien, Jesse is one of our experienced customer service consultants and he will show you the ropes and take you through handling the call.

Lucien: Awesome, sounds good.

Pam: Great.

Jesse: Take a seat.

Jesse: Welcome to ANZ, this is Jesse.

Penelope: Hi Jesse, this is Penelope, I was just wondering if you could...

Pam: I think key skills would just be people skills, and an open mind. Just being passionate about people and about our customers. It's the main thing here – everything else can be learnt.

Jesse: OK, was there anything else that you're looking at doing today Penelope?

Penelope: No that's fine. Thank you very much.

Jesse: Great, alright. Thanks for your call, you have a good day. Bye.

Jesse: How did you find that?

Lucian: It was all pretty fastpaced eh. How did you know where everything is so quickly?

Jesse: Well you do get training, and once you come out here you get it, you get it quite quickly. I mean in the first three months it is a bit nerve-racking, but definitely after you've been here for a while, you get the hang of it quite easily.

Jesse: So if you're ready we can take a call now if you like?

Lucian: Oh yeah, I reckon we could give it a go. Got any tips for me?

Jesse: Yeah definitely. I mean the first thing is to smile, because the customer can always hear when you're smiling – it sets the tone of the call. Stay professional and polite throughout the call, and at the end of the call it's important to ask, "Is there anything else I can help with?"

Lucian: OK awesome, sweet. Let's do it.

Jesse: We can do it now if you like.

Lucian: Welcome to ANZ, Lucian speaking, how can I help you?

Customer: Yeah hi, I'm having trouble with my internet banking. The password doesn't seem to work.

Lucian: What we can do for you now is reset your password...

Corinne: As far as qualifications go, English is a strong one, maths, drama helps a little bit too because that tone of voice is so important. You can imagine in the calls for our customers to listen to that because you don't have the visuals, you don't have the smile as such.

Customer: Oh yep, there we go.

Lucian: Awesome.

Customer: Excellent.

Lucian: Alright cool, thanks mate.

Customer: Thank you. Bye.

Lucian: See you later.

Jesse: Awesome, well done. How did you find your first call?

Lucian: Yeah it was pretty good.

Jesse: Yeah great.

Lucian: I thought I did well.

Jesse: Oh you'd better log back on, here comes another one.

Lucian: Alright, sweet.

Lucian: Welcome to ANZ, Lucian speaking. How can I help you?

Lucian: Welcome to ANZ, you're speaking to Lucian. How can I help you?

Lucian: Welcome to ANZ, you're speaking to Lucian. How can I help you?

Corinne: Lucian's been fantastic. I think he's really enjoyed the team spirit here, and he's picked up some things really quickly so I loved the way he interacted in the group and also picked up some great things when he was doing the head setting.

Lucian: Cool, anything else I can help you with?

Lucian: Alright, thanks. See you later, sir.

Lucian: Oh!

Lucian and Jesse: Laughing.

Lucian: Oh my God! No way! Sorry!

Lucian and Jesse: Laughing.

Jesse: Just say, "Thanks for your call, bye."

Lucian: OK, alright, "Thanks for your call."

Clinton: The work as a customer services consultant with ANZ New Zealand offers a dynamic work environment, with excellent career opportunities and support. Computer skills are essential, as are excellent verbal skills, previous customer service and sales experience. The work is team-focused so being a good team player is important. If you have the National Certificate in Contact Centre Operations (Level 3) then it's an advantage. To apply go to: www.anz.co.nz/careers.
Entry requirements
There are no specific requirements for becoming a contact centre worker, although most organisations provide training in their products and services for staff before they start work.
Depending on their employer, contact centre workers may then be able to work towards a:
National Certificate in Contact Centre Operations (Level 3)
National Certificate in Contact Centres (Levels 3 and 4)
National Diploma in Contact Centre Management (Level 5).
Emergency services have specific training for people working in their communication centres. These workers may also need to undergo security checks and vision and hearing tests.
Secondary education
Some employers may prefer you to have NCEA Level 2.
Personal requirements
Contact centre workers need to be able to:
remain calm and patient even when under pressure
work well as part of a team
relate well to people of different cultures
maintain confidentiality
communicate well.
Useful experience
Customer service or office work, such as reception work, is useful. 
Physical requirements
Contact centre workers need to have clear speech and good hearing.
Find out more about training
The Skills Organisation

0508 SKILLS - 0508 754 557 - www.skills.org.nz
Check out related courses
What are the chances of getting a job?
Demand for contact workers is growing because:
more organisations are looking for local staff, rather than outsourcing their contact centre function overseas
some international companies are using New Zealand-based contact centres
businesses now use a range of channels to communicate with customers, such as phone, email and social media, which requires more contact centre workers to manage.
Although demand is best for experienced contact centre workers, positions for those with little or no experience do become available.
Regular vacancies due to high turnover of contact centre workers
Contact centre worker jobs come up regularly as people tend to stay in the job for a short time only. This is because:
these jobs are usually entry-level positions, and contact centre workers often progress to other roles in the organisation
pay is low.
Types of employers varied
Many types of organisations employ contact centre workers, including businesses and government services.
Sources
Hays Recruitment, 'The 2015 Hays Salary Guide', 2015, (www.hays.net.nz).
Hays Recruitment, 'Quarterly Report – Contact Centres, April-June 2016', 2016, (www.hays.net.nz).
Ministry of Business, Innovation and Employment, '2006-2014 Occupation Data' (prepared for Careers New Zealand), 2015.
The Skills Organisation website, accessed April 2016, (www.skills.org.nz).
Teodoro, S, 'Contact Centres Thrive in Palmerston North', Stuff, 20 September 2015, (www.stuff.co.nz).
(This information is a guide only. Find out more about the sources of our job opportunities information)
Progression and specialisations
Experienced contact centre workers can progress into team leader roles. They can also work towards a National Certificate in Contact Centres – Team Leader (Level 4).
They may then progress into management, or other roles in their organisation.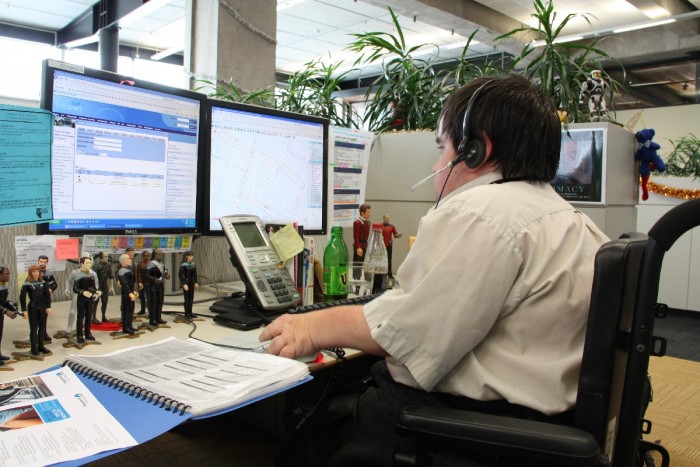 Last updated 11 July 2018