Sales Representative
Kanohi Hokohoko
Alternative titles for this job
Sales representatives promote, market and sell products or services to business and professional establishments, or wholesale or retail outlets.
Pay
Sales representatives in small to medium-sized companies usually earn
Those working for large companies usually earn
Source: Michael Page Salary Centre, 'Salary and Employment Forecast 2014/2015', 2015.
Job opportunities
Chances of getting a job as a sales representative are good due to growth in retail sales.
Pay
Pay for sales representatives varies depending on the size of the company they work for.
Sales representatives in small to medium-sized companies usually earn $45,000 to $60,000 a year.
Those working for large companies usually earn $50,000 to $70,000.
Sales representatives may also earn bonuses based on meeting sales targets.
Source: Michael Page Salary Centre, 'Salary and Employment Forecast 2014/2015', 2015.
(This information is a guide only. Find out more about the sources of our pay information)
What you will do
Sales representatives may do some or all of the following:
visit clients to talk about, demonstrate and take orders for products and services
arrange contract and payment details, and for delivery or installation of products
train clients in use of products
answer client enquiries, deal with complaints and arrange for servicing of faulty goods
keep sales records and predict future market trends
find and contact potential clients, and develop sales ideas to attract more clients
organise sales budgets.
Skills and knowledge
Sales representatives need to have:
knowledge of the products or services they are selling
specialist knowledge of the particular industry (such as construction) or market they are selling in, including their competitors' products
skill in advertising, presenting or promoting the products or services they are selling
an understanding of contract law
business, marketing and basic accounting skills.
Working conditions
Sales representatives:
generally work normal office hours, but may sometimes work evenings or weekends to meet customers' needs
spend some time in the office, but also a lot of time travelling locally or around the country to meet with clients
often work in stressful conditions as they usually have sales targets to reach.
What's the job really like?
Bion finds out about being a sales representative - 6.12 mins. (Video courtesy of the ServiceIQ)
Bion: My name is Bion, I'm 18 years old and I just finished Seventh Form at Lynfield College, and I'm looking for a job – something in retail…Bring it on!

Clinton: Bion's to meet with national accounts manager Daniel Walker who started with Dick Smith Electronics after leaving school.

Daniel: Bion, is it?

Bion: Yeah, Dan?

Daniel: Yeah, nice to meet you mate.

Bion: So what are we doing outside here?

Daniel: I've got to pick up a product for a presentation that I have this afternoon. So I thought it would be a prime opportunity to show you around one of our 62 stores.

Bion: That would be awesome.

Daniel: Let's go in there then eh?

Daniel: So, the things for being a good salesperson is first being able to talk to people, the second is knowing your product. You get to play with the latest technology, and check out all the latest cool gadgets.

Bion: Whoa, the new iPod Touch!

Daniel: It's the latest iPod Touch, and the dock as well.

Bion: Is this what you guys do all day? Because I could definitely get on board with this!

Daniel: Pretty much! Have a play.

Bion: That's awesome!

Daniel: I love it. I've always loved retail, and I guess the fact that I get to deal with customers and deal with people, that's what I'm good at. I've never found myself to be an academic, but I've always loved to have been in front of customers, and talking to customers.

Clinton: The most important client in selling is the customer and there's more to making a sale than working behind a till.

Daniel: This here is a planogram, and basically it's the science behind the stores. When you come in, everything will be the same in each particular area. We make sure that the best-selling products are at eye-level.

Bion: What do you mean by eye-level?

Daniel: Well, the eye-level product means that the customer will see that first, so we put the best product there, we put the most topical product there, and that's based on our planogram.

Daniel: People think with retail it's just working in a shop and standing on your feet all day, but there's opportunities, in merchandise where you get to do international travel with that, there's also opportunities in wholesale where I'm from, distribution, there's HR and there's also finance. There's plenty of opportunities.

Bion: Is that the last of it?

Daniel: Yep, that's all of it.

Bion: Sweet as, how did I do?

Daniel: You did fantastic mate, well done. High five!

Bion: High five!

Daniel: Er, how about low five?!

Bion: Alright, low five!

Clinton: The boys hit the road, Dan shows Bion the workings of his GPS, the Navman, which is instrumental in helping Dan locate his clients when travelling around the country.

Daniel: Oh, excuse me mate – I've just got a phone call.

Daniel: Hello, Dan speaking? Oh hi Kevin, how are you?

Clinton: A regular client from the Cook Islands makes a large order of MP3 players, which Bion will help to process when they arrive at the head office and distribution centre.

Daniel: So this is Dan Mills, he's the buyer for our MP3 players and we've got to talk to him to make sure we can fulfil that order. So Dan, we've got an order for half a million dollars worth of the 1 Gig MP3 player, can we fulfil that?

Dan: Let's have a look…Yep, we've got a few thousand downstairs, and another 2,000 coming in.

Dan: So this is our warehouse, this is where all the stock for the company is held.

Bion: It's huge!

Dan: It's also known as a distribution centre, it's massive eh?

Clinton: There's no shortage of widgets, gadgets and technology around here.

Daniel: This is the latest and greatest voice-activated picking system, and it tells me the right place to go, like the MP3 players, which is right up here. They want to get a demo product first, before we actually send out all of them, we're just going to send out one. So I scan that, and now I can take one away.

Clinton: With five courier deliveries daily Bion begins to appreciate the scale of such an operation, which offers a range of opportunities. Next Bion sits in on Dan's presentation to a group of potential wholesale customers.

Bion: This is the newest model, it's got a wider screen than the old one.

Daniel: Starting off in retail, there's a lot of opportunities in getting yourself qualified. There's opportunities with Dick Smith to go through the Retail ITO, and also we have our own training systems which are really good.

Clinton: Training adviser Kesta Dennison shows Bion through the retail ITO workbook.

Kesta: Retail is fun! You see all the latest fashion trends, you work with some great people – it's just an ever-changing, vibrant industry. I don't know why anyone wouldn't want to be in it to be honest, it's really fun.

Daniel: Right Bion, you've seen me in action, you've seen what I do, right from processing the order through to packing it up, now it's your turn.

Clinton: Bion gets thrown into the hot seat, just in time for the next order.

Bion: Welcome to Dick Smith, Bion speaking, you're with the wholesale department.

Bion: Yep, sure. No problem, we should be able to do that. Bye.

Bion: That was a little scary!

Daniel: It's your first order, so we need to process it.

Bion: Hey Dan!

Dan: Yep?

Bion: I've just sold three stereos and I need to see if they're in stock.

Dan: OK that's fantastic, what's the code?

Bion: The code is LA0524.

Dan: Yep, we've got heaps.

Bion: Sweet as, thanks!

Clinton: Bion's been left to his own devices, but can he remember what he's been taught.

Bion: It's telling me LA0…

Clinton: After a quick tiki tour of the warehouse Bion's on the right trail and he makes the last courier pick-up just in time.

Bion: I didn't know there was so much to do with retail – there's wholesale and business sale and just so many departments and so much work. I definitely feel like it's somewhere I want to be!

Clinton: To train to become an account manager you will need to have a driver's licence, a neat and tidy appearance, and good people skills. Previous retail experience in sales or marketing is an advantage, as sales experience, people skills and good time management are core to account managing. The Retail Institute offers a range of training with a focus towards national certificates in retail from Levels 2 through 4, covering entry-level retail to management.
Entry requirements
There are no specific requirements for becoming a sales representative as training is usually provided on the job. Some sales representative roles require:
customer service experience
relevant product knowledge
a current driver licence.
Secondary education
Three or four years of secondary school education is recommended. Useful subjects include maths and English.
Personal requirements
Sales representatives need to be:
friendly, patient and helpful
confident, enthusiastic and persuasive
motivated, and able to work without direct supervision
able to work well under pressure.
Excellent product knowledge and the ability to communicate with, and listen to, customers are really important skills.

Ben Capp, Technical Sales Representative
Useful experience
Useful experience for sales representatives includes:
sales work or work within the industry you are selling to
retail or marketing work
work involving dealing with money and customers.
Physical requirements
Sales representatives need to have good hearing and clear speech in order to communicate effectively.
Find out more about training
Institute of Management New Zealand

(04) 495 8300 - enquiries@imnz.net.nz - www.imnz.net.nz

New Zealand Institute of Sales

(09) 887 4155 - contactme@instituteofsales.co.nz - www.instituteofsales.co.nz
Check out related courses
What are the chances of getting a job?
Frequent job vacancies
Vacancies for sales representatives come up often because:
New Zealand has strong retail sales growth
many companies employ sales representatives
skilled sales representatives seeking new opportunities lead to a high turnover in jobs.
Types of employers vary
Sales representatives work for a wide range of employers selling various products and services.
Most sales representatives work in:
retail
telecommunications
hospitality
manufacturing.
Those who specialise in selling technical products usually work in:
health
manufacturing
agriculture
information and communication technology
business and accounting.
Sources
Michael Page Salary Centre, Careers New Zealand correspondence, June 2015.
Michael Page Salary Centre, 'Salary and Employment Forecast, 2014/2015', accessed June 2015, (www.michaelpage.co.nz).
Ministry of Business, Innovation and Employment, 'Quarterly Labour Market Report', May 2015.
Ministry of Business, Innovation and Employment, 'Occupation Outlook', accessed August 2015, (www.mbie.govt.nz).
(This information is a guide only. Find out more about the sources of our job opportunities information)
Progression and specialisations
Sales representatives may progress to selling specialist equipment, or managing others.
Technical Sales Representative 

Technical sales representatives sell specialised goods such as scientific or medical equipment.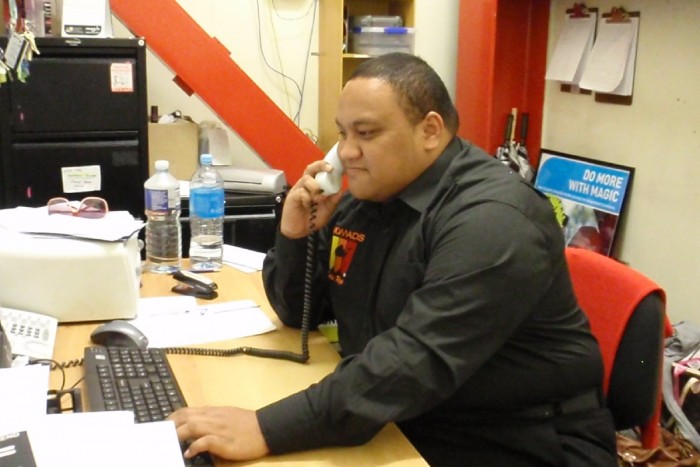 Last updated 29 May 2018