Records Adviser
Kaiwhakahaere Kōnae
Alternative titles for this job
Records advisers set up and monitor electronic and paper systems so staff in their organisations can file, track, find and correctly dispose of records. They also help staff with filing enquiries.
Pay
Records advisers with one to five years' experience usually earn
Records advisers in senior roles and with more than five years' experience usually earn
Source: Hays, '2016 Hays Salary Guide', 2016.
Job opportunities
Chances of getting a job as a records adviser are average for those wanting to enter the role, but good for those with experience.
Pay
Pay for records advisers varies depending on their experience and skills.
Records advisers with one to five years' experience usually earn between minimum wage and $52,000 a year.
Senior records managers in large organisations, with experience and qualifications, may earn $60,000 to $80,000.
Records managers earn up to $100,000.
Source: Hays, '2016 Hays Salary Guide', 2016.
(This information is a guide only. Find out more about the sources of our pay information)
What you will do
Records advisers may do some or all of the following:
develop and maintain classification structures, systems and policies for electronic or paper-based records systems
file, track, retrieve, review and dispose of records
educate and support staff in good record-keeping
audit record-keeping systems to ensure they are working properly
ensure their organisation's record-keeping complies with standards and laws such as the Public Records Act
manage staff
lead projects to turn paper records into electronic ones (digitisation).
Skills and knowledge
Records advisers need to have:
knowledge of the laws relating to record-keeping
knowledge of the organisation they work for
analysis and reporting skills.
Working conditions
Records advisers:
work in offices, and may have to travel to records storage sites
usually work regular office hours, but may have to work outside these times when doing yearly records audits
may work part time.
What's the job really like?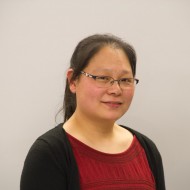 Ling Chen
Senior Information and Records Management Analyst
Information gives life to an organisation
"Information is the blood of the organisation", according to senior information and records management analyst Ling Chen.
"Records advisers manage information. Information management is ensuring that the right people get the right information at the right time to make the right decisions."
Getting into records management
"I have an IT background. This helps me to understand the changes and impacts of using new technology for managing information. I also worked as a librarian, which helped me to understand how information is organised. I did an MA in Information Studies. From there, I shifted my focus to records management.
"I did an internship in records management at the Ministry of Education. It involved performing basic tasks, such as physically filing information. This helped me to understand the concepts around records management, and also better understand the business processes and how the Government works."
You need to understand the legislation
"In my current role I need to have a good understanding of information-related legislation, for example, the Privacy Act, the Public Records Act, and the Copyrights Act. I ensure that my department is complying with legal requirements.
"When you start out in records management, it is expected that you will at least have an understanding of the Public Records Act and the Official Information Act."
Entry requirements
There are no specific requirements for becoming a records adviser, but employers tend to prefer people with records management experience and/or qualifications.
There are a number of ways to get the relevant qualifications.
There are several relevant certificates, diplomas and degrees in library and information management that include strands in records management.
The Open Polytechnic is the only provider offering an undergraduate qualification in records management – the Diploma in Records and Information Management (Level 6). 
Victoria University of Wellington offers a postgraduate qualification focusing on records management – the Masters in Information Studies (MIS).
Secondary education
Most employers require you to have NCEA Level 3.
Personal requirements
Records advisers need to be:
patient 
logical, with an ability to recognise patterns
skilled with computers and have a good understanding of information technology
able to keep information private
able to think on their feet and identify alternative solutions
persuasive and persistent, with good communication, negotiation and facilitation skills
able to work alone and with a broad range of people, and possess good judgement
skilled at planning and organisation, with a good memory for detail.
Useful experience
Useful experience for records advisers includes:
work in archives
work in document storage
work in information management
work in information technology (IT)
work as a librarian.
Find out more about training
ARANZ - Archives and Records Association of New Zealand

Records and Information Management Professionals Australasia

0800 400 625 - kate.walker@rimpa.com.au - www.rimpa.com.au
Check out related courses
What are the chances of getting a job?
Legal requirements mean demand for experienced records advisers
The law requires government departments and other public sector organisations, such as district health boards and education providers, to keep certain records. Private companies are also legally required to keep some types of records. This means there is steady demand for experienced records advisers. 
According to the Census, 255 records advisers worked in New Zealand in 2018.
Finding records adviser vacancies
Most employers want experienced staff, so many records advisers jobs are only advertised on the websites of the two New Zealand professional bodies for records staff:
Archives and Records Association of New Zealand (ARANZ)
Records and Information Management Professionals Australasia (RIM Professionals Australasia).
If you don't have experience, your best chance of getting work is to apply for temporary positions in records. For example, government agencies regularly hire people on short-term contracts to do records work.
Types of employers varied
Records advisers may work for:
government agencies
legal firms
universities and polytechnics
private businesses.
Sources
Hays, '2016 Hays Salary Guide', 2016, (www.hays.net.nz).
Siatiras, K, information and records management consultant, Siatiras Consulting Limited, Careers New Zealand interview, July 2016.
Stats NZ, '2018 Census Data', 2019.
(This information is a guide only. Find out more about the sources of our job opportunities information)
Progression and specialisations
Records advisers may progress into knowledge and information management roles and senior management positions.
Last updated 15 September 2020