Crop Worker
Kaimahi Huangakai
Alternative titles for this job
Crop workers assist with the growing and harvesting of fruit, vegetables and other produce on farms, market gardens, orchards and vineyards.
Pay
Crop workers usually earn
Crop workers who supervise others usually earn
Source: Horticulture NZ and Pick NZ, 2019.
Job opportunities
Chances of getting a job as a crop worker are good due to a shortage of workers.
Pay
Pay for crop workers varies depending on what they do and where they work.
New crop workers usually start on the minimum wage.
Crop workers with two to three years' experience usually earn up to  $24 an hour.
Crop workers who supervise others usually earn up to $25 an hour.
Fruit and vegetable pickers may be paid by how much they pick. Harvest work usually pays more than pruning or thinning.
Sources: Horticulture New Zealand and Pick NZ, 2019.
(This information is a guide only. Find out more about the sources of our pay information)
What you will do
Crop workers may do some or all of the following:
prepare soil for planting
plant crops such as grains, fruit, mushrooms, nuts or vegetables
maintain crops, which may involve weeding, spraying, pruning, thinning, fertilising and watering
check crops for quality
control pests and diseases
pick, sort and pack crops
operate vehicles and machinery such as forklifts, hydraladas, tractors and motorbikes
assist with general maintenance of buildings, fences and other structures.
Skills and knowledge
Crop workers need to have knowledge of:
growing and harvesting crops
crop diseases, weeds and pests and how to control them
local climate and weather conditions
food safety, market certification and quality requirements
applying agricultural fertilisers and chemicals
general maintenance and basic mechanics
assessing fruit or vegetables for ripeness, damage or size.
Working conditions
Crop workers:
may start work early in the mornings or in the evening
may work long or irregular hours during harvesting
work on farms, orchards and vineyards, or in hothouses
work outside in most weather conditions
may have to travel to follow seasonal work.
What's the job really like?
Crop worker video
Sarah Carpenter talks about life as a crop worker – 1.34 mins.
Working outside can be a bit tough. We're here rain, hail or shine,
so I've got some gnarly tan lines. Hi, I'm Sarah and I'm a crop worker.
The main things I do here at my job would be harvesting, driving the tractors,
putting fertiliser on and planting. We harvest broccolini most at this farm.
So right now I'm just harvesting the broccolini,
so what we do is find a plant with long enough stems on it,
so this is ideally how long we want to be picking,
we don't want anything too short.
And then we put the broccolini into these bins. This is our harvest tractor.
Before coming here, I had no experience with tractors at all,
didn't know how to turn one on or anything like that.
So I learned how to drive a tractor here. I came here with no experience at all,
straight out of high school.
In the afternoons, we usually move on to the growing side of the broccolini.
This machine is called the planter that attaches to the back of a tractor.
As we move,
we drop the seedlings in the holes and this machine will spin around and then
the plants will fall to the ground and come out the back. I usually work around
like 40 to 45 hours a week. Be prepared for the physical side of things,
it does get quite tough some days.
The best thing about my job is all the learning opportunities, you know,
learning new things, doing new things. First job out of high school,
like I just looked for a job and this is what I found. So absolutely no regrets.
Entry requirements
There are no specific requirements to become a crop worker. However, horticultural knowledge or experience is useful.
Some employers support crop workers to gain horticulture qualifications on the job.
The Primary Industry Training Organisation (ITO) offers nursery, fruit and vegetable production courses and apprenticeships.
Secondary education
There are no specific secondary education requirements to become a crop worker. However, agricultural and horticultural science is useful.
Year 11-12 learners can find out more about the horticulture industry and earn unit standards towards a New Zealand Certificate in Agriculture or Horticulture (Level 1 or 2) with the Trades Academy.
Year 12-13 learners can find out more about the horticulture industry and earn NCEA unit standards through the Primary ITO Gateway programme.
Personal requirements
Crop workers need to be:
hard-working
reliable
quality focused with good attention to detail
efficient and practical
able to work as part of a team
able to follow instructions.
Useful experience
Useful experience for crop workers includes:
gardening or farm work
supermarket work
any work involving physical labour
sports or other outdoor activities.
Physical requirements
Crop workers need to be reasonably fit, with strong arms and backs to do long periods of physical work. They should not have any allergies to plants, pollen, chemicals or fertilisers.
Find out more about training
Horticulture New Zealand

(04) 472 3795 - info@hortnz.co.nz - www.hortnz.co.nz

Primary Industry Training Organisation

0800 208 020 - info@primaryito.ac.nz - www.primaryito.ac.nz
Check out related courses
What are the chances of getting a job?
High demand for crop workers
Demand for crop workers is strong and will continue to grow due to:
a shortage of workers caused by low unemployment rates
an increase in the amount of fruit and vegetables grown
the horticulture industry is expected to grow and increase its export revenue to over $5 billion in 2023.
It is predicted that 32,000 seasonal crop workers will be needed for the 2020 and 2021 seasons, but only up to 28,000 workers will be available.  
Job chances for crop workers best in summer and autumn
Demand for crop workers is higher during the peak growing seasons of summer and autumn. However, crop workers are needed all year round.
Your best chance of getting work is to contact employers directly. 
The best regions to find work in are Hawke's Bay, Bay of Plenty, Tasman (Nelson and Motueka) and Marlborough (Blenheim).
Types of employers varied
Crop workers may work for:
orchardists and grape (wine) growers
fruit, mushroom, nut and vegetable growers
grain farmers
flower growers.
Sources
Chapman, M, 'Access to Labour Critical to Horticulture's Growth', 16 March 2018, (www.hortnz.co.nz).
Horticulture New Zealand, 'Horticulture NZ Annual Report 2019', 2019, (www.hortnz.co.nz).
Ministry of Business, Innovation and Employment, '2019 Regional Seasonal Employer Survey', June 2019, (www.immigration.govt.nz).
Ministry of Social Development, 'Seasonal Labour Shortages in Hawke's Bay and Bay of Plenty', 5 April 2019, (www.scoop.co.nz).
New Zealand Institute of Economic Research, 'Horticulture labour supply and demand', June 2019.
Tipa, P, 'Recognised Seasonal Employer Scheme to be Reviewed', 16 January 2019, (www.ruralnews.co.nz). 
Van Beek, J, national seasonal labour, Horticulture New Zealand, careers.govt.nz interview, September 2019. 
Work The Seasons, 'Seasonal Calendar', accessed September 2019, (www.worktheseasons.co.nz).
(This information is a guide only. Find out more about the sources of our job opportunities information)
Progression and specialisations
Crop workers may move into team leader, shift supervisor or manager roles.
Crop workers may specialise in a number of roles, including:
Crop Monitor

Crop monitors check plants and trees for any pests and diseases and follow up on treatments.

Harvest Quality Controller

Harvest quality controllers take samples of fruit before and just after they are harvested to check their size, colour and quality.

Hydralada Operator

Hydralada operators use and maintain machinery to pick fruit off the tops of trees. 

Pruner

Pruners cut the branches of trees to improve a tree's growth and health.

Thinner

Thinners remove fruit from a tree that is of poor quality or not a standard size to improve the growth of other fruit.

Vineyard Worker

Vineyard workers help grow and pick grapes for wine production.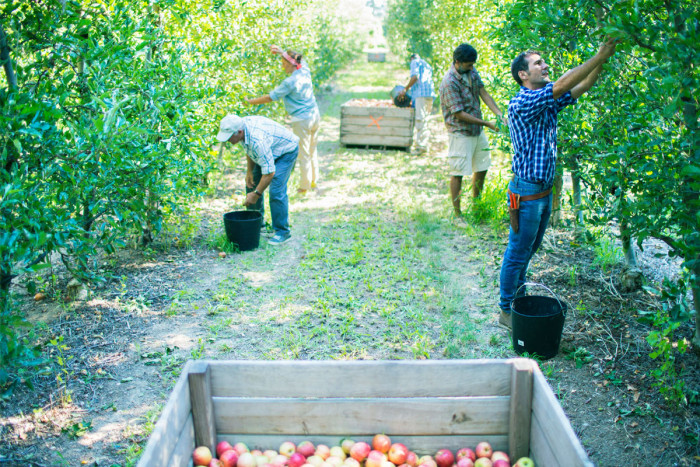 Last updated 8 September 2023