Farm Assistant
Kaimahi Pāmu
Alternative titles for this job
Farm assistants help farmers with a variety of tasks, including raising and caring for animals, repairs and maintenance, tractor work and other farming activities.
Pay
Farm assistants usually earn
Job opportunities
Chances of getting a job as a farm assistant are good due to a shortage of workers.
Pay
Pay for farm assistants depends on experience, location, farm size, type of work and level of responsibility.
Farm assistants usually earn between $55,000 and $60,000 a year.
Benefits offered to farm assistants may include production and performance bonuses, and free or partly paid-for:
accommodation
power, phone, food and firewood
training and education.
The value of these benefits varies from $1,000 to $4,000 a year.
Source: Seek, 2023.
(This information is a guide only. Find out more about the sources of our pay information)
What you will do
Farm assistants may do some or all of the following:
move animals between paddocks
drench and dip animals, and give them medicines

operate farm machines to cultivate, fertilise, spray and harvest crops
provide animals with food and water
attend to animals while they are sick or giving birth
groom, feed and care for horses
collect, sort and pack animal products such as eggs or wool
clean and repair buildings, yards and fences
operate and maintain farm machinery such as tractors and wool-pressing machines.
Skills and knowledge
Farm assistants need to have:
knowledge of different farming methods
knowledge of the animals they are dealing with, including their life and breeding cycles
knowledge of how to use and maintain farm equipment and machinery
practical skills for tasks such as fencing
driving skills for motorbikes, tractors or farm utility vehicles.
Working conditions
Farm assistants:
may work long and irregular hours depending on the season and the type of farm
work outdoors as well as in sheds and barns
work in all weather conditions
usually live on or near the farm where they are employed.
What's the job really like?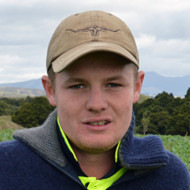 Connor McIntyre
Farm Assistant
Cadetship leads to shepherd work
Dannevirke farm assistant Connor McIntyre is on track to becoming a shepherd after completing a cadetship at Pukemiro station. Cadets are trained in all daily operations of the sheep and beef property.
Skills the cadets gain include animal husbandry, stockmanship, fencing, feed management, budgeting and farm technology. The small cadetship intake appealed to Connor. "It gives us more time with tutors, which means we develop our skills to a higher standard."
Teamwork important
Connor credits his TeenAg club membership and work experience with securing his cadetship. "They both showed that I work well as part of a team. Teamwork is a massive part of the job at Pukemiro because you're always working with someone else."
How to get a cadetship
To gain a cadetship, Connor's advice is to "develop your CV by attending open days and doing work experience to show you're keen and have a good work ethic."
Future opportunities

Cadetships provide the skills needed to move forward with a farming career. Alongside farm training, cadets develop other skills such as cooking, leadership, goal setting, personal care and time management.
"There's lots to learn, but it's quite exciting when you get among it. They're all key skills that you'll need to know once you're out on your own," Connor says. 
Farm Assistant Video
Savannah Rolfe-Vyson talks about life as a farm assistant – 2.17 mins.
Oh yeah, and I love animals more than people. Definitely. Yep.
A hundred percent . They don't talk back so it's easier. . Hi,
my name's Savannah and I'm a farm assistant.
My typical day looks like getting the cows in and then we go around and feed all
the cows that are on farm milk. Go out and do a couple other jobs,
set break fences, come home for lunch. Then after lunch, bring the cows back in,
wash down and go home. Cool thing about being a farm assistant is that you get
to live in your own home on farm and the rent is cheap,
so it's even better . You walk outside and you're already at work.
There's no need to be late. It's just easy. Well, this is a beef farm.
We rear probably an estimated 500 calves in autumn and 500
calves in spring. We are going to go feed calves with the "calfateria".
Calfateria. This is the calfateria that stores milk.
It's got 50 teats so you can feed up to 50 calves. We feed them every day,
4 litres each.
I chose this career because it was always a passion of mine to be with animals
and around animals. I left school at 16.
The reason I left school is because there was nothing I was interested in at
school that would help me get to where I am today.
I have my level 1 Agriculture certificate and I had to study for 1
year to get that.
I chose to study because I thought it might be easier for me to get a job in the
future. I learned how to calf rear, how to milk cows to drive a tractor.
Fencing. We shear sheep.
We trained our own dogs. We don't need to study to be a farm assistant.
You just got to find someone that would be keen to help you learn and teach you
all the skills you need. I got this job by posting an ad on a
Facebook farming group and my boss commented on it and I came for an interview
and I got the job. I currently do minimum 7 - 8
hours a day and I have every Friday off and every second weekend off.
Being a woman in the farming industry is pretty normal,
but the most difficult part is definitely heavy lifting,
but you will get there eventually and gain more muscle and be able to do it.

Entry requirements
There are no specific requirements to become a farm assistant. However, many employers prefer to employ people who have experience, pre-employment training, or are working towards a related qualification. 
Pre-employment training
Pre-employment training options include internships, work experience and short courses available through private training organisations and polytechnics.

Apprenticeships
Apprentices earn while they learn and develop their skills and career prospects through on-the-job experience over two or three years. Apprenticeships are available through different industry organisations and companies.
Cadetships
Cadet training schemes are useful if you want to specialise in sheep and beef farming, and improve your skills and chances of employment. Cadet farms are run as commercial sheep and beef farms and offer one-to-two-year agricultural training programmes that lead to a New Zealand Certificate in Agriculture (Level 3 or 4).
Secondary education
No specific secondary education is required for this job, but agricultural and horticultural science, technology, maths and English to at least NCEA Level 2 are useful.
Personal requirements
Farm assistants need to be:
motivated and willing to work hard
adaptable and efficient
responsible
willing to learn
good with animals
able to work well under pressure and as part of a team.
Useful experience
Useful experience for farm assistants includes:
working with animals
any type of farm work
experience with machinery and tools
engineering work such as welding
forestry work
driving heavy vehicles
labouring work.
Physical requirements
Farm assistants need to have a good level of fitness and stamina as farm work can be physically demanding.
Find out more about training
Beef and Lamb New Zealand

0800 233352 - enquiries@beeflambnz.com - www.beeflambnz.com
Dairy New Zealand

0800 43247969 - info@dairynz.co.nz - www.godairy.co.nz
Primary ITO

0800 208020 - info@primaryito.ac.nz - www.primaryito.ac.nz
Check out related courses
What are the chances of getting a job?
Shortage of farm assistants
Demand for farm assistants has increased due to a shortage of new workers to replace those leaving the role. Many farmers have trouble finding staff. 
Farm assistants with experience and qualifications are in demand throughout the year. 
High seasonal demand for skilled farm assistants  
Demand for skilled farm assistants is especially high during peak seasons such as:
lambing and calving in spring
crop harvesting in late summer and autumn
shearing in summer and autumn in the South Island, and in summer and winter in the North Island.  
Dairy farm assistant opportunities 
The dairy sector is especially short of farm assistants due to the increasing size and number of dairy farms.
Dairy farmers will often train inexperienced people if you have a can-do attitude and willingness to learn.
Small range of employers
Most farm assistants work for private farmers or farm managers, or for private companies.
Other employers include public companies such as Pāmu (Landcorp), a state-owned enterprise that runs farms throughout the country.
Most farms employ between one and three farm assistants, but large farms can employ 20 or more. 
Sources
Federated Farmers, '2018 Farm Employee Remuneration Survey', August 2018, (www.fedfarm.org.nz).
Hutching, G, 'Worker Shortage on the Land as Farmers Compete for Staff', 14 March 2018, (www.stuff.co.nz).
O'Hara, Yvonne, 'Proposed Work Visa Changes Welcomed', Otago Daily Times, 16 January 2019, (www.odt.co.nz).
Young Farmers NZ, 'Former TeenAg Member Lands a Coveted Cadetship at Pukemiro Station in Dannevirke', 13 May 2019, (www.youngfarmers.co.nz).
(This information is a guide only. Find out more about the sources of our job opportunities information)
Progression and specialisations
Farm assistants may move into farm management positions, such as herd manager, assistant manager and farm manager, or become self-employed farmers. They may become farm consultants, sell agricultural products, or work in other areas of the agriculture industry.
Farm assistants may specialise in areas such as:
Cattle Farm Assistant

Cattle farm assistants raise and care for beef cattle, and perform routine tasks on beef cattle farms such as feeding, mustering and moving cattle.

Dairy Farm Assistant

Dairy farm assistants raise and care for cows, and perform routine tasks on dairy farms such as herding and milking cattle.

Pig Farm Assistant

Pig farm workers raise and care for pigs for the production of meat and breeding stock.

Poultry Farm Assistant

Poultry farm assistants raise and care for chickens or other poultry to produce meat, and/or keep hens to produce eggs.

Sheep Farm Assistant

Sheep farm assistants raise and care for sheep and help to prepare them for shearing, crutching, dipping and yarding for sale.

Stablehand

Stablehands exercise, feed and care for horses at a stable, and keep the stable and the stable yard clean.

Wool Handler/Presser

Wool handlers/pressers regulate the flow of sheep to be shorn, as well as picking up and sorting wool in a shearing shed and pressing it into bales.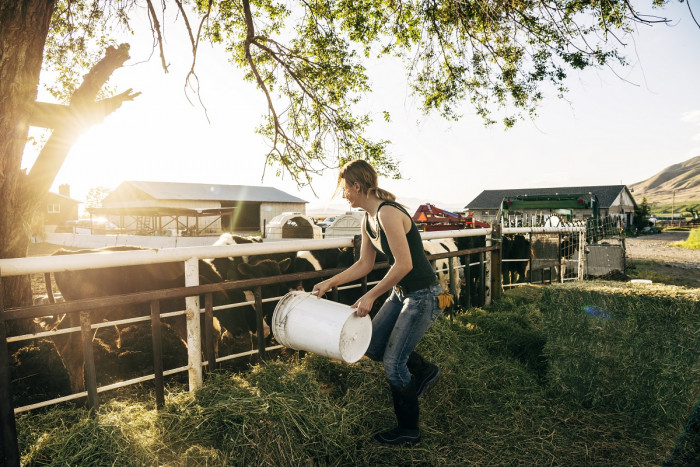 Last updated 7 November 2023