Forest Manager
Kaimahi Ngahere
Alternative titles for this job
Forest managers plan and direct the planting, growth, harvesting and protection of forests for wood production.
Pay
Forest managers with up to five years' experience usually earn
Senior forest managers usually earn
Source: Forestry Careers NZ, 2020.
Job opportunities
Chances of getting a job as a forest manager are good due to strong demand and few forestry graduates.
Pay
Pay for forest managers varies depending on experience.
Forest managers with up to two years' experience usually earn between $55,000 and $60,000 a year. 
Forest managers with two to five years' experience usually earn between $60,000 and $95,000. 
Senior forest managers with specialist responsibilities can earn between $95,000 and $150,000.
Source: Forestry Careers NZ, 2020.
(This information is a guide only. Find out more about the sources of our pay information)
What you will do
Forest managers may do some or all of the following:
plan and direct forest operations or new forest developments, including planting, pruning, forest growth measurement and tree harvesting
manage forestry contractors carrying out forest operations
manage the business and financial side of forest operations
market and negotiate log sales to domestic and export log processors  
analyse financial decisions and work out the cost-benefit of forest operations and make recommendations
ensure health, safety and environmental minimum standards are met or exceeded
monitor forest growth and health, security, fire prevention, and other maintenance activities.
Skills and knowledge
Forest managers need to have:
good technical knowledge of forest management
knowledge of legal requirements such as the Resource Management Act and the Health and Safety at Work Act
knowledge of forestry operations, including things like forest fire prevention 
analytical and presentation skills.
Working conditions
Forest managers:
usually work regular business hours, but may have to work additional hours sometimes
work in offices and on-site at forests.
What's the job really like?
Forest manager video
Shideen Nathan-Ngaronoa talks about her experience at the Forestry Industry Big Day Out in Gisborne - 2.06 mins.
My name's Shideen Nathan-Ngaronoa and I'm a Year 13 student at Campion College in Gisborne.

We had talked about an upcoming Forestry Big Day Out that was hosted by Careers NZ. This was an opportunity I was definitely going to take so we went to the Level 5 and above course, which was for forestry management and it was a great day. It was really good. Careers NZ definitely did a good job with providing that and it just gave me a better insight on the other career choices of being in the forest and not just using a chainsaw.

In the holidays, the first school holidays, I went out with someone who I knew who was a forestry contractor – forest manager contractor – and we worked on the silvicultural part of the forestry industry.

I am doing a first cut of planting.

After the holidays I was pretty much sold on being a part of the forestry industry. I came back to school, talked to my careers adviser. We got in contact with Tūranga Ararau to set up some further study to do with the forestry industry. That was working in partnership with my school subjects and my career choice through the Gateway programme.

I wanted to do experience because it gives me insight as to what they actually do around here rather than just going to university and coming here as a manager and just working off paper. You know, I can... I know what the boys are doing and how to do it right and next year I plan on doing the first year of my forestry management diploma at Tūranga Ararau and then the second year at Waiariki Institute of Technology.

After that I do not know where I would be going but hopefully either uni or a job in the forestry industry.
Entry requirements
To become a forest manager you need to have either:
a Diploma in Forest Management (Level 6) from Waiariki Institute of Technology
a degree in forestry science or forest engineering (Level 8) from the University of Canterbury.
A marketing and business qualification or management experience may also be useful for forest managers.
You also need to have a driver's licence.
Entering forestry management with transferable skills
If you have business or accounting skills gained from another industry, you can move into a forestry management support role. From there you can work towards gaining technical forestry knowledge and moving into a forest manager position.  
Secondary education
A tertiary entrance qualification is required to enter further training. Useful subjects include agriculture and horticulture, maths, biology, chemistry and English.
Personal requirements
Forest managers need to be:
good at planning, organising and problem solving
good communicators, as they deal with a variety of people such as forest contractors 
adaptable and practical
responsible and alert
assertive.
Useful experience
Useful experience for forest managers includes:
work experience in silviculture (growing and cultivating trees), or harvesting operations
experience managing people
project or contract management experience
Geographic Information Systems (GIS) mapping (technology used to capture and analyse geographic data) 
accounting or business analysis. 
Physical requirements
Forest managers need to be reasonably fit and healthy as they may walk long distances.
Find out more about training
Competenz

0800 526 1800 - info@competenz.org.nz - www.competenz.org.nz
Check out related courses
What are the chances of getting a job?
Strong demand for forest managers
Job opportunities for forest managers are good because:
private forest plantings from the 1990s onwards are now reaching maturity, so more forest managers are needed to manage harvesting and replanting
a number of forest managers are reaching retirement age, but not enough forestry graduates are coming through to replace them 
the Government is investing in forestry research and sustainable forestry programmes to increase the plantation area on land suitable for growing forests, and forest managers are needed to oversee this.
According to the Census, 792 forest managers worked in New Zealand in 2018.
Technological skills an advantage for forestry managers
It's an advantage for forest managers to have technical skills and experience because the job increasingly involves using apps and drones to collect forest data.
It's possible to learn these skills on the job or get support for training.
Types of employers varied
Forest managers usually work for:
forest management companies
companies that own forests
large forestry contracting businesses that require management skills and expertise.
Forest managers can also be self-employed and work as consultants.
Sources
Competenz website, accessed June 2020, (www.competenz.org.nz).
Forestry Careers NZ, 'Forest Manager (Forester)', accessed June 2020, (www.forestrycareers.nz).
Forest Owners Association website, accessed June 2020, (www.nzfoa.org.nz).
Farm Forestry New Zealand website, accessed June 2020, (www.nzffa.org.nz).
New Zealand Institute of Forestry website, accessed June 2020, (www.nzif.org.nz).
Ministry for Primary Industries, 'Permanent Forest Sink Initiative', June 2018, (www.mpi.govt.nz).
Ministry for Primary Industries, 'Situation and Outlook for New Zealand Agriculture and Forestry (June 2018)', 2018, (www.mpi.govt.nz).
Stats NZ, '2018 Census Data', 2019.
Waldegrave, J, managing director, NZ Forestry, careers.govt.nz interview, July 2018. 
Younger, P, chief executive, Forest Industry Contractors Association, careers.govt.nz interview, June 2020.
(This information is a guide only. Find out more about the sources of our job opportunities information)
Progression and specialisations
Many forest managers start by supervising forestry contracting crews, and gaining operational experience. They can then progress to senior forest manager positions or become forestry consultants.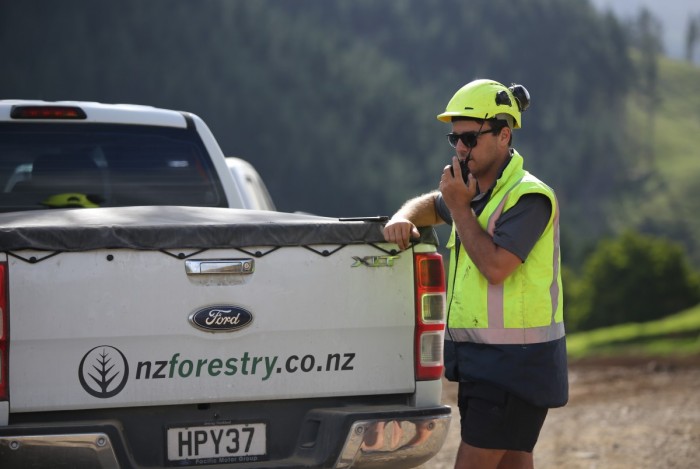 Last updated 7 April 2022