Pay
Senior podiatrists usually earn
Source: Podiatry NZ, 2022.
Job opportunities
Chances of getting a job as a podiatrist are good due to high demand for their services.
Pay
Pay for podiatrists varies depending on experience and level of responsibility.
Graduate podiatrists usually start on about $50,000 to $52,000 a year.
Podiatrists with two to three years' experience usually earn up to $70,000.
Senior podiatrists and managers can earn between $70,000 and $98,000.
Podiatrists in private practice may earn more depending on the success of the business.
Source: Podiatry New Zealand, 2022.
(This information is a guide only. Find out more about the sources of our pay information)
What you will do
Podiatrists may do some or all of the following:
treat foot problems, sports injuries and walking or running disorders
treat gait (walking) abnormalities in children
prescribe and arrange the making of orthotics (inner soles) to correct foot problems
advise patients about foot health, prevention and treatment of problems, and choice of shoes
perform foot surgery such as nail or wart removal, or toe realignment
carry out biomechanical assessments.
Skills and knowledge
Podiatrists need to have knowledge of:
the structure and function of the skeleton and its muscular system
medical conditions that influence mobility
various medicines and how they affect the body
different x-ray and magnetic resonance imaging (MRI) techniques
how to sculpt orthotics (inner soles)
how to carry out minor surgical operations.
Podiatrists who run their own businesses also need business skills.
Working conditions
Podiatrists usually work:
regular business hours
in clinics or from their homes, but may also work in hospitals, marae or shoe shops.
What's the job really like?
Podiatrist video
Greer Noble talks about life as a podiatrist – 2.06 mins.
Hi, my name is Greer and I'm a podiatrist.
Podiatrists are lower limb experts,
so we treat all conditions ranging from the hips right down to the feet.
And that's varying from, you know, general nail and skin care, sports injuries,
any chronic conditions. Oftentimes people come in, they're in a lot of pain,
they might not be sure why they've got their pain.
It's really good to get an understanding of who they are as a person,
what their goals are and what they want to achieve.
And then come up with a management strategy or plan in terms of how we can
improve their foot health. When patients come in,
we'll work through some particular tests.
Some of those might be checking joint mobility and range of motion.
So that's kind of moving the foot through checking how the joints move.
So that's quite a simple easy test and it gives us a good gauge of kind of the
type of foot and what sort of treatment we need to do as well. So we are about
to take a 3D scan of the patient's foot and that allows us to get a really
accurate representation of what the foot looks like.
And from this we can create a 3D printed orthotic.
They are inner soles that go into the patient's footwear. To be a podiatrist
in New Zealand, you have to study a Bachelor of Health Science in Podiatry,
which is a 3-year full-time degree.
You also have to hold an Annual Practicing Certificate and be registered with
the Podiatrists Board of New Zealand. During high school,
I was involved in a lot of sports and I have always had a great interest in
human anatomy and health, doing subjects like biology,
physical education are really good subjects to take.
And I did take a lot of those in my last year,
so that prepared me quite well for what I was seeing moving into the degree.
When I left school,
I knew I wanted to do something within healthcare and something that helped
people. That is a great career option,
that there's no better feeling than someone leaving the clinic feeling a lot
better, pain-free with good management strategies in place,
and a good long-term plan on how they can keep doing what they enjoy.

Entry requirements
To become a podiatrist you need a Bachelor of Health Science majoring in podiatry from Auckland University of Technology (AUT), or an overseas qualification recognised by the Podiatrists Board of New Zealand.
You also need to be registered with the Podiatrists Board of New Zealand and have a current Annual Practising Certificate.
The Vulnerable Children Act 2014 means that if you have certain serious convictions, you can't be employed in a role where you are responsible for, or work alone with, children.
Secondary education
A tertiary entrance qualification is required to enter further training. Useful subjects include biology, chemistry, physical education, health and English.
Personal requirements
Podiatrists need to be:
patient, friendly and helpful
practical and accurate, with an eye for detail
efficient and able to work well independently
good listeners and communicators
good at time management.
Useful experience
Useful experience for podiatrists includes:
work caring for people, such as nursing
experience in shoe manufacturing or sports industries.
Physical requirements
Podiatrists need to have good eyesight (with or without corrective lenses).
Registration
Podiatrists need to be registered with the Podiatrists Board of New Zealand and have a current Annual Practising Certificate.
Find out more about training
Podiatrists Board of New Zealand

(04) 474 0706 - registrar@podiatristsboard.org.nz - www.podiatristsboard.org.nz

Podiatry New Zealand

(04) 904 4212 - contact@podnz.org - www.podnz.org

Check out related courses
What are the chances of getting a job?
Best job chances outside Auckland
Demand for podiatrists is higher in rural areas rather than in Auckland. Auckland University of Technology is the only place to study podiatry and so competition for Auckland based jobs is high.
Demand for podiatrists is growing due to:
increased funding for podiatry services for health problems such as diabetes
an ageing population, meaning more people will need treatment for age-related foot and walking problems
increasing numbers of people with diabetes and obesity, which can cause foot problems
more awareness of, and demand for, sports podiatrists.
Podiatrist appears on Immigration New Zealand's Green List. This means the Government is actively encouraging skilled podiatrists from overseas to work in New Zealand.
According to the Census, 390 podiatrists worked in New Zealand in 2018.
Direct approach best way to get work as a podiatrist
Job vacancies for podiatrists are often not advertised. Approach podiatry businesses directly for work opportunities, or ask Podiatry New Zealand to be connected to a mentor.
Most podiatrists are self-employed
Seventy seven percent of  podiatrists are self-employed. Podiatrists may also work for:
established private practices
public hospitals
universities, teaching or doing research
private hospitals or rest homes.
Sources
Immigration New Zealand, Green List, January 2023, (www.immigration.govt.nz).
Pelvin, J, chief executive officer, Podiatry New Zealand, Careers New Zealand interview, April 2017.
Podiatrists Board of New Zealand website, accessed April 2022, (www.podiatristsboard.org.nz).
Stats NZ, '2018 Census Data', 2019.
(This information is a guide only. Find out more about the sources of our job opportunities information)
Progression and specialisations
Podiatrists may progress to work in managerial or educational roles, or establish their own practice.
Podiatrists may specialise in:
high-risk feet (diabetes)
sports injuries
paediatrics (children's feet)
aged care.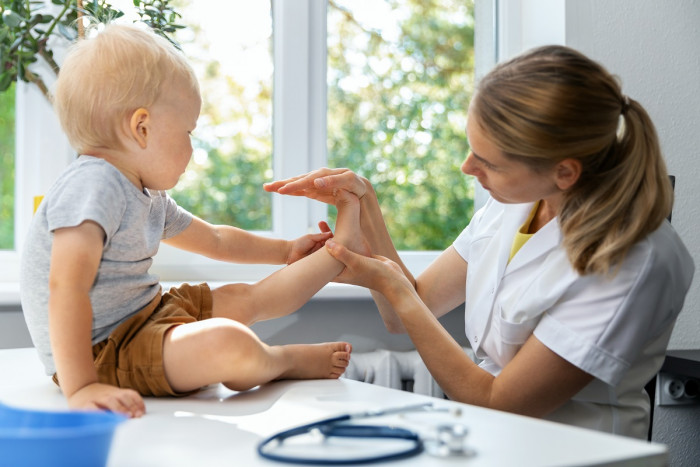 Last updated 26 June 2023