Tour Guide
Kaiārahi Rōpū Haere
Tour guides escort people on sightseeing, educational or other tours, and describe points of interest.
Pay
There are no set pay rates for tour guides. Pay depends on the hours you work and the type of guiding you do.
Job opportunities
Chances of getting a job as a tour guide are poor due to lack of demand.
Pay
Pay for tour guides varies depending on how many hours they work, and what sort of guiding they do. 
Tour guides are usually self-employed and may work on short-term contracts.
Many tour guides do not work all of the year.
(This information is a guide only. Find out more about the sources of our pay information)
What you will do
Tour guides may do some or all of the following:
escort people on trips or tours, including tours into natural areas
describe and explain points of interest on the trip or tour
arrange entry to places such as museums, government buildings and exhibitions
answer questions and give out written information
arrange or prepare meals and accommodation
drive a vehicle such as a bus or coach
act as an interpreter
market their business (if it is a privately owned tour company).
Skills and knowledge
Tour guides need to have:
knowledge of the area they cover and its features or attractions
knowledge of New Zealand culture, history, society, geography, flora and fauna
knowledge of other cultures
good driving skills
leadership and public speaking skills.
Working conditions
Tour guides:
may work a 40-hour week, do shift work including evenings and weekends, work part time, or work only during the peak season
may work outside in all weather conditions, or inside a museum or other attraction
may travel for their job, locally or nationally.
What's the job really like?
Tikanga sets the scene
"We practice basic Ngāpuhi tikanga (protocols) to honour where we are, to especially honour our manuhiri (visitors), and to set the kaupapa (order) for the tours."
"Overseas and New Zealand visitors are given a similar tour, delivered in a way they can relate to. We give them an understanding of who we are, who Māori are, and the area's significance."
Unveiling the past for locals
Eva particularly enjoys running trips for local school pupils. "The tour covers Māori and European settler history, archaeology – so they can make more of a connection to the place they live in. For instance, the majority of walkers on Parihaka, our ancestral Pā, go past the kūmara pits and don't realise what they are - and there are over 300 kūmara pits."
An ancestral connection
Eva thrives on sharing the knowledge and stories passed down by her elders. "Being connected to the spirit and history of your hapū (tribe), brings the tour alive for your visitors – it's fantastic, I love it. It's a part of my life; it's like the blood that runs through my veins." 
Eva Vaughan is of Ngāpuhi descent.
Tour guide video
Sonny Mckenzie talks about life as a tour guide – 0.30 mins
My favorite part of my job is getting to meet people.
Getting to geek out. Getting to share my passion for Lord of the Rings
with countless people coming through our gates
you just see those breathtaking faces just like WOW!
What I love about the tourism industry is the diversity.
I get to interact with people from all different parts of the world.
Different cultures. Different walks of life.
I can say hello, how are you, thank you and goodbye in about 20 different languages.
I'd love to leave my imprint in tourism.
Hey that was Sonny, he helped put New Zealand on the map.
Entry requirements
There are no specific requirements to become a tour guide, as skills are gained while working. However, tour guides can complete on-the-job qualifications such as the New Zealand Certificate in Tour Guiding.
Tour guides who drive passengers need special licences
Tour guides who drive passenger vehicles need to have:
a full Class 1, 2 or 4 driver licence (depending on the size of the vehicle). Class 2 and 4 are heavy vehicle licences
a 'P' (passenger) endorsement on their licence, which shows they can carry passengers. Drivers need to have their full licence for at least two years before they can get the P endorsement.
You may need to apply for a visa through Immigration New Zealand
If you are not a New Zealand citizen or resident, you may need to apply for a specific purpose work visa before you arrive in New Zealand to work as a tour guide.
If you are a tour guide who is a Chinese national, you may be able to apply under the China Special Work Category. You can apply from within New Zealand if you hold a valid work or student visa.
Secondary education
There are no specific requirements to be come a tour guide. However, English, maths, Asian or European languages and te reo Māori are useful.
Personal requirements
Tour guides need to be:
good communicators
friendly, outgoing and able to put people at ease
polite, patient and professional
helpful and perceptive to visitors' needs
able to relate to people from a wide range of cultures and backgrounds
good at planning, organisation and time management.
Useful experience
Useful experience for tour guides includes:
work in the tourism and hospitality industries
experience as a volunteer host at museums or other attractions
work involving contact with the public and people from other cultures
public speaking
travel experience.
Physical requirements
Tour guides need to be reasonably fit as they may do a lot of walking or physical activities. They may also need to lift heavy luggage onto buses or coaches.
Find out more about training
ServiceIQ

0800 863 693 - www.serviceiq.org.nz

ProGuides New Zealand

info@proguides.co.nz - www.proguides.co.nz

Tourism Industry Aotearoa (TIA)

(04) 499 0104 - info@tia.org.nz - www.tia.org.nz
Check out related courses
What are the chances of getting a job?
Work opportunties limited
most tour guide jobs are seasonal and casual
the amount of work depends on bookings.
There is not much work available in New Zealand for full-time tour guides, especially between May and October.
According to the Census, 2,640 tour guides worked in New Zealand in 2018.
Communication skills and foreign languages help to get work
Employers prefer tour guides who have:
a good knowledge of New Zealand history, geography and culture
the ability to convey this knowledge well to a wide range of clients
some ability to speak a foreign language.
Types of employers varied
Employers of tour guides include:
private tour companies
museums
wildlife sanctuaries and some government departments such as the Department of Conservation (ecotour guides).
Tour guides may run their own business and market their services directly to the public or tour companies.
Sources
ProGuides New Zealand website, accessed June 2016, (www.proguides.co.nz).
Stats NZ, '2018 Census Data', 2019.
Tourism New Zealand website, accessed June 2016, (www.tourismnewzealand.com).
(This information is a guide only. Find out more about the sources of our job opportunities information)
Progression and specialisations
Tour guides can progress to work as:
consultants to tourism businesses
managers, marketers or owners of tourism businesses
tour package co-ordinators.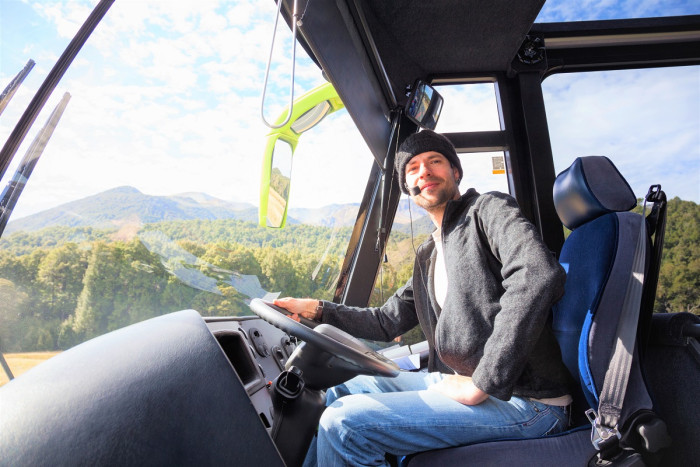 Last updated 21 November 2023