Travel Agent/​Adviser
Māngai Whakarite Haerenga/​Kaitohutohu Whakarite Haerenga
Alternative titles for this job
Travel agents/advisers provide information about tourism attractions, sell travel, accommodation, tours and attractions, do ticketing, and process payments.
Pay
Travel agents/advisers usually earn
Senior travel agents/advisers with experience and extra responsibilities usually earn
Source: Trade Me Jobs, 2017.
Job opportunities
Chances of getting a job as a travel agent/adviser are average due to stable numbers of people in the role and high competition for positions.
Pay
Pay for travel agents/advisers varies depending on experience and employer.
Travel agents/advisers usually start on the minimum wage or a little more.
After five years travel agents/advisers can earn up to $55,000 a year.
Senior travel agents/advisers and travel wholesalers with more than five years' experience can earn up to $100,000 or more (including bonuses or commissions).
Travel agents tend to earn a low base salary, and receive commission and bonuses based on their sales.
Source: Trade Me Jobs 'Salary Guide', 2017.
(This information is a guide only. Find out more about the sources of our pay information)
What you will do
Travel agents/advisers may do some or all of the following:
give advice on travel or holiday plans, accommodation, transport, and places of interest
book accommodation, transport, tours and cruises
advise clients about visas, passports and insurance
prepare itineraries, issue tickets and collect payments
organise and book conferences.
Skills and knowledge
Travel agents/advisers need to have knowledge of:
New Zealand's and other countries transport systems, accommodation and tourist attractions
computer reservation systems
airline routes, alliances, and safety and security regulations
passport and visa requirements, travel insurance and foreign currencies
current affairs, including areas where travel may be dangerous.
Working conditions
Travel agents/advisers:
usually work regular business hours, but may have to work long hours and weekends, or be on call
work in travel agencies and offices, from their home, or in tourist information centres
may take familiarisation trips within New Zealand or overseas.
What's the job really like?
Jessica Strawbridge
Travel Agent
Travel agent work has its rewards and challenges
Travel agent Jessica Strawbridge got to book her own honeymoon. "We went to Fiji and it was brilliant! We did get some really good agent's rates. That makes a huge difference."
However, most of Jessica's trips are for work – and they are hard work. When she's sent to check out accommodation, Jessica may be away for five days, visiting up to six hotels each day.
"All the hotels start meshing into one. You're trying to think, 'Was it that one? That one?' "
Attention to detail essential
"The smallest mistake can absolutely ruin somebody's perfect holiday, so we really need to make sure we have the correct time for their flights, the right dates for the accommodation. Missing one little thing can mean a lot of money that we have to pay, because we've made a mistake. That attention to detail means we have to be here longer in the evenings sometimes."
What's hot
Personal holidays at special rates.
"Famils" – work trips to learn about attractions.
What's not
When clients aren't happy.
Staying late at work to make sure bookings are correct.
Travel agent video
Holly checks out what it's like to be a travel agent - 7.59 mins. (Video courtesy of Dave Mason Productions)
Holly: Hi, I'm Holly and I go to Northcote College and I'm 16. I'm interested in tourism so today I'm going to explore the world of a travel consultant.

Clinton: And to guide Holly on her journey is Stella Travel Services Training Manager, Donna Kermode.

Donna: I hear that you're interested in a career path in travel?

Holly: I am.

Donna: Come on in.

Donna: I believe a travel consultant is a person who shares a journey with the customer and creates a dream for a holiday.

Donna: Well Holly this is one of our retails chains – this is Harvey World Travel. Stella Travels have quite a few subsidiary businesses under our umbrella and retail is one that most people relate to. They see an ad in the paper or they're got a brochure and they come in with an enquiry as to where they want to go. So how about we learn a little bit more about some destination knowledge so you can start experiencing what this is like.

Holly: Cool.

Donna: Is that good? Let's go.

Donna: Our travel consultants have to be extremely knowledgeable. The test that Holly is going through today is a vital part to our product knowledge side of the business so it ensures that their destination knowledge is up to scratch and on successful completion it will go towards a national qualification.

Donna: Congratulations Holly, well done!

Holly: Thank you!

Clinton: Good communication skills are essential for any travel consultant - truly understanding the customer's needs is critical, so now it's time to put Holly's people skills to the test.

Client: I just got this brochure the other say when I popped in and we're just thinking about taking a family holiday somewhere.

Holly: Oh cool. Have you been to Queensland before?

Client: No, I haven't.

Holly: I just got back from there actually last week.

Client: Oh where did you stay?

Holly: It's lovely, I went to the Gold Coast, I went to all the theme parks.

Client: Oh theme parks?!

Holly: Yeah it was awesome!

Donna: You're in a people-orientated business, so it is all about people. It's about building relationships, and ensuring that those relationships continue.

Holly: So what sort of a holiday are you looking for?

Client: Just some fun really. We want to have the option of going to the beach, or shopping or just having fun.

Holly: Yeah the Gold Coast is great for that.

Donna: Attention to detail is vital when you're looking at dealing with peoples' plans for holidays. You just can not miss a single beat so attention to detail is really, really important.

Holly: Well it sounds like it's going to be a fantastic holiday but there's quite a lot here so I'll get some quotes together and e-mail them this afternoon and ring you in the morning.

Donna: So how do you feel?

Holly: It was really nerve-wracking!

Donna: It is, isn't' it? Especially when you've got the customer right there and you need all that knowledge right in front of you. You did really, really well. I'm really proud of you.

Holly: Thank you.

Donna: Now you have got a lot of detail here, there's quite a bit involved so we're going to ring our wholesale division to help us with the quote. So should we give them a call now?

Holly: Definitely!

Donna: Great let's do it!

Clinton: With her client's request now in specialist hands, Holly gets the chance to expand her knowledge further. Knowing your product is essential for success, and the best way to learn is through experience.

Donna: The biggest perk of the job is the familiarisations. It's very important that we keep up-to-date with products and we're very fortunate that we work with airline carriers and hotels who will say to us, "Come and experience this", you know. So by going there you can experience the whole essence of the whole experience and then that just comes back out to the customer.

Donna: So Holly, what did you think?

Holly: I thought it was really fun. There's a lot more work involved though but it was a really good experience.

Donna: There is quite a bit of work involved – it's a pity we didn't get to stay the night of course!

Holly: I know!

Donna: Because that's what you'll experience – you'll go on famils, you'll go on cruise ships and you'll stay in resorts and it's be a bit longer and it will be exciting and you'll portray that to the customer so it's just a win-win. It's a great way of learning.

Holly: It's so cool!

Clinton: For those looking to specialise Wholesale travel is a popular choice. Wholesale works closely with the retail sector and Holly's already called on their services once today. To discover more, Holly pays a visit to Go Holidays General Manager, Jason Buckley……

Holly: So what's the difference between retail and wholesale?

Jason: Well wholesale really acts as an in-between between the hotels and the airlines and the suppliers basically and we go out and buy in bulk – purchase all the products and bring them back and package them all up for the retail travel agent and the retail travel agent sells them on to a customer.

Holly: So when I was on the phone, that's what you guys were doing – putting it all together?

Jason: Yep, that's us. You would have called up – I believe you would have spoken to Kirk, doing a Gold Coast package? So we might be able to head over and meet Kirk if you like.

Holly: Cool.

Clinton: Supporting the retail division is a large part of the wholesale consultant's role. Kirk has been in the industry for 6 years now and specialises in Australian Holidays.

Holly: So how long does it take you to learn all of this?

Kirk: Personally I did a one year course and it gave me a Certificate in Travel Studies. From there I came to wholesale and worked my way up to become a consultant in about 3 years.

Holly: Oh wow. What's the most enjoyable part of the job?

Kirk: Personally, getting overseas and seeing exactly what we sell, taking the trips – I've been sent to places where I never thought I'd be able to get to.

Holly: And the package I sent through earlier this morning, how's that going?

Kirk: The package is coming along great. We've given a few options to the clients, sent the options through to them, they've taken their time and they've chosen wisely and now it's with Jason.

Jason: Hi Holly, how're you going?

Holly: Hi, good!

Holly: Is that my customer's holiday?

Jason: It is, so just in time. If you want to take that, that's their itinerary. Should I grab the vouchers, and we'll come across and package it up.

Jason: The rewarding parts of the job are when you actually fulfil it for someone, you know. If someone's got a 25 year wedding anniversary and they wanted to be buy the pool in Phuket and you managed to get the exact room they stayed in when they first got married and they come back and they've had a fabulous time. Just fulfilling that dream and getting people to experience that excitement of going on holiday. That's the rewarding pert.

Jason: …and then we pop it in the box and we're all done. Excellent.

Holly: Cool.

Clinton: So as one person's dream journey begins, Holly's has come to an end but does Donna think she's got what it takes to make the dream a reality?

Donna: What I loved about Holly this morning was her enthusiasm and her natural approach with people and quite clearly she would definitely open some dreams I'm sure for a lot of people and they would love to share the journey with her.

Holly: I found today really fun and interesting, working with all the different types of people, we've seen everything behind the scenes as well and going to the hotel, that was really fun and I can definitely see myself in the travel industry.

Clinton: To prosper in the world of travel consultancy you'll need to attain a National Certificate in Travel Level 3 and 4 – Retail and Wholesale Travel. This can be gained either through a tertiary institute or by on-the-job training, attaining your qualification as you earn. There are no specific requirements to enter the industry however any retail or customer experience is certainly beneficial. As a consultant you'll be dealing with a wide variety of personalities from around the world so strong communication skills are important and, as you'll be undergoing continuous training, you can expect to travel to many places across the globe in order to further your career.

Entry requirements
There are no specific entry requirements to become a travel agent/adviser as skills are learned on the job.
Travel wholesalers generally need a travel qualification, such as degree or National Certificate in Travel, and relevant experience at a retail or wholesale travel company.
Secondary education
No specific secondary education is required for this job, but English, maths, geography and languages to at least NCEA Level 2 are useful.
For Year 11 to 13 learners, trades academies and the STAR and Gateway programmes are good ways to gain relevant experience and skills.
Personal requirements
Travel agents/advisers need to be:
skilled in sales and customer service
good at listening, and understanding of their clients' needs
able to relate to people from a wide range of cultures
enthusiastic, friendly, patient and helpful
professional, responsible and resourceful
excellent at time management and planning
very accurate.
Useful experience
Useful experience for travel agents/advisers includes:
work in travel or tourism
sales or retail work
overseas travel.
Find out more about training
ServiceIQ

0800 863 693 - intel@ServiceIQ.org.nz - www.serviceiq.org.nz
Check out related courses
What are the chances of getting a job?
Strong demand for travel agents/advisers, but high competition for vacancies
Travel agents/advisers are in demand due to:
an ageing workforce
increasing numbers of people travelling
an increase in the number of airlines flying into New Zealand
the large proportion of people (70% worldwide) who prefer to use travel agents/advisers for complicated trips.
However, competition for vacancies can be high as this is a popular job.
Your chances of finding work as a travel agent/adviser are best if you have a qualification in tourism or relevant experience.
Employers range from small firms to large chains
Most travel agents/advisers work for travel agencies. These may be small family firms employing three or four people, or part of nationwide chains.
Travel brokers, who are usually experienced travel agents, usually own their own business and work from home.
Travel advisers also work for the 80 information centres (i-SITEs) around New Zealand.
Sources
100% Pure New Zealand, 'Visitor Information Centres', accessed May 2017, (www.newzealand.com).
Freeman, T, 'Industry Brainstorms Career Progression and Succession Plans', 20 May 2016, (www.taanz.org.nz).
Travel Daily, 'New Zealand Agents Thrive in a Digital World', 10 May 2016, (www.taanz.org.nz).
World Travel Agents Association website, accessed April 2017, (www.wtaaa.org).
(This information is a guide only. Find out more about the sources of our job opportunities information)
Progression and specialisations
Travel agents/advisers may progress to set up their own business as a travel broker, or move into management.
Travel agents/advisers may specialise in travel wholesaling (selling airline tickets, accommodation and tours to retail travel agents).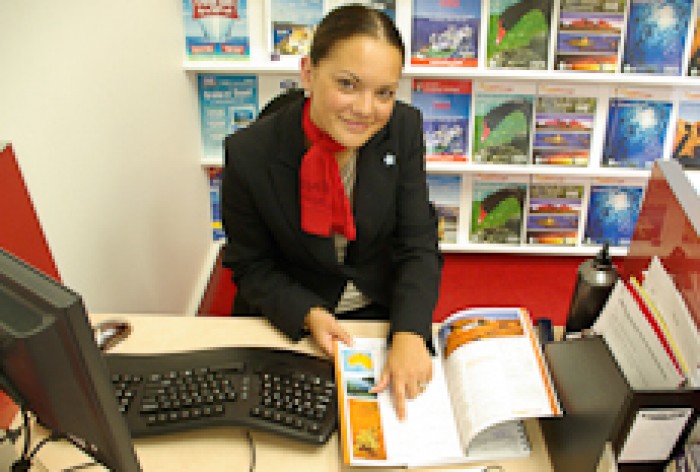 Last updated 9 August 2019