Boat Builder
Kaihanga Waka
Alternative titles for this job
Boat builders build, repair, and sometimes design boats and their interiors. This can include furnishings, engines, electrics and plumbing.
Pay
Boat builders with up to five years' experience usually earn
Senior boat builders, team leaders and managers usually earn
Source: NZ Marine and Composites ITO, 2019.
Job opportunities
Chances of getting a job as a boat builder are good due to increasing demand for their services.
Pay
Pay for boat builders varies depending on skills, experience, and the type of work they do. Pay rates in Auckland tend to be higher.
Apprentice boat builders usually start on minimum wage.
Boat builders with one to five years' experience usually earn minimum wage to $30 an hour.  
Senior boat builders, team leaders and managers can earn between $30 and $50 an hour.
Specialised managers, designers and self-employed boat builders can earn between $50 and $75 an hour.
Source: New Zealand Marine and Composites Industry Training Organisation, 2019.
(This information is a guide only. Find out more about the sources of our pay information)
What you will do
Boat builders may do some or all of the following:
build, refit, repair and service boats
use computer-aided design (CAD) software, diagrams or sketches to build boats
use a range of tools and materials 
select the correct building materials to use, such as composite materials, timber, alloy and steel
build interior/exterior boat cabinetry
work safely and reduce hazards as much as possible
install engines and marine systems (plumbing, electrical, electronic, tankage) and components in boats.
Skills and knowledge
Boat builders need to have knowledge of some or all of the following:
different boat building methods
different types of boat building materials and how they are used in the manufacturing process
how to interpret diagrams, rough sketches and computer-aided design (CAD) drawings
how to design boats using online tools
carpentry and engineering
how to install machinery, cabinetry and other equipment
electrical wiring, plumbing and painting
safe working practices
trends in boat design.
Working conditions
Boat builders:
usually work regular business hours, but may have to work evenings and weekends to meet deadlines
work in workshops and factories, and do repairs outdoors in boat builders' yards, slipways and marinas
work in conditions that can be dusty, noisy and fumy.
What's the job really like?
Boat builder video
Ziggy O'Sullivan talks about life as a composite boat builder – 2.12 mins.
I've learned a terrible amount about boats. When I see a boat,
I pick it apart and I think I feel like I know too much. My name is Ziggy and
I'm a composite boat builder.
I build super yachts,
yachts and boats out of carbon fiber or fibreglass from mould to hull
and then to finished products. This is a small scale example of a boat mould.
I apply some resin to it,
lay the carbon fibre down over it and create a shape,
which I will then pop off the mould later and then can apply to the boat.
When I first found out that boats were built out of fibre like this,
I thought it was a bit out there, but it works and you mix this with resin,
it becomes extremely strong and durable. So behind me is the bow of the boat or
the front where all the water would be rushing past.
You can see all the splash rails to help guide the boat through the water,
keep it straight. To get a finished fair hull,
it would take anywhere from 4, 5 months.
That was the outside of the boat and coming underneath it,
this is the inside of the hull.
Next week we'll be flipping the boat over so we can work on the inside and
make it finished. I didn't really choose the career.
It kind of fell in my lap.
I was looking on job websites and I saw this apprenticeship and I thought,
you know what? I want a trade, a qualification. So it is an apprenticeship.
The training's on the job and you do get paid while you do it,
which is great. My first day here, I thought it was amazing.
Everything in the shop piqued my interest.
Ever since then I've been here and loving it. New Zealand Boat Building
Apprenticeship can take you a lot of places and you definitely find heaps of
work overseas no matter where you go. When you see the finished product,
you'll be extremely proud of yourself and what you've accomplished.
It takes a lot of hours and time to finish one of these and
it's really rewarding. Go to work and work hard.
Entry requirements
To become a boat builder you need to complete an apprenticeship and gain a Level 4 certificate. 
Secondary education
There are no specific secondary education requirements for this job. Construction and mechanical technologies, design and visual communication, maths and physics at NCEA Level 1 are useful. 
For Year 12 and 13 students, the Launch it, School to Work programme is a good way to gain industry experience. This programme may help you gain an apprenticeship, but doesn't reduce the amount of time it takes to complete it. 
Personal requirements
Boat builders need to be:
good at maths
accurate and reliable
motivated to learn a variety of tasks to a high standard
able to work well in a team
good at solving problems
interested in boats and boating.
Useful experience
Useful experience for boat builders includes:
boating 
construction – especially carpentry, plumbing and electrical work
engineering 
panelbeating and painting.
Physical requirements
Boat builders need to be reasonably fit and healthy as they spend long periods on their feet. They also need to be comfortable working in confined spaces and at heights.
Find out more about training
Marine and Specialised Techologies (MAST)

09 360 0056 - info@mastacademy.com - www.mastacademy.com
Check out related courses
What are the chances of getting a job?
Strong demand for boat builders
Opportunities for boat builders are good due to:
demand for new commercial vessels, super yachts and trailer boats
demand for new racing and support boats for the America's Cup 2021, and other competitions
increasing numbers of local and international boat owners needing boat maintenance and refitting
New Zealand's global recognition for boat building technology and high quality work
insufficient numbers of skilled boat builders.
However, like many manufacturing jobs, this role can be affected by economic conditions. A downturn in the economy can lower demand for boat builders.
According to the New Zealand Marine and Composites Industry Training Organisation, about 8,000 people work in the boat building and composites industry.
Most boat builders work for private companies
Boat builders usually work for private companies that build, refit, service or maintain boats.
About 1,000 marine industry employers exist in New Zealand.
Sources
Emirates New Zealand, 'Building the Base to Build the Boat', 23 January 2019, (www.emirates-team-new-zealand.americascup.com)
New Zealand Marine and Composites Industry Training Organisation website, accessed July 2019, (www.nzmacito.org.nz).
Slade, M, 'The Business – and Benefits – of Building Next Generation Racing Yachts in Aotearoa', 9 April 2019, (thespinoff.co.nz).
van der Hor, C, general manager, New Zealand Marine and Composites Industry Training Organisation, careers.govt.nz interview, July 2019.
(This information is a guide only. Find out more about the sources of our job opportunities information)
Progression and specialisations
Boat builders may progress to set up their own boat building or repair businesses, or move into managerial or training roles.
With further training, boat builders may progress to become naval architects or marine designers.
Boat builders may specialise in:
chandlery (selling boats and boating equipment)
marine coatings such as painting
marine interiors such as furnishings
marine systems engineering such as electrical wiring
production boat building (building boats on an assembly line)
yacht rig structures such as spars, rigging and sails.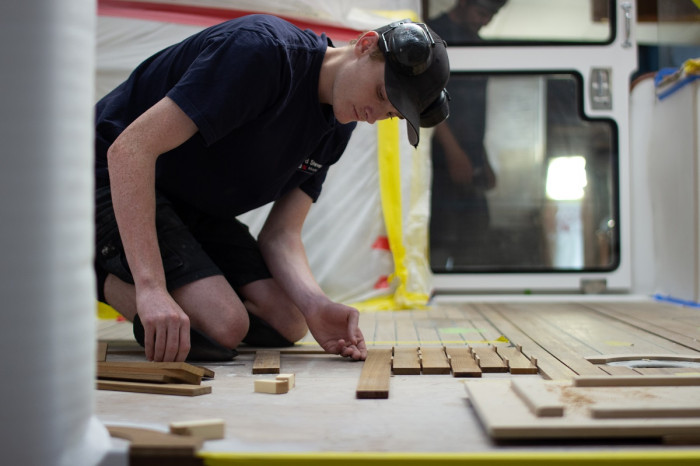 Last updated 26 September 2023