Engineering Machinist
Kaiwhakamahi Pūrere
This job is sometimes referred to by alternative titles
Engineering machinists use machines to cut and shape precision parts and equipment. They create, install, maintain and repair metal products, including machinery and equipment in factories.
Pay
Engineering machinists with one to two years' experience usually earn
Highly skilled and qualified engineering machinists working in large factories usually earn
Source: Southern Institute of Technology, 2017
Job opportunities
Demand for engineering machinists is good due to a shortage of workers.
Pay
Pay for engineering machinists depends on where they work and how much experience they have:
apprentice engineering machinists and those with less than two years' experience usually earn between $32,000 and $40,000 a year
engineering machinists with two to five years' experience usually earn between $40,000 and $80,000
highly skilled and qualified senior engineering machinists working in large complex factories can earn $80,000 to $110,000 a year. 
Source: Southern Institute of Technology, 2017.
(This information is a guide only. Find out more about the figures and diagrams in our job information) 
What you will do
Engineering machinists may do some or all of the following:
study and interpret engineering drawings and instructions
design tools and equipment using computer-aided design (CAD) software
decide on suitable materials and working methods
measure and mark out materials for cutting
set and operate machines to cut and shape the materials
check measurements and weld parts together
test finished products.
Engineering machinists working in maintenance may also:
carry out maintenance checks on machines and diagnose faults
clean and repair machines and their parts
manufacture and install new machinery.
Skills and knowledge
Engineering machinists need to have:
knowledge of different metals and machinery
the ability to read and interpret plans and drawings
practical skills to operate tools and computer-controlled machinery
knowledge of construction methods and materials
skills with computer-aided design (CAD) software and computerised numerical control (CNC) machines
welding skills.
Working conditions
Engineering machinists:
work regular business hours in engineering workshops, or rotating shifts such as two days and two nights on, then four days off in a factory running 24 hours a day
work in workshops or factories
work in conditions that may be dirty, noisy, hot or cramped.
What's the job really like?
As a toolmaker that specialises in working with plastics, Coulton Finch works on producing a variety of gadgets and devices, ranging from camera casings to parts for a new dish drawer.
From concept to finished product
Coulton is involved throughout the manufacturing process, from drawing up plans on the computer to machining, grinding and hand polishing the final product.
"Usually we get an idea or 3-D drawing from the customer and they'll tell us what they want it made out of or we'll give them a specification for materials. Then we put it into a tool, cut the required shape into it and send it out to the plastics factory where they squirt plastic into it and make hundreds or thousands of items from that one tool."
Making a tool can be a long but rewarding process
Because of the nature of the tools he's creating, it's not unusual for Coulton to spend up to 450 hours working on a particular tool. "It's not unheard of to make something three times before you get it right," he jokes.
But he says that when the job's done, all of the hours are worth it.
"Finishing a product and having the customer come back and say it was really good – that's great."
Ashton talks about life as an engineering apprentice - 2.55 mins. (Video courtesy of Got a Trade? Got it Made!)
Ashton: Hi I'm Ashton Fleming and I'm doing an apprenticeship in Fitting and Machining. I've always been interested in metal work and working with steel. I race stock cars so learning how to use machines and things is really helpful in making bits for that.

Over the past two years I've learnt all sorts of skills. Pretty much every manual machine in the machine shop I know how to operate. It's heaps more interesting than school. You're not sitting at a desk learning, it's actually hands on, you're getting in there and learning how to get the job done.

Marion: We have found over time that some of our best tradesmen have been apprentices here and have grown up learning their trade and their skills here on site. We don't look at it as a cost, we look at it as investment into the future of our business.

Ashton: Competenz takes a big part in our apprenticeship. They're really good because they actually put someone with you that has been in the industry and knows about what you're learning and what you're doing.

Peter: The role of Competenz as an account manager, is to guide the apprentice to the end-goal which is the achievement of their qualification, and to do that we set them targets on an ongoing basis, and we measure their achievements against those targets.

We work with the businesses so that the businesses can turn around and say what type of skill sets that they would like that apprentice to have, so we work hand-in-hand with the apprentice and also with the industry itself.

Marion: So Competenz will employ them for us, we will be the sponsor company for the term of that apprenticeship, and we will provide the practical application part for the apprentice, so they get to do the hands-on work here. The formal learning part of the apprenticeship will be handled through Competenz.

Ashton: They help us along, tell us what we need to be studying, what on-jobs we need to be doing, and if we have any issues or problems they help us out with them.

Peter: When a company employs a Competenz apprentice they can be assured that they're getting somebody that has been trained in industry, not in a class room, or not in a simulated situation, but that apprentice can actually be hands-on, do the job, can actually do the job, not just talk about it.

Marion: It means that we can get on and do what we do best, which is build quality machinery for the worldwide market. It's a great system and it does work well.

Ashton: When I look back at my decision to become an apprentice I am definitely happy that I done it, there's nothing else I would rather be doing. It's a lot of fun and real interesting work.
Entry requirements
There are no specific entry requirements to become an engineering machinist.
However, most employers prefer you to have either:
New Zealand Certificate in Mechanical Engineering (Trade) Level 4, which is the new qualification 
or National Certificate in Mechanical Engineering (Trade) Level 4, which will be replaced by the New Zealand Certificate.
The Competenz Industry Training Organisation oversees mechanical engineering apprenticeships. 
In your last year of training you specialise in one of the following strands – Fitting and Machining, General Engineering, Machining, Maintenance Engineering, Metal Forming or Toolmaking.
You can either get an apprenticeship directly though an employer, or apply to ATNZ which employs, trains and places mechanical engineering apprentices.
Secondary education
No specific secondary education is required for this job, but maths, physics and technology to at least NCEA Level 2 are useful. 
For Year 11 to 13 students, the Gateway programme in engineering is a good way to gain industry experience.
Personal requirements
Engineering machinists need to be:
very accurate and patient
able to follow instructions
responsible and safety-conscious
good communicators
able to make good judgements
able to work well independently, and as part of a team.
It's mentally challenging because you're working with high accuracy all the time.
Useful experience
Useful experience for engineering machinists includes work:
using hand tools
with plastics, wood or metals, and woodwork and metalwork machinery
in an industrial workshop
as a labourer
using welding and sheet metal.
Physical requirements
Engineering machinists need:
to be reasonably fit, healthy and strong as they may do heavy lifting
good hand-eye co-ordination and steady hands
good eyesight (with or without corrective lenses)
to be comfortable working in confined spaces and at heights as they may need to climb ladders and crawl around machinery.
Find out more about training
Competenz

0800 526 1800 - info@competenz.org.nz - www.competenz.org.nz
Check out related courses
What are the chances of getting a job?
Why engineering machinists are in demand
Engineering machinists are in demand because:
not enough people are being trained to meet the demand for workers
trained workers are leaving New Zealand to work overseas for higher pay rates
New Zealand manufacturers need workers to build machinery components for export
factories operating 24 hours a day need workers on-site at all times to maintain and fix machinery.
Two types of engineering machinist on skill shortage lists
Fitter-welder appears on Immigration New Zealand's Canterbury skill shortage list. This means the Government is encouraging qualified fitter-welders from overseas to help with the rebuild after the Christchurch earthquakes.
Metal machinist (first class) appears on Immigration New Zealand's immediate skill shortage list. This means the Government is actively encouraging qualified, experienced metal machinists from overseas to work in New Zealand.
Aging workforce of maintenance engineers
Over half of all of engineering machinists are aged over 45, and 25% are over 55. Because the job is physically demanding, they may leave the industry when they reach retirement age, which is likely to create further demand for engineering machinists.
However, this role can be affected by economic conditions. A downturn in the economy can lower demand for engineering machinists.
Employers varied
Engineering machinists may be employed by:
specialist machining companies
engineering workshops
manufacturers of industrial machines and equipment, domestic appliances and plastic products
industrial sites such as milk powder factories.
Sources
Book, S, 'Manufacturing Bounces Back in September', NBR, 13 October 2016.
Competenz website, accessed March 2017, (www.competenz.org.nz).
Hartley, B, engineering tutor, Southern Institute of Technology, Careers New Zealand intervew, March 2017.
Ministry of Business, Innovation and Employment, '2006-2014 Occupation Data' (prepared for Careers New Zealand), 2015.
Immigration New Zealand, 'Canterbury Skill Shortage List', accessed March 2017, (www.immigration.govt.nz).
Immigration New Zealand, 'Immediate Skill Shortage List', accessed March 2017, (www.immigration.govt.nz).
Manning, B, 'Gloombusters: Bringing Manufacturing Home,' New Zealand Herald, 6 August 2015.
Progression and specialisations
Engineering machinists may progress to a supervisor or manager role, or move into areas such as product design, management or technical sales.
Engineering machinists specialise in one of the following roles:
Fitter and machinist

Fitters and machinists make machine parts for factories.

Machinist

Machinists make precision parts.

General engineer

General engineers carry out a wide range of maintenance work including welding and fabrication.

Maintenance Engineer

Maintenance engineers maintain and fix machinery and production lines in factories.

Toolmaker

Toolmakers make specalised tools, and moulds and casts (shapes which are filled), and dies (used to press out shapes) that are used to produce metal or plastic products.

Metal Former

Metal formers make products from molten metal.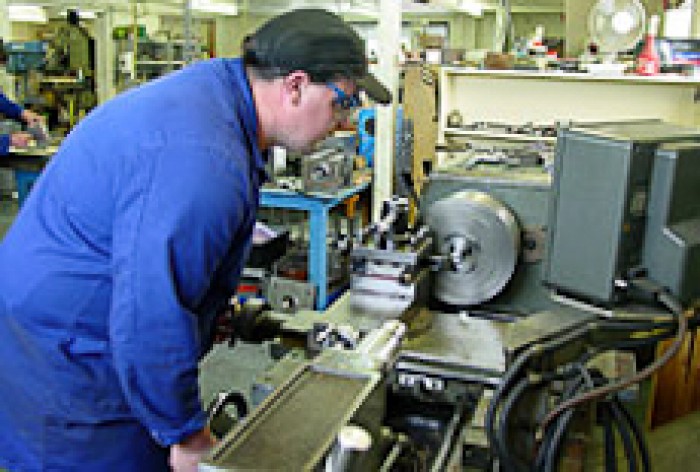 Last updated 1 June 2017