Meat/​Seafood Process Worker
Kaimahi Mīti/​Mātaitai
Alternative titles for this job
Meat/seafood process workers process, grade and package meat, fish or shellfish for local and overseas markets. Some also slaughter animals.
Pay
Meat/seafood process workers usually earn
Source: Meat Industry Assn of NZ, Sealord, Turk's, 2017
Job opportunities
Chances of getting a job as a meat/seafood processor are good due to high staff turnover and the large occupation size.
Pay
Pay for meat/seafood process workers varies depending on experience, what they process and the region where they work. 
Meat/seafood process workers usually start on minimum wage or a little more a year.
Qualified meat/seafood process workers with up to two years' experience usually earn up to $66,000. 
Meat/seafood process supervisors can earn from $44,000 to $86,000 or more. 
Sources: Meat Industry Association of New Zealand, Sealord, Turk's, 2017.
(This information is a guide only. Find out more about the sources of our pay information)
What you will do
Meat/seafood process workers may do some or all of the following:
stun and kill animals
prepare animals for processing by removing skin or excess flesh
cut or fillet meat, fish or shellfish to size requirements
remove bones from animals
grade, pack and weigh meat, fish or shellfish
maintain processing machinery and other equipment such as knives
clean the processing area and packing line with hot water or sanitising chemicals
carry out hygiene and quality control checks.
Skills and knowledge
Meat/seafood process workers need to have knowledge of:
how to handle animals and animal carcasses, or different species of fish and shellfish
knife-handling
health and safety at the processing plant 
food safety requirements 
how to sort, weigh and pack meat, fish or shellfish
operating and cleaning machinery used for meat and seafood processing.
basic English and maths. 
Working conditions
Meat/seafood process workers:
may do shift work and may work overtime and weekends
are often employed only during the peak harvest season of the species they work with
work in factories on land or in ships in conditions that may be confined, cool, noisy, smelly or slippery. They may also work at heights, and in rough weather at sea
may spend up to seven weeks at a time at sea.
What's the job really like?
Jason Whaitiri
Meat Processor
"I was a trimmer when I first started, and then moved into boning. Being a boner is probably the top job in the plant, as it's the best paid, so I'm happy here."
It's about teamwork and working quickly
"There's two boners working to each half of the animal. I guess from the top to the end it takes about two minutes tops."
It's great if you don't want a desk job
"It's quite a physical job, which suits me, because I couldn't sit at a desk all day, no way. "
Life skills learned gives options for other roles when the processing season ends
"You learn life skills and people skills because you come into contact with lots of people from different ethnic groups, and you learn how people do things differently, how they approach life.
"When the season ends I help out with kids from youth prisons. It's good to do something totally different from the work I do here and help out with some kids who've had tough backgrounds."
Meat/seafood process worker video
Chase finds out about being an at-sea seafood processor – 7.26 mins. (Video courtesy of the Seafood Industry Training Organisation)
Clinton: Chase has helped catch the 15 tonne of fish that has just dropped into the pounds. It is sorted and sent to the Baader Machine. The machine turns whole hoki into fillets which are weighed, packed and then frozen. This whole process is watched over by factory manager Karlene King.

Karlene: Hoki is the target species we aim to catch out here. It is classed as a worldwide sustainable fish – you'd know what a hoki tastes like if you've eaten a fillet of fish at McDonalds.

Karlene: Hi Chase, how're you going?

Chase: Good.

Karlene: Come in and we'll get you kitted out.

Chase: OK.

Karlene: There's a lot of different jobs you can do out here, so anyone's that keen can really do well out there.

Karlene: …you need your knife…

Karlene: It's a real individual motivation factor out there. It's all about teamwork, but it's up to the individual to be able to perform really well.

Karlene: Vicky, this is Chase. I'd like you to teach him how to operate the weigh station. OK, I'll leave you with her.

Clinton: The weigh station's where you sort the fillets into trays. Each tray must have similarly sized fillets and the trays must weigh seven and a half kilograms so that they can be packed later. It's one of the first jobs you do on the processing line.

Karleen: Normally they're placed with someone experienced in the factory and they're trained up either by them or myself. Any area in the factory works like that so that they've got someone there the whole time to teach them as they go. It's hands-on learning.

Clinton: Chase is soon onto the Baader machine, which he helped put together. It's another story though trying to sort fish fast enough.

Karleen: It's really important that they look after the machine, it's a very expensive piece of equipment and is very vital for us downstairs that it is operated correctly. It has to maintain very high speed as well, we try to fill every paddle. Time is against us out here so it's really important that we get it through the factory as fast as possible. To get that freshness through, speed is definitely your aim.

Clinton: It might take Chase a while to get the hang of it like Mahi.

Clinton: But those fish won't process themselves so Chase goes back on the line to try his hand at packing with Damo.

Damo: Pull the blue plastic down like that, grab the fillet, make sure it's right up against the side of the box.

Karleen: On the packing line with our fillets, they're packed into shatter packs and they are packed into blue plastic, which stops the fish from getting freezer burn and it keeps the fish separated so that you can take out a fillet individually rather than if it was all grouped together it would all stick together and you'd get one big clump coming out.

Clinton: Quality control is really important and each box can be linked back to the ship it was packed on and the person who packed it.

Karleen: So the next person that is going to see that fish once the lid is closed is going to be our customer, which could be anywhere in the world – in America, or overseas somewhere.

Clinton: The boxes are packed into a Plate freezer…

Dave: …good job Chase, just a couple of tonne left to go!

Clinton: …and after three hours Dave is ready to pack them in the hold.

Slideshow
Dave: It's very, very important that we do a temperature check on every freezer.

Clinton: All product must be at least minus 18 degrees before it goes into the hold for storage.

Karleen: We do try and get people to change around in the factory so that they learn more. The more experience you have the more valuable you are and it's good for variety out there.

Clinton: Chase operates the breakout machine while Dave prepares the boxes for storage in the hold.

Clinton: One catch of fish might be processed but there is still more work to do.

Karleen: After every 72 hours, we need to do a full factory pre-op scrub down, so that's water-blasting and scrubbing with chemicals throughout the factory in every area – every person is allocated an area to scrub down and that's checked over by the foreman at the end of the clean down.

Clinton: Karlene takes swabs to ensure that the factory is free of bacteria, standards have to be kept very high.

Clinton: Factory workers and deckhands work a six-hour-on, six-hour-off shift. The operation runs 24/7 so everyone is doing a night shift. And deckhands work in the factory as soon as the trawl has been set for the next catch, which is where Chase finds Cam, who is the ship expert in filleting. Cam takes Chase to the galley to teach him how to fillet a white warehou. It is called "by-catch" because it is not the species that The Enterprise is targeting but it will still be processed and sold. Everything they catch is processed, nothing is wasted.

Cam: So here's your fish…have a go.

Chase: So how long have you been at sea with this boat?

Cam: I've been doing it probably 15 years. It's great fun, it's a great lifestyle. You get plenty of time off and plenty of money to do what you want to do.

Chase: So what do you do when you're not working?

Cam: Photography is a great hobby – you get to see a few things out here that no one else gets to see. Beautiful sunsets, albatrosses…

Clinton: Cam won a national photography competition for these photos…

Cam: That's good.

Chase: Yeah it's brilliant.

Cam: OK, well there's your dinner for tonight. It's not a bad job for your first time. It's going to taste beautiful so if you want to put him on here we'll chuck it in the fridge and you can let Baz know that these are for tonight.

Clinton: Chase's stay is over, so what did Karlene think of him?

Karlene: He's got a good attitude which is one of the most vital things out here that you need, working in a close environment with everybody. He seems keen and they're probably my two key things I look for in somebody, so if he decides to make a career of it I think he'll do well.

Chase: The part about the food processing that I enjoyed the best was the filleting, just because it's more of a hands-on sort of thing. You get to touch the fish and actually do the cutting and the processing yourself.

Clinton: As The Enterprise steams into Lyttelton Harbour to let Chase off he has a final moment to reflect on his experience.

Chase: I thought the trip overall was quite a good experience, I got to have a look at all the different types of jobs that are available on these sorts of deep-sea trawlers and all up it was just a good experience, and yeah I'd definitely like to come back.

Clinton: There is a National Certificate in Seafood Vessel Operations (At-Sea Processing) Level 2. Useful experience for at-sea seafood processors includes onshore factory work or any work with knives. Boating experience is also helpful. At-sea seafood processors start on about $45,000 a year, experienced workers can earn as much as $75,000 a year. Part of this income is based on the amount of fish processed.

At-sea seafood processors may move on to become supervisors, deckhands or more senior positions on the fishing boat.
Entry requirements
There are no specific entry requirements to become a meat/seafood process worker, as skills are gained on the job. Many companies offer literacy and numeracy training.
To become a meat/seafood process worker you usually need to pass:
a basic medical test
a drug test, and be clear from the influence of alcohol and drugs while at work
a literacy and numeracy test. 
You may also need to declare that you do not have any serious infectious diseases.
A good way to improve your chances of getting a job as a meat/seafood process worker is to do a pre-employment course, such as the National Certificate in Meat Processing (Introductory), covering skills such as knife-handling and knowledge of health and safety regulations. Apprenticeships in meat processing are also available for people over the age of 16.
Meat processing workers can work towards a National Certificate in Meat Processing at Levels 2, 3 and 4, specialising in areas such as meat trimming, packaging, slaughter or product examination. 
Secondary education
There are no specific secondary education requirements to become a meat/seafood process worker. 
Personal requirements
Meat/seafood process workers need to be:
good at managing their time 
careful, quick and efficient
able to follow instructions
able to work well as part of a team
willing to learn new skills 
comfortable spending long periods at sea, and in close quarters with colleagues, if they are at-sea seafood process workers.
They should not be squeamish.
Those working in supervisory roles also need to be:
good at record keeping
good at time management
able to manage people
able to communicate well. 
Useful experience
Useful experience for meat/seafood process workers includes:
any factory work
farm work and work in a butchery or food manufacturing factory
any seafaring experience
work handling or preparing food.
Physical requirements
Meat/seafood process workers need to have:
a good level of fitness as they spend long periods on their feet and may lift heavy boxes and trays
good hand-eye co-ordination
a good standard of personal hygiene, as they are dealing with food products.
Those working at sea must not suffer from seasickness, and should be able to move around a rolling ship.
Find out more about training
Primary Industry Training Organisation

(07) 858 4821 - info@primaryito.co.nz - www.primary.co.nz
Check out related courses
What are the chances of getting a job?
Large occupation with good employment opportunities
Meat/seafood processing is one of the largest areas of employment in New Zealand, with more than 35,000 workers in 2016, according to Stats NZ. (Meat processing 24,200, seafood processing 6,500, and poultry processing 4,500.)
Meat/seafood processing work seasonal
Most meat/seafood processing plants operate between six and nine months of the year, so most workers are employed on seasonal contracts. Peak times vary depending on the region and the type of meat or seafood being processed.
Large-scale recruitment drives take place at the start of every season. Your best chance of getting work is to contact the employer directly before the new season.
During the off season (usually winter), many meat/seafood process workers find work in other industries such as horticulture, farming and forestry. Poultry workers can work in the poultry processing industry year round as there are no seasonal highs and lows.  
Meat/seafood process workers mainly work for large employers
Meat/seafood process workers are employed by meat and seafood companies in processing plants on land or processing ships at sea.
Some of the biggest employers of meat/seafood process workers are:
Silver Fern Farms, Alliance Group, ANZCO Foods, AFFCO (red meat processing), who each run multiple processing sites around the country.
Talley's, Sanford, Sealord, Moana Pacific (seafood processing).
Sources
Hannan, D, communications manager, Sealord, Careers New Zealand interview, April 2017. 
Goldstone, P, policy manager, Meat Industry Association of New Zealand, Careers New Zealand interview, May 2017. 
McLelland, N, HR manager, Turk's, Careers New Zealand interview, April 2017. 
Stats NZ, 'Business demography statistics, 2000-16', accessed May 2017. (www.stats.govt.nz)
Turner, W, national HR manager, Tegel Foods, Careers New Zealand interview, April 2017. 
(This information is a guide only. Find out more about the sources of our job opportunities information)
Progression and specialisations
Meat/seafood process workers may move into factory supervisor positions or production manager roles.
Those working in seafood processing may also move into deckhand positions, and/or complete tickets (seafood qualifications).
Meat/seafood process workers may specialise in different stages of processing, such as slaughtering and grading animals, or grading certain species of fish or shellfish.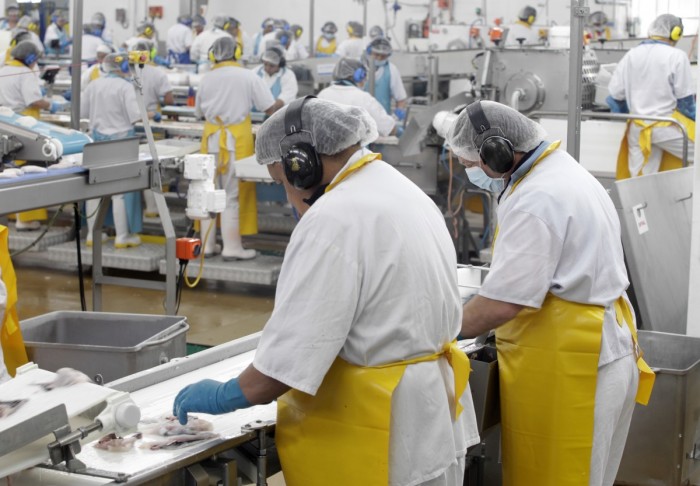 Last updated 30 March 2019