Upholsterer
Kaiwhakapaipai Uhinga Waka
Alternative titles for this job
Upholsterers make, install and attach the springs, padding, linings and covers of furniture.
Pay
Trainee upholsterers usually earn
Qualified upholsterers usually earn
Job opportunities
Chances of getting a job as an upholsterer are average due to stable numbers of people in the role.
Pay
Pay for upholsterers varies depending on experience.
Trainee upholsterers usually earn between the minimum wage and $42,000 a year.
Qualified upholsterers usually earn between $52,000 and $62,000.
Source: Competenz, 2017. 
(This information is a guide only. Find out more about the sources of our pay information)
What you will do
Upholsterers may do some or all of the following:
discuss requirements with customers
remove, repair or replace damaged or worn furniture parts
draw up patterns or cutting plans
cut and sew fabrics to the right size and shape
attach springs, padding and covers to furniture frames.
Skills and knowledge
Upholsterers need to have:
knowledge of upholstery methods and materials
knowledge of furniture styles
knowledge of fabrics, threads and colours
sewing and pattern-making skills.
Working conditions
Upholsterers:
usually work regular business hours
work in workshops, factories, furniture shops and homes.
Entry requirements
There are no specific entry requirements to become an upholsterer.
However, to become a qualified upholsterer you need to complete a traineeship and gain a National Certificate in Furniture (Level 4) specialising in Advanced Upholstery, through Competenz.
Secondary education
A minimum of three years of secondary education is recommended. Useful subjects include English, maths and technology. 
Personal requirements
Upholsterers need to be neat and accurate in their work, with an eye for detail.
Useful experience
Useful experience for upholsterers includes:
work in the furniture industry
sales work
factory work
sewing work.
Physical requirements
Upholsterers need to have steady hands and good hand-eye co-ordination.
Find out more about training
Competenz

0800 526 1800 - info@competenz.org.nz - www.competenz.org.nz
Check out related courses
What are the chances of getting a job?
Opportunities best in the larger centres
Job opportunities for upholsterers are steady, with most new traineeship positions available in the main cities where people are investing in better furniture and coverings.
According to the Census, 915 upholsterers worked in New Zealand in 2018.
Better opportunities if you have exceptional attention to detail  
Although there are limited new positions for trainees, if you have design flair and are detail focused there is a good chance of getting a traineeship with an upholstery business.
Upholstery businesses expanding into furniture making and repair work
Some upholstery businesses are expanding into making their own furniture, building frames and doing frame repairs. Carpentry experience is an advantage for getting traineeships with these businesses.
Upholsterers commonly self-employed
Upholsterers may work for:
large furniture manufacturing plants
small specialist furniture restoration businesses.
Many upholsterers run their own business and some work as sole traders or contractors for interior design firms. They may also do furniture restoration and repair work.
Sources
Lyne, A, training manager, Competenz, Careers New Zealand interview, April 2017.
Ministry of Business, Innovation and Employment, '2006-2014 Occupation Data' (prepared for Careers New Zealand), 2015.
Stats NZ, '2018 Census Data', 2019.
(This information is a guide only. Find out more about the sources of our job opportunities information)
Progression and specialisations
Upholsterers may progress to set up their own business.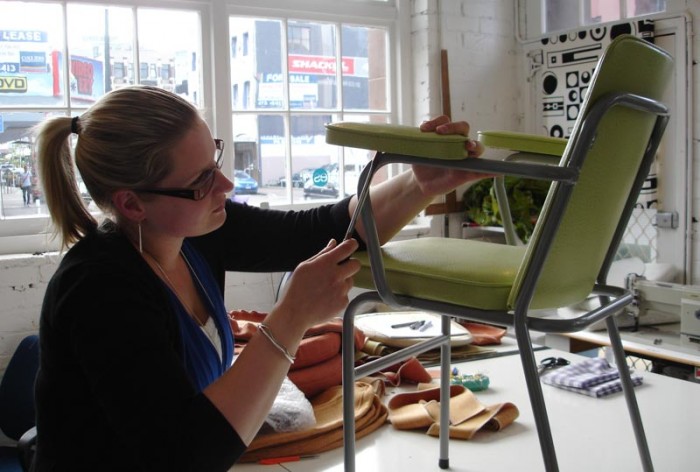 Last updated 18 September 2020