Sewing Machinist
Kaiwhakamahi Pūrere Tuitui
Alternative titles for this job
Sewing machinists stitch together clothing, canvas for tents and awnings, and soft furnishings.
Pay
Sewing machinists usually earn
Source: NZ Fashion Tech and Competenz, 2017.
Job opportunities
Chances of getting a job as a sewing machinist are good due to increased demand and a shortage of workers.
Pay
Pay for sewing machinists varies depending on experience and the type of work they do.
New sewing machinists usually earn minimum wage.
Sewing machinists with experience, and sample machinists (those who mock up designs to show designers and clients) can earn up to $25 an hour.
Some sewing machinists are also paid performance bonuses.
Sources: New Zealand Fashion Tech and Competenz, 2017.
(This information is a guide only. Find out more about the sources of our pay information)
What you will do
Sewing machinists may do some or all of the following:
set up their sewing machines and overlockers
work on part or all of a product
clean and maintain sewing machines
program stitch patterns into a sewing machine
operate thread-trimming and other non-sewing machines
repair or alter items and do some hand-sewing
discuss daily work requirements with supervisors.
Skills and knowledge
Sewing machinists need to have good sewing skills and knowledge of:
different sewing methods
needle sizes and machine-threading techniques
different types of sewing equipment and fabrics
basic computing skills to program stitch patterns into sewing machines
types of products they are sewing, and their construction
practical skills for cleaning and maintaining sewing machines.
Sewing machinists in small businesses may also need to have clothing marking and cutting skills.
Working conditions
Sewing machinists:
usually work regular business hours, but may sometimes work overtime
work in factories and workrooms
work in conditions that can be noisy.
What's the job really like?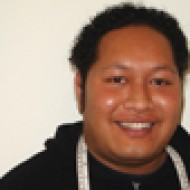 Tana Lisale
Sewing Machinist
Tana Lisale says he hasn't looked back since deciding to do a course in sewing and pattern making. He now works for a business that hires and sells formal wear. "I usually sew bridesmaids' dresses and ballgowns, and alterations as well."
Seeing the finished product is a motivator
Tana says an average day involves cutting out pattern pieces, pressing them, pinning them, then sewing them together to make finished garments. "What I like about here is that you work on the whole garment without passing it on to anyone. I enjoy making dresses and it's always different dresses. And I like seeing something looking really good on display in the shop and thinking 'That's something I made.' That's really cool."
Tana says he also has the opportunity to design pieces for the shop when they are not too busy. "If I have a design idea I can give it to my manager and see if I can make it."
Sewing an interest as well as a paid job
Not content with creating garments at work, Tana says he does a fair amount of sewing at home too. "It can be really hard if you are sewing all day and then you go home and sew some more."
But, says Tana, the hard work is worthwhile and will stand him in good stead where his future plans are concerned. "I'd like my own shop so I can start selling my own stuff – that's what I've always wanted."
Entry requirements
There are no specific entry requirements to become a sewing machinist. However, most employers prefer to hire people with qualifications.
You can become qualified by completing either of the following:
A New Zealand Certificate in Fashion Technology (Level 3) through an apprenticeship with Competenz.
A New Zealand Certificate in Fashion Technology (Level 3) or similar at a technical institute.
Secondary education
A minimum of three years of secondary education is recommended. Useful subjects include digital technologies, maths and processing technologies.
Personal requirements
Sewing machinists need to be:
patient and good problem solvers
able to concentrate for long periods
quick and neat
accurate, with an eye for detail
able to follow instructions
able to work well under pressure
reliable, careful and safety-conscious.
Useful experience
Useful experience for sewing machinists includes:
community or night courses in dressmaking
dressmaking or tailoring
work in a clothing factory or workroom.
Physical requirements
Sewing machinists need to have good eyesight (with or without corrective lenses), normal colour vision, good hand-eye co-ordination and steady hands.
Find out more about training
Competenz

0800 526 1800 - info@competenz.org.nz - www.competenz.org.nz

Whitecliffe College of Art and Design

0800 800 300 - admissions@whitecliffe.ac.nz - www.whitecliffe.ac.nz

Toi Ohomai

0800 86 46 46 - info@toiohomai.ac.nz - www.toiohomai.ac.nz
Check out related courses
What are the chances of getting a job?
Demand for sewing machinists expected to rise
According to Statistics New Zealand, the number of sewing machinist jobs is expected to rise between now and 2027.
This is due to growing demand for:
clothing that is environmentally friendly and made in New Zealand
soft-furnishing sewing skills.
However, insufficient numbers of students are studying the skills required to sew these products, and employers struggle to find sewing machinists with the right skills.
According to the Census, 3,513 sewing machinists worked in New Zealand in 2018.
Chances best for qualified sewing machinists with a variety of skills
Employers prefer sewing machinists:
with a certificate
who can do a variety of tasks such as sew fabric for clothing and furniture, sew leather, and cut and mark fabric.
Most sewing machinist jobs not advertised
If you are interested in getting work as a sewing machinist, it's best to approach companies yourself, as over half of new positions in the industry are not advertised. 
Types of employers varied
Sewing machinists may work for:
small fashion houses
large clothing manufacturers
fashion retailers
soft-furnishing manufacturers
tent and canvas manufacturers
furniture and curtain shops
tailors and dressmakers.
Many sewing machinists are self-employed, contracting their services out to a range of clients. 
Sources
Edmunds, S, 'New Zealand Designers Carve Out Niche to Take on Fast Fashion', 16 April 2017, (www.stuff.co.nz).
Marshall-Smith, V, academic director, NZ Institute of Fashion Technology Ltd, Careers Directorate – Tertiary Education Commission interview, November 2017.
Ministry of Business, Innovation and Employment, 'Occupation Outlook – Tailors and Patternmakers', accessed October 2017, (www.mbie.govt.nz).
New Zealand Apparel, 'Is NZ-Made Dead?', 2 August 2017, (www.apparelmagazine.co.nz).
NZ Fashion Tech, 'Changing Times', accessed October 2017, (www.nzfashiontech.ac.nz).
NZ Fashion Tech, 'Gaining Employment', accessed October 2017, (www.nzfashiontech.ac.nz).
NZ Fashion Tech, 'Industry Opportunities', accessed October 2017, (www.nzfashiontech.ac.nz).
Ryan, H, 'Fashion Industry's Moment to Shine', NZ Herald, 26 August 2017, (www.nzherald.co.nz).
Stats NZ, '2018 Census Data', 2019.
(This information is a guide only. Find out more about the sources of our job opportunities information)
Progression and specialisations
With further training, sewing machinists may progress to become clothing markers, cutters, garment technicians, patternmakers or designers.
Sewing machinists can specialise in a number of roles, including:
Pleater

Pleaters sew pleats and folds into fabrics.

Sample Machinist

Sample machinists sew sample pieces of clothing to show designers, garment technicians and buyers.

Trimmer

Trimmers apply decorations to clothing or upholstery, such as piping, ribbon and beads.
Sewing machinists may also specialise in items such as:
clothing
curtains and upholstery (coverings for vehicle seats and furniture such as sofas)
leather goods
canvas (tents, awnings).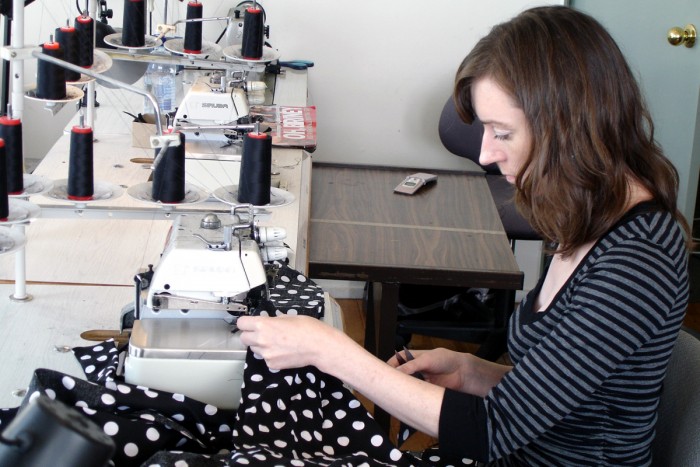 Last updated 16 June 2023