Tattoo Artist
Ringa Kirituhi
Alternative titles for this job
Tattoo artists use sterilised skin-piercing equipment and ink or jewellery to decorate people's skin.
Pay
Pay rates for tattoo artists vary depending on your talent and how well you promote your service.
Source: careers.govt.nz research, 2018.
Job opportunities
Chances of getting work as a tattoo artist are poor due to lack of demand.
Pay
Pay rates for tattoo artists vary depending on how talented and popular they are, and how much work they have.
Apprentice tattoo artists may work for free in a studio to learn their trade.
Apprentice tattoo artists who tattoo clients under supervision may earn minimum training wage.
Most tattoo artists are self-employed, so their pay rates depend on their talent and popularity, and the success of their business.
A quarter of tattoo artists work part-time and may rely on supplementary jobs to make a living.
Source: careers.govt.nz research, 2018.
(This information is a guide only. Find out more about the sources of our pay information)
What you will do
Tattoo artists may do some or all of the following:
explain tattooing and piercing procedures to clients
help clients choose images or jewellery
copy or design images for clients
make stencils of images
prepare and sterilise skin
use inked needles or traditional tools to create decorative, cosmetic or paramedical (covering scars or buns) tattoos
pierce or cut skin and insert jewellery
sterilise equipment and make sure their studio meets health and safety standards.
Skills and knowledge
Tattoo artists need to have :
drawing skills and the ability to create different artistic styles
skill in using tattooing or piercing equipment
knowledge of human anatomy and how to prevent, recognise and treat infections
knowledge of disinfectants, health and safety, and hygiene
first aid skills.
Self-employed body artists also need business management skills.
Working conditions
Tattoo artists usually:
work varied hours, including late nights and weekends
work in tattoo studios, beauty salons and cosmetic clinics
work in conditions where they may be exposed to blood and infections.
What's the job really like?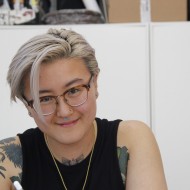 Rose Hu
Tattoo Artist Apprentice
The pathway to an art job
"I did a Bachelor of Engineering and worked in engineering  – but I didn't like it. Then I worked in the tech sector – and realised it was art that makes me happy. 
"I left my job to do art. I got a front-of-house [hospitality] job to pay the bills and then I saw the advert for the tattoo apprenticeship."
Long hours of training
"Tattoo apprenticeships are unlikely to be paid and most studios make you pay for your own equipment. To practise, you need to buy practice skins or tattoo yourself or a willing friend.
"At the start I did three days working in a restaurant for money and four days at the tattoo apprenticeship. I hung out with friends a lot less and had to get quite organised. I had five months of doing seven days a week.
"Now I have four days making enough money from tattooing, and one day working as a waitress."
Creative job fulfilment
"It's a very fulfilling job – despite being much harder than my previous jobs. Every step of the way you're responsible for everything, and there's always that pressure of knowing that what you're doing is essentially final.
"Creativity is what I wanted, and every day you create something for someone. You finish the tattoo and they smile and look so pleased they got it."
Entry requirements
There are no specific requirements to become a tattoo artist. 
Tattoo artists are usually trained in an informal, often unpaid, apprenticeship by experienced tattoo artists or body piercers.

Art courses are useful for tattoo artists. Small business courses are useful for tattoo artists who want to run their own business.
Secondary education
No specific secondary education is required for this job. However, painting, sculpture, photography, printmaking (combined), maths, te reo Māori, design and visual communication, and health to at least NCEA Level 1 are useful.
Additional requirements for specialist roles:
Cosmetic Tattooist/Permanent Make-up Artist or Paramedical Tattooist
To become a cosmetic tattooist/permanent make-up artist or paramedical tattooist, you can complete a course, such as a certificate in cosmetic tattooing, at a private academy.
Personal requirements
Tattoo artists need to be:
creative and artistic
patient and confident
responsible
able to handle criticism
calm 
good at listening and communicating with people
Tattoo artists should not be squeamish.
A key skill is communication. You do have to really understand what the client wants – the tattoo is on them forever.

---

Rose Hu

Tattoo Artist Apprentice
Useful experience
Useful experience for tattoo artists includes:
work in visual arts
hands-on arts and crafts jobs
work in beauty, healthcare, retail or customer services.
Physical requirements
Tattoo artists need good hand-eye co-ordination and good physical and mental stamina, as they need to concentrate for long periods.
Find out more about training
Association of Professional Piercers Ltd

info@safepiercing.org - www.safepiercing.org
Check out related courses
What are the chances of getting a job?
Few opportunities for tattoo artists
It is difficult to find work as a tattoo artist due to the small size of the occupation, and low staff turnover.
The COVID-19 pandemic has further reduced opportunities for tattoo artists.
Demand may improve slightly as restrictions to control the spread of the pandemic ease.
According to the Census, 423 tattoo artists worked in New Zealand in 2018.
Self-employment common among tattoo artists
Two-thirds of tattoo artists are self-employed. A quarter of tattoo artists work part time.
Sources
Ministry of Business, Innovation and Employment, '2006-2014 Occupation Data' (prepared for Careers New Zealand), 2015.
Nichol, T, 'How Getting a Tattoo Became so Mainstream', 21 January 2017, (www.nzherald.co.nz).
Pudney, H, 'Kiwi Tattoo Artists Say Scar Cover-ups Are a Way to Move On', 15 January 2017, (www.stuff.co.nz).
Stats NZ, '2018 Census Data', 2019.
Twisted Thread, 'Becoming a Tattooist: The Hidden Journey', 7 November 2017, (twistedthread.co.nz).
Zealand Tattoo, 'Māori Tattoo: The Definitive Guide to Ta Moko', accessed October 2018, (www.zealandtattoo.co.nz).
(This information is a guide only. Find out more about the sources of our job opportunities information)
Progression and specialisations
Experienced tattoo artists may progress to set up their own tattoo business.
Tattoo artists may specialise in tattooing or body piercing, or in the following roles:
Cosmetic Tattooist/Permanent Make-up Artist

Cosmetic tattooists/permanent make-up artists apply tattoo make-up, such as lipliner and eyeliner.

Paramedical Tattooist

Paramedical tattooists apply tattoos to people who have had accidents, operations or illnesses. For example, they may tattoo eyebrows for someone who has lost their hair.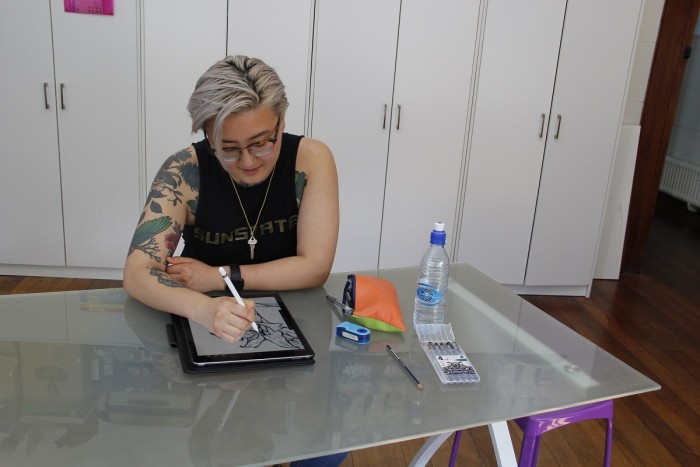 Last updated 26 June 2021